Edmund Hargest
Era: Spanish-American War
Military Branch: Navy
Status: Featured Story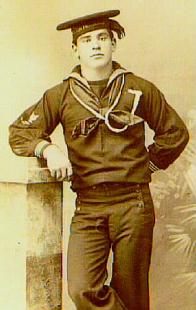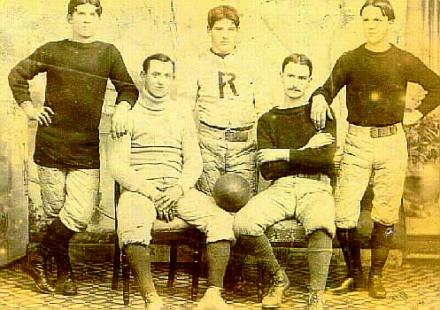 Edmund Hargest, of Duluth, Minnesota enlisted in the Navy on April 13, 1898 when he was 14 years of age. His mother refused to let her young son enter the war but he convinced his older sister to go with him to vow that he was the minimum age allowed. He served aboard the USS San Francisco and with the Navy at Norfolk, Virginia. He attained the rank of Quartermaster 3rd Class and was honorably discharged on December 31, 1904.
Edmund passed away at the age of 43 on April 21, 1928. The following are transcriptions of his letters to his mother and sister.EDITED/COPIED LETTERS OF EDMUND HARGEST 1898-1905 U.S. Navy.
New Port Training Square
April 26th, 1898
Dear Mother:
I am going to go to the Gymnasium Wednesday afternoon. There are two sections going to go down, but there has been about 29 boys and so the house is full. The cruise Columbia has been in here since yesterday but she went today. There has been a good lot of storms on the ocean. The Paul Revere line has been stopped for a day, they were just running up and down the sound. There is all kinds of fish in here the boys found lobster yesterday that had been washed up on the shore by the waves and was nearly dead, but the boys put it in a pail of water and one of the boys tried to pick it up and it nearly bit him and then they let it go. There are star fish as big as a big band of _______ (can't read it).
Will you please send me my picture I promised a boy that I first made friends with? He came from Duluth with me, he gave me his picture and he wants mine. He is not in the same section as I am so he is not going to the gymnasium but he will go next week. His name is T. Wetterlind. He is my best friend so I am sorry to leave him but I am glad to get such a quick promotion and I can see him quite often so I will not feel so lonesome. The first two days I was homesick be I found out it was no use so pasted.
I've lost my Address book, that is why I had not written to Harold H_______ (can't read it) but I wish that one of the ____ (can't read it) or Jay would go down to Charlie Skuse and tell him that I have lost his address and tell him that I give them my best wishes and if any of those boys are sick let me know. How is Glenn the baby? I pretty near forgot his name. Will you send me his pictures please. How is Bill Ben and Annie? Is Tom all right? Whe he comes in Sunday tell him I am getting along fine ,and how is yourself and papa, is he working?
On my way up I road one night on a boat named the Puritan. I had a good bunk but there was a couple of women that gave us a singsong and dance that was foolish. But one gave me and my friend ten cents which came in handy for the first postal stamp I got, so I am thankful that she gave it to me. She gave it to us to get some sandwiches but had a lot to throw away. There were 6 of us fellows so you can guess how many sandwiches we had.
EDITED/COPIED LETTERS OF EDMUND HARGEST 1898-1905
How is Lorny Berry getting along? If you see him tell him that he is a fool not to try to come,and that I like it real well. Tell him to tell Neil and Johnny to send me their pictures and if they want me to write to them to give you their addresses for I have lost the book that I had the addresses in. And tell Abe rockland the same, for I promised that I would have you give the boys my pictures, and tell Abe to send me his picture for a keepsake for a change. And did you give Charlie Skuse my picture? How is all the crowd get along and how may parties have they had since I been away.
Is Anne working in the same place or not. Good by for this time.
Your son Edmund Hargest
EDITED/COPIED LETTERS OF EDMUND HARGEST 1898-1905
US Training Square
New Port _ _
August 21 /98
Dear Mother:
I received your kind and (can't read).. glad to hear you are all right just as ..(can't read)…………… I will be going on the ……….… expect on the 30th of August……………22nd of Sept but I do not no when the ship will be in. I have not much to say just now but when I get on the ship I will. I have seen Jack MacDonald and he looked quite good.
I have no more to say Goodby for this time. I close
Your loving son
Edmund Hargest
EDITED/COPIED LETTERS OF EDMUND HARGEST 1898-1905
U.S. Navy
St. Tomas
West Indiana
Dear Mother:
I received your letter, glad to hear from you and that you are alright and getting along alright.
I am feeling alright myself and I have a good time here. I have been to about 10 different ports and now I am in St. Tomas. I have seen blue beard's castle and black beard's castle. They are two great pirates.
I am sorry to hear you did not receive my letters that I wrote, and you said that you had wrote a half a dozen letters to me but this is the first I have received.
We _______(can't read it) ships today so that we can go to San Juan tomorrow. Of course you know that it is in the United States now. All of these islands are big mountains. I have been in English ports and I have seen their men of war. I have been in French ports and now I am in a Danish port. I will have to close for it is three o'clock.
Your loving son
Edmund Hargest
EDITED/COPIED LETTERS OF EDMUND HARGEST 1898-1905
U.S.S. Raleigh
Chemolphocn (? ..Illegible)
August 2nd 1904
Dear Mother:
I received your last letter when you have told me of your loss and I was very sorry to hear it. It was at the time that I was thinking there was _________ _______(can't read it) it was so long since I had received your last letter and when that letter came, it reached me almost today for I was afraid that something might of happened to you so you can guess that it was not very pleasant to have such a thing on ones mind. And you can bet I was very sorry to hear that my little sister which I was very much wanting to see has left us, but as you can say that you think it was for the best. I have to think the same, and it will be better than being sick all her life in this world where ever body has got all they can do to keep above the tide in this fortune of misfortune and then to sink after fighting long for many years. And, anyhow, we have all got to do the bidding of the almighty God in all things so it will come in the end.
Well Mother we have just arrived in this place where we will stay for the best part of three months and then I will be coming home.
Mother I have been thinking what I will do when I get home again as I do not want to come back in the navy any more as I do not like it for the reason that I will let you know later. And as I have no trade and can do most anything on the calendar, I was thinking that I could get a position on the fire department or something like that as I am pretty well read to all the different things that are required to join it. If you will give me your opinion on it I will make some kind of arrangements so I will know how things stand when I get home.
Well, how are all the people at home? Are they all in good health and making out alright? I suppose that you will all be surprised to see me come walking in the house and you will not know me from Adam, and it would not be bad to make a bet on that. Well I guess I will close and by the time you get this letter you will have got the one I wrote before this one. Hoping it finds you as well as it leaves me , I close.
From your ever loving son
Edmund Hargest
EDITED/COPIED LETTERS OF EDMUND HARGEST 1898-1905
Alabama
U.S.S. Alabama
Hampton Road VA
May 8th 1902
Dear Mother:
I received your kind and loving letter. Very glad to hear from you and that you are well as this leaves me at present, and hope it will find you all the same.
We are now lying off Hampton Roads Va. were we will stay until the 14th of this month and then we will go to the southern drill grounds for target practice and I think as soon as we get though that we are going to meet a French fleet and escort them to New York. And as soon as we start for New York I am going to ask the captain to let me put in for 15 day furlow, and if it is granted I will telegraph and let you know at once. And I can write to the navy dept. and have it extended 5 more days and that will be 20 days all toll. That will be a nice little visit and I will see all my dear old friends at home.
I have been saving up all of the money that I can so that I can get home but I do not know how much it will cost me. But anyhow a hundred dollars I think will be enough will it not. I am glad to hear that father has got a job and that you are at last able to rest yourself, and I also hope that nothing will happen for I have not got much longer to go in the navy and then I will be home for good and then I can do something in the line of making you happy which I only wish I could do now but as yet it is beyond my reach but I hope it will not always be and if _______ (can't read it) and hard work will allow it. So dear mother do not give up now for the time has not yet come for me to prove these words and it will come some day. I hope that Tom will get along alright in his new trade and that when I come home we can strive together.
Best regard for all,
xxxxxx with Best Love and Kisses to
xxxx You Dear Mother from your
xxx ever loving son Edmund Hargest
EDITED/COPIED LETTERS OF EDMUND HARGEST 1898
U.S. Navy
U.S. Training Squa
New Port 4, R
Sept 22nd, 1898
Dear Sister:
I received your letter a few days ago and did not have time to answer you, so I write now. I am in good health. I am getting fat. We are having good things to eat and on Monday we had fried eggs and bacon for dinner. We had roast beef and gravy for supper. We had tea, cold beef and bread and butter and three cookies. On Tuesday we had pretty near the same thing except pie. We get it on Sunday and Tuesday and on Friday and on Saturday we get ice cream.
There is not much expected that another draft went away yesterday on the ______ and the Annapolis will be in. We are in camp yet and I tell you it is pretty cold.
How is papa getting along now. Ever time that I hear that papa has got no job it makes me feel like as if I wanted to come home and wish that I could. There are about ____ on the island and I am in the 2nd section of the first division and be about the 20th fellow on the next draft. When you write, tell me how things are getting along in Duluth. Write soon, and send me some stamps if you can for I have no stamps.
I close your ever loving brother
Edmund Hargest
EDITED/COPIED LETTERS OF EDMUND HARGEST 1898-1905
U.S. NAVY
U.S. Annapolis
Oct 24th, 1898
New York
Dear Sister:
I received your letter. Glad to hear that you are all well and glad that you and the rest of the folks are well for I am anxious to hear from you. I am glad to hear that the children are all going to school and are getting all good and big. I am glad to hear that papa has got work and I hope that you get through with your work and do not feel any worst for it.
As you say that you sent me a picture of Herbert and a letter that he wrote. I did not receive it. I have not much time for I will sail far tomorrow morning. I will send you a program of where we go and how to address a letter.
I send my best wishes and love to mother and I will put a short letter to this for mother. Hoping to find you all well and getting along all right. Do not send me a thing that takes more than 2 cents and if you are going to get a ring for me do not send it till I get back to the New York Navy Yard for it will get lost on the way. I will send you the exact measure of the ring finger and you can keep it at home. I think that I can get a furlow.
Have got to close my letter for the last mail goes at 9:00 this morning.
I close your ever loving brother
Edmund Hargest
Tell mother to put these hat ribbons on the boys hat or keep them herself or let Ann have them.