Lydia V. Whiteside
Era: World War I
Military Branch: Not Available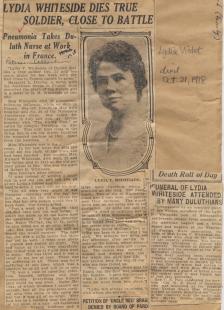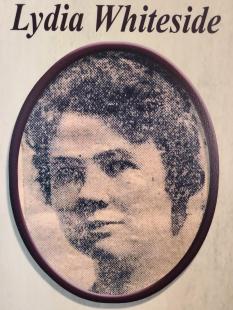 WHITESIDE, Lydia V.
Ms. Whiteside served during World War I. She is the only local female service member to have died during World War I.
Ms. Whiteside served in France. She left in May 1918 with Hospital Unit 26 of the Minnesota Ambulance Corps. The unit sailed for France in July 1918.
Ms. Whiteside served as a nurse for the Red Cross. She was part of a mobile surgical hospital unit near the front, which was nicknamed "The Flying Unit" by General Pershing. She was an operating room nurse.
Her parents were Mr. and Mrs. Richard Whiteside. Her uncle was Robert B. Whiteside.
Ms. Whiteside died of pneumonia, after suffering from influenza, on October 21, 1918. Her grave is at Forest Hill Cemetery in Duluth,
Minnesota. Source: Duluth newspaper October 1918
---
Lydia is spotlighted on the Salute to Servicewomen traveling exhibit produced by the St. Louis County Historical Society.
---
Lydia was also the subject of the 2022 Mike Colalillo Medal of Honor Scholarship award winner, Anna Palodichuk's award winning essay. This $1,500 scholarship is awarded annually to the best essay written about a local Serviceman or Servicewoman or Military group.
---
Mike Colalillo Scholarship
Lydia V Whiteside
Anna Palodichuk
8/31/2021
For many, the phrase "true soldier," conjures images of courageous men in camo and blood soaked battlefields. Although those visuals may be true in many contexts, a true soldier doesn't have to down camo getups or even use artillery as their attack against the enemy. A great example of this is Lydia V. Whiteside. Described as a true soldier on her deathbed, Lydia V. Whiteside sacrificed her life for America during WWI.
She took her first breath in 1884 in the small town of Severn Bridge, Ontario, Canada, preceded by six siblings. After a short stint in Ely, Minnesota, the Whiteside family would come to settle in Duluth, Minnesota in 1901. During her time in school, a passion for healing developed and by 1908 Whiteside loaded up on a train headed for the booming city of Minneapolis. There she honed her nursing skills at the Asbury Methodist Hospital. Certificate in hand, Whiteside returned to Duluth, living with her family and putting her knowledge to work in 1911. Unknowing of the brewing conflict in Europe, Whiteside commenced her career as a nurse. Seven years into her occupation, Whiteside responded to her nation's call for volunteer nurses on the war front. The University of Minnesota is where she gathered with several other nurses who were brought to Georgia to be trained to treat the bullet holes and broken bones they were about to face. Liverpool, England destined, Whiteside and her squadron set sail from New York in 1918. They settled near Eastern France midsummer, preparing for plenty of peril. Scalpel in hand, Whiteside, now a surgical nurse, creeped closer and closer to the battlefield. In a letter to her mother, Ellen Whiteside, Lydia V. Whiteside described working near the war front. She writes: "Twenty of our Unit 26 were detached temporarily from the rest of the unit, about a week ago, and sent up as near the trenches as it is safe for a mobile hospital to be. The nearest I think than any nurses have ever been sent before" (Ouse, para. 7). Unfortunately, Ellen Whiteside died immediately prior to the letter's publication in the Duluth newspaper, and would not see her daughter's return. Not long later, Lydia V. Whiteside laid ill with Spanish Influenza, most likely from treating infected soldiers on the battlefield. Spanish Influenza ran rampant among the US military, killing more armed forces than the actual enemy. Although she overcame the Spanish Flu, she soon developed deadly pneumonia, dying in France October 21, 1918. After resting there for a few years, Whiteside's remains were exhumed and brought back to Duluth. First Methodist Church held a service for her, preceded by her burial in Forest Hill Cemetery. Although Lydia V. Whiteside died over a century ago, her legacy remains relevant. Lydia V. Whiteside and other females who served during World War 1 and helped in the war effort paved the way for women's suffrage and expanded women's role outside of the home.
As men were drawn onto the battlefield during World War 1, women were forced outside of their normative gender roles and took over positions previously held by men, leading to women gaining the right to vote in 1919. Many women participated in the war effort by taking jobs in the manufacturing world and agricultural industry. Some of these jobs were dangerous, like working in munition factories. Workers were not only exposed to toxic chemicals, they were constantly under the threat of explosion as the munitions being made were highly flammable and the factories made perfect targets for the enemy to sabotage. Just like Lydia V. Whiteside, many women supported the war effort by volunteering as nurses and serving at hospitals in France. These women also faced stressful circumstances being on the battlefield front. Often times medical tents would be shaken by air raids, bombs, and artillery being fired less than a mile away. Although some women sacrificed life and limb for their country, even women who did not leave their home contributed to the war effort. With the military consuming copious amounts of food, many women planted gardens and reduced their family's portions of meat, dairy, butter, and sugar to ensure that the troops stayed well fed. Rationing created an easy way for housewives to show their support for the troops and contribute to the war effort and later the suffrage movement.
With women obtaining more responsibilities and prominent roles in the public eye, the right to vote became the next battleground to face. Woodrow Wilson pronounced in 1918 "We have made partners of the women in this war … Shall we admit them only to a partnership of suffering and sacrifice and toil and not to a partnership of privilege?" (National Park Service, para. 3). After many women contributed to their country, they began to demand equal say in electing government officials as men. That's right, the war helped spur the women's suffrage movement. By the time World War 1 started, women in 8 states already obtained the ability to vote, however women's suffrage wasn't granted at the national level. Many other allied countries including Canada, England, and Denmark passed women's suffrage before and during the war, exemplifying how the US lagged behind. Finally on August 19th, 1920, the nineteenth amendment passed, granting women's suffrage for the entire United States. Women like Lydia V. Whiteside not only sacrificed their life for freedom, they also gave more women the ability to fight for life, liberty, and the pursuit of happiness.
Over 100 years later, reminders of Lydia V. Whiteside's sacrifice for her country can still be found today. As the only Duluth Service member to die in World War 1, Lydia V. Whiteside is commemorated by the community and her legacy as a true soldier lives on. A year after her death, an American Legion post of around 100 female nurses formed in Minneapolis. Called Lydia V. Whiteside, the post commemorated Whiteside and her service during WW1. The Whiteside post also made headlines by snagging the title of the second all female post in the state of Minnesota. Recognized internationally, Whiteside's name appears on a memorial in a Canadian parliament building. Names of American, Canadian, and British nurses who died in World War 1 are commemorated in stone, a physical display of gratitude for the Allied nurses who sacrificed their lives. Minneapolis, Minnesota also contains a cenotaph in the shape of a cross with her name engraved on it, recognizing Lydia V. Whiteside and her contributions to the World War 1 effort. Lastly, her grave is a stark reminder of the spectacular life she lives in the pursuit of compassion and kindness. Originally she rested in France, where she died in 1919, however 2 years later, she was exhumed and brought back to Duluth. A full military funeral on December 21st at the Duluth Methodist Church preceded her burial in the Forest Hill Cemetery, her final resting place. Although Lydia V. Whiteside died over a century ago, her legacy has not been forgotten.
Bibliography
Childers, Jim. "Lydia V Whiteside (1884-1918) - Find a Grave..." Find a Grave, 6 Oct. 2012,
www.findagrave.com/memorial/98350621/lydia-v-whiteside.
Inscription on the Liberty Memorial Tower in Downtown Kansas City, Missouri. "Women in
WWI." National WWI Museum and Memorial, 3 Jan. 2020,
www.theworldwar.org/learn/women#:~:text=%E2%80%9CThe%20women%20worked%20as%20ammunition,delicate%20sewing%20in%20aeroplane%20factories.%E2%80%9D
"Local Heroes." Hennepin History Museum, 17 Feb. 2021, hennepinhistory.org/local-heroes/ .
"Lydia V. Whiteside." Lydia V. Whiteside | Veterans Memorial Hall,
www.vets-hall.org/stories/world-war-i/lydia-v-whiteside .
Ouse, David. "Duluth's Only FEMALE Military Casualty of World War I." Vintage Duluth, Duluth Public Library, 26 June 2018,
dplreference.wordpress.com/2018/06/25/duluths-only-female-military-casualty-of-world[1]war-I/
"Women in World War I (U.S. National PARK SERVICE)." National Parks Service, U.S. Department of the Interior, 16 Dec. 2020,
www.nps.gov/articles/women-in-world-war-i.htm
"Women's Suffrage and WWI (U.S. National PARK SERVICE)." National Parks Service, U.S. Department of the Interior, 15 Oct. 2015,
www.nps.gov/articles/womens-suffrage-wwi.htm