Lydia V. Whiteside
Era: World War I
Military Branch: Not Available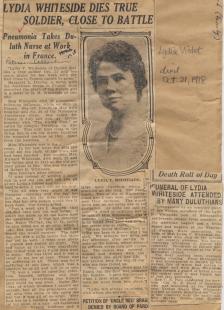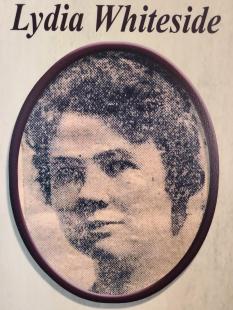 WHITESIDE, Lydia V.
Ms. Whiteside served during World War I. She is the only local female service member to have died during World War I.
Ms. Whiteside served in France. She left in May 1918 with Hospital Unit 26 of the Minnesota Ambulance Corps. The unit sailed for France in July 1918.
Ms. Whiteside served as a nurse for the Red Cross. She was part of a mobile surgical hospital unit near the front, which was nicknamed "The Flying Unit" by General Pershing. She was an operating room nurse.
Her parents were Mr. and Mrs. Richard Whiteside. Her uncle was Robert B. Whiteside.
Ms. Whiteside died of pneumonia, after suffering from influenza, on October 21, 1918. Her grave is at Forest Hill Cemetery in Duluth,
Minnesota. Source: Duluth newspaper October 1918
---
Lydia is spotlighted on the Salute to Servicewomen traveling exhibit produced by the St. Louis County Historical Society.