William "Bill" Arthur Carlson
Era: World War II
Military Branch: Navy
Unit Info: USS Paducah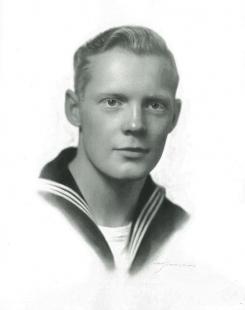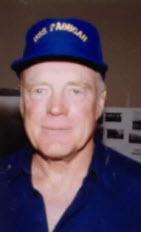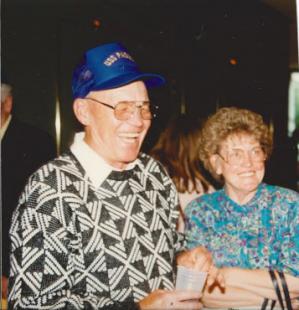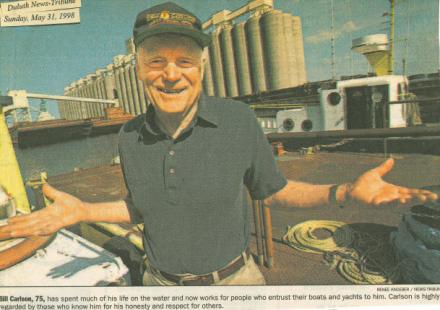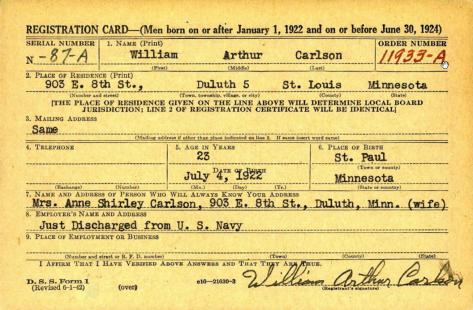 CARLSON, William "Bill" Arthur
William "Bill" Arthur Carlson was born on July 4th 1922 in St. Paul, Minnesota.
Mr. Carlson enlisted into the Naval Reserve (49th Division, 10th Battalion of the U.S. Naval Reserve) on January 15th 1940 in Duluth, Minnesota, where he took on the duties of a gun trainer in a 4" 50-caliber gun mount..
He served a total of 34 years over three separate enlistments:
Active Duty Navy: November 3rd 1940 - October 1st 1945,
US Naval Reserve (1): July 22nd 1946 - 1950i,
US Naval Reserve (2): 1958 - 1982.
He served aboard the USS Paducah (PG 18) in Duluth, Minnesota and in Brooklyn, Staten Island, N.Y.; and Little Creek, Virginia. While in New York City he attended diesel school (at Mechanical Industries Technical Institute in Long Island City, New York, 1941) and armed guard gunnery school.
Aside from the USS Paduch, Mr. Carlson was assigned as a Diesel Technician and rose to the level of Master Chief Petty Officer/Engineerman abord these additional ships:
In late 1941, Mr. Carlson shipped out as a gun crew member aboard the Merchant Seaman (M.S.) ship City of New York. During this tour he made a round trip to South and East Africa.
On March 29, 1942, the M.S. City of New York was torpedoed and sunk by a German U-boat off of Cape Hatteras, Virginia. Mr. Carlson and the other survivors spent 36 hours in a lifeboat. They were rescued after Mr. Carlson saw a dark shape on the horizon and used a flashlight to signal SOS—the only letters he knew in Morse code. He received a Letter of Commendation from the Chief of Naval Personnel for remaining at his station until the ship's gunwales were awash.
In his own words about surviving being torpedoed aboard the M/V City of New York, "We spent 36 hours in our lifeboats. I saw a dark shape on the horizon and used my flashlight to signal 'SOS', these were the only letters I knew in Morse Code. We were rescued by the USS Roper."
In 1944, he was transferred to the Amphibious Force in the Pacific theater, where he was assigned to the LSM 461. He served aboard this ship during several operations, including Okinawa.
He was honorably discharged on October 1st 1945 from Minneapolis, Minnesota but re-enlisted in the Nval Reserve 2 more times..
Mr. Carlson received the following medals during his service:
Commendation Ribbon,
Meritorious Service Medal,
Good Conduct Medal,
Asiatic-Pacific Campaign Medal, -and-
World War II Victory Medal.
Mr. Carlson married Ann on November 4th 1944 and they had 2 daughters and a son. He reenlisted in the Naval Reserve in Duluth in 1946 and was affiliated with various units in that Naval Reserve Center until 1982, with the exception of the period 1950-58. He was promoted to Senior Chief in 1964 and to Master Chief in 1967. He retired from the Naval Reserve on July 4, 1982
Source: Hometown Heroes: The St. Louis County World War II Project. 128.
---
Veterans Memorial Hall Oral History Program
Interview with William Arthur Carlson
Duluth, Minnesota
January 3, 2018
Scott Markle, Interviewer
BC: Bill Carlson
SM: Scott Markle
---
Track 1
00:00
BC: Do you want my age in there too, or what?
SM: Yeah, that would be up to you.
BC: I'm 95. I was 95 on the fourth of July.
SM: Wow! All right, the following interview was conducted with William A. Carlson for the Veterans Memorial Hall Oral History program. It was recorded on Wednesday, January 3, 2018, at Mr. Carlson's residence in Duluth. The interviewer is Scott Markle.
You already told me your age, 95, you were born July 4. Tell us some more about your background; where you came from, you were telling me a few things about being adopted.
BC: Yeah, I was adopted from my biological parents, who were from Finland. I was adopted by the Carlson family when I was probably 18 months or something like that. I went to school in Duluth. I never finished high (school)... I went to Smith Hughes Trade Corps in auto mechanics when I was in high school. I was going to finish up and get my diploma, but I had already enlisted in the Naval Reserve when I was 17. But we got called to active duty on the third of November, 1940. I had joined the Reserve in January.
Then we marched from the old armory down to the Depot because they had moved the USS Paducah (PG-18) down to Chicago in anticipation, I guess. So we took the train down to Chicago and boarded the ship and then we took it up Lake Michigan and down Lake Huron and on out through the Saint Lawrence and pulled in the Brooklyn Navy Yard on the seventh of December, 1940, exactly one year before Pearl Harbor.
BC: So I went up on Broadway and 42nd Street and I got a mug of beer for a nickel and a free lunch on the bar. Of course, my pay wasn't that good at that time, either.
SM: So the USS Paducah, that was the ship that you were initially assigned to.
BC: Yeah, when we went. It was built in 1905, so it was a pretty old gunboat. When we were in the yard, they were working on it, and I asked for diesel school. So they sent me to Hempfield diesel school in Long Island City, New York, and I graduated from that. Then they sent me up to New London, Connecticut, and I spent the summer up there. Then, because I had been a gun trainer on a four-inch gun ... we practiced in the old armory because we had a four-inch gun in the basement with a .22 mounted on it. So the sites aligned where the .22 would shoot, and we had a target that moved back and forth and up and down. We tracked that. That was in my record, that I had been a gun trainer.
SM: And that gun trainer was here in Duluth?
BC: That was in Duluth, yeah.
SM: And then they found that out when you were in Brooklyn, New York.
BC: Yeah. When I was up in New London, Connecticut, they were looking for armed guard gunners at the back of the merchant ships where they had the big guns. So, I was assigned to go back to the USS Paducah and go through Armed Guard Gunnery school. We were assigned to the motor vessel City of New York of the American South African line. We left in January and we hugged the coast of South America to stay away from the German raiders. They were disguised as merchant ships but they had big guns.
We rounded South Africa and went up... We stopped at the Port of London and Port Elizabeth and we got up as far as Portuguese, East Africa, where Madagascar is off the coast. And then we came all the way back and we stopped at Cape Town, and then we went all the back up and we were off the coast of North Carolina, Cape Hatteras. We had just finished lunch when a torpedo hit us just ahead of the engine room on the port side. So we manned the gun and started firing at the periscope, but the waves were about 20 feet high, I think, so the shells would just plow into the wave and the periscope was still there. We fired about 10 rounds and then he pulled his periscope down, went around the other side, put it back up, and let us have another torpedo. That one hit in the after-hold and then it started going down pretty fast.
SM: Now this was the USS Paducah?
BC: No, this was the motor vessel City of New York of the American South African line.
SM: That was a merchant.
BC: Yeah.
SM: Approximately when did this happen?
BC: The 29th of March, 1942.
SM: OK, so war had been declared already after Pearl Harbor.
BC: Right. We didn't have much in the way of escorts on the East Coast. So the German submariners, they called it the Happy Hunting Ground. They sank an awful lot of ships off of our East Coast.
When that torpedo hit the after-hold, the gunner officer said, "Abandon ship." So I went in our quarters, got in my pea coat and life jacket and went down the ladder to the main deck. Didn't have to jump, because I was up to my knees in water already. Just step over the rail. The boatswain had the life boat. He saw me and he waited for me to dogpaddle out to the lifeboat and they pulled me in. We had 32 people in the boat and it was packed.
During that night, they had to bale quite a bit because of the waves. I was in the bow, so I put out the sea anchor. Then I had to make an emergency sea anchor because the canvas on the sea anchor was either bitten off by a shark or it was just old—I don't know what. I told them, "Give me a couple of strong-backs that hold the canvas over the boat." When I was in high school I read (Austin Melvin) Knight's Modern Seamanship. I read that and it talked about making emergency sea anchors and stuff like that. So that's what I did; I tied them together and put a bucket underneath, and that helped.
So we got through the night, and the next day, it calmed down a little bit. During the next night, the boatswain already had us put the sail up. So we were sailing towards the East Coast. I saw a dark spot on the horizon and I figured it looked like one of our escort vessels. So I said, "Give me a flashlight; I'll shinny up the mast and flash S.O.S., which I did. And an old World War I destroyer, the USS Roper, came over and threw out a cargo net. I was in the bow, so I used the bow hook to hold us to it and the boatswain grabbed the stern of the cargo net—the back part—and everybody climbed up, and then we did.
They came up with a Tommy gun and they shot the ballast tanks on the lifeboat full of holes so it would sink and not be out there. In another one of the life boats, there was the ship's doctor. The Yugoslavian counselor's wife who was coming to join her husband in the US from South Africa, and she was pregnant. She had the baby in the bottom of the lifeboat during the storm.
SM: So she was on that merchant ship.
BC: Yeah, she was on that . . . Well, it was a cargo passenger ship, carried about 50 passengers.
SM: And she was one of them. When it was torpedoed, she got on the lifeboat also, of course.
BC: Yeah. So, when they picked her up, the people were awful surprised when they handed up a little baby. She named the baby Jesse Roper Maharcovek, Roper being the ship that saved her.
SM: And the Roper – the ship – was R-o-p-e-r?
BC: Yeah. And one of our other guys in the gun crew named McGuinness, he was from West Duluth, his life boat wasn't picked up for 16 days. They got separated. He had given his coat to a woman, I guess, and he died of exposure. He's buried out in the cemetery in West Duluth.
SM: I understand the USS Paducah got you to the East Coast.
BC: Yeah.
SM: Then you went down along South America, then over to Africa in a merchant marine ship.
BC: Yeah. Cargo passenger ship.
SM: And what was the name of that ship again?
BC: The City of New York.
SM: (That) was the name of the ship?
BC: Right.
SM: And it was a cargo passenger ship.
BC: Right.
SM: And it had guns on it? They tried to disguise it, right?
BC: No.
SM: So the Germans knew it was a cargo ship.
BC: Right.
SM: So now you're saved. What happens now?
BC: They took us into Norfolk, Virginia, and I got sent up to the Armed Guard Center in New York. I got 30 days leave and went home and then came back there and they told me, "You're a fireman, not a seaman, so you gotta change your rate if you're going to stay in the armed guard."
I heard our next trip was Murmansk, Russia. So I said, "I'm not changing my rate." So they said, "Where do you wanna go?" I said, "Put me in the sub chaser fleet." So that's where I went.
The last vessel I was on was a PC-1200 and we were on convoy duty from Guantánamo Bay, Cuba, down to Trinidad, back and forth. I got tired of that duty, so I asked for the Amphib (Amphibious) Forces. I went up to Little Creek, Virginia, and went through Amphib school and then I was sent to Houston, Texas, to put an LSM in commission. That's a landing ship tank. We took that through the Panama Canal up to the West Coast and out to Hawaii and then out in the Pacific.
We got out as far as Okinawa. We stopped in Saipan for quite a while. They had pretty much secured the island but there were still Japanese holding out up in the hills when we were there. So it was from Saipan that we went to Okinawa.
From the island of Tinian, right next to it, is where the Enola Gay took off to drop the atomic bomb. When they did, of course, we were all happy because we knew the war was going to be over then. I rode a troop ship back to the US and I was discharged on 1 October, (19)45.
SM: You were discharged from where again? What city? Where?
BC: I believe it was the Twin Cities, because I was sent back here.
SM: Understand. Your whole time in the Navy, you were active duty.
BC: That was active duty, yeah.
SM: You mentioned the Guard. Were you part of the Navy Guard?
BC: No, the Armed Guard was a section of the Navy who manned the guns on the passenger vessels—or the merchant vessels. But then, after that, of course, then I was in the engine room because I had been trained for diesel, so I was in the engine room for the next time I was in the Navy.
SM: So you went back in the Navy after 1945?
BC: No, this is during that time. When we were on the Pacific, I was promoted to Chief Petty Officer. I was only 22 and I had a 15-men engine room crew. Then, when I got home, in (19)46, I went back in the Naval Reserve.
SM: You were living here.
BC: Yeah, I was here, (19)46 to '50. Then I got out and in '58; I saw one of the officers from the Reserve. He said, "Why don't you come back? We're looking for people. We would give you your rate back." So I went back in in '58, and then I was promoted to Senior Chief in '64 and then Master Chief in '67. I retired from the Reserves in '82. I had 34 years in altogether.
SM: So that was your final retirement; 1982, 34 years.
BC: Yeah. I was 60, so I had to get out.
SM: OK, understand. So, being in the Navy Reserve, (you) still had a full-time job?
BC: Yeah, I worked for Cummins Diesel in Duluth for thirty and a half years. C-u-m-m-i-n-s. Before I worked for them, I worked for a trucking company. I got tired of that, so I went down to Lake Carriers and they gave me a rating of coal passer/fireman/water tender/boiler and deck engineer. I sailed on that vessel for a couple of months. But it was like a tramp steamer; it went from here to there to everywhere. When I got home, my kids hardly knew who I was so I decided to give that up. I told them I was getting off.
BC: I had a wife and three kids, so I had to get a job right away. I heard that Cummins Diesel opened a shop in Duluth so I went down there and applied. They said, "Well, we may only give you about maybe 3-4 days a week or something like that. I said, "I'll take it." It turned out that I never worked less than 5 days a week and a lot of overtime and stuff like that for the next 30 years. Thirty and a half to be exact.
SM: When did you retire from Cummins Diesel?
BC: Oh, let's see. I think it was (19)52 or something like that.
SM: 1952?
BC: I think it was. Yeah, it was a long time ago, anyway.
SM: So then you worked with Cummins Diesel. Was this after World War II?
BC: Right. Well, let's see. I started at Cummins in (19)52. Started with them. Then 30 years.
SM: All right. Started in 1952 with Cummins, then you retired 30 years or so. About 1982, give or take, right?
BC: I guess it was somewhere in there.
SM: That was the same time you retired from the Reserve.
BC: Right.
SM: You were DONE. At 60 years old.
BC: I was 61 when I started drawing Social Security. I shouldn't have. I would have gotten more if I hadn't. I think I took about a 20 percent reduction by retiring early.
SM: But you had your military pension, though, too.
BC: Oh yeah.
SM: So that allowed you to do that.
BC: Oh yeah. One thing about it is, when you've got enough time in like that, you get a pension, plus you get medical and drug, which helps a hell of a lot.
SM: Oh yes. I'm in the same military retirement: healthcare and I also get Social Security now. But I also retired Social Security – like you did – early. Because I had my military pension. So you and I were kind of the same there. You mentioned your wife and three children. When did you marry?
BC: Well, let's see. That's so long ago, I forgot.
SM: Was it after World War II?
BC: No. Before it was over.
SM: So somewhere between 1941 and 1945.
BC: Yeah. It was before I went down to Houston. My wife took the train all the way down to Houston.
SM: She followed you and she lived with you.
BC: Yeah. Then when we were moved to Galveston, she came down there, too, and then when we left to go out to the Pacific, then she came up to Duluth and stayed at my folk's house. I had a son and two daughters.
SM: That's who you were (with) down in the Cities over Christmas, over the holidays was one of the children?
BC: My son died in 2010. He was a big strapping guy and never had a check-up. When he finally went in, he wasn't feeling too good, they found he had inoperable colon cancer. So he died. And then my wife died in 2010 also, in July of that year. She had Alzheimer's. I took care of her at home, which was very difficult. She stayed here until she passed away in the house. I was glad I was able to that; it was very difficult.
SM: I understand that completely.
BC: That was 2010. So in 2011, I went online and that's where I met my current girlfriend. She was just 83 in December. In fact, she's coming up here on Saturday.
SM: How many grandchildren do you have?
BC: That are alive? I've got my daughter, Kathleen, has got one son, Troy. Then my daughter, Lynn, has a son by the name of Jayme and he just got married recently. But he's quite a go-getter. When he was young, he sold cell phones. He made himself $70,000 one year!
SM: Pretty good for selling cell phones.
BC: Yeah. And now he's running a roofing and siding company.
SM: Good for him. With the incident in World War II, when you were hit by the torpedo, by the German U-boat, what kind of... Did you get any military decorations for that? Do you remember?
BC: Well, I've got them pinned on my uniform. I've still got my uniform up there with the seven hash marks there, gold you know. And then, after I retired, then I was still interested in sailing, so I took the Coast Guard exam and I got a 100-ton captain's license. So I made some deliveries. I took a merchant vessel, it was just 55 feet long, took it from here down to Point Judith, Rhode Island. I also ran the pilot boat some, in the harbor.
SM: So you always had this fascination with sailing.
BC: Right.
SM: It's why you probably joined the Navy before World War II started.
BC: Yeah. I've got a 30-foot sailboat that I sail on Lake Superior.
SM: Still?
BC: Still, yeah. Of course, I don't go by myself. I have somebody because there's so much work to sailing like that.
SM: So it was your love of sailing, being raised here at Lake Superior?
BC: Where I lived originally, my folks had a house at 13th Avenue East and 11th Street up on the hill over there. From the front porch you could see all the ships and everything.
SM: And that fascinated you.
BC: Oh, yeah.
SM: So Navy was in your blood already.
BC: Right. Yeah. In fact, when they interviewed me in high school, (they) asked me what I wanted to be. I said, "I'm gonna go in the Navy."
SM: You said you never finished school. You were 17 when you went into the Navy?
BC: Yeah, but I was 18. When I was 18, I was in my senior year. But I got called to active duty before I graduated. But I never really – it was never any impediment to my going and doing anything.
SM: Right. So you never really finished to get that high school diploma.
BC: No.
SM: You didn't use the G.I. Bill or anything.
BC: No, I didn't need to.
SM: When you went into the Navy, you were called up at 18, you had to go on active duty. That was before Pearl Harbor.
BC: Yeah.
SM: Where did you do your basic training?
BC: I didn't do any basic training. It was done. We marched and... in the old armory.
SM: So that was your basic training.
BC: Right. So I never went to boot camp.
SM: Interesting. So, you had your training along the way, when you got to New York, to Connecticut, there was always training in all these (places).
BC: Yeah, right.
SM: The U-boat attack is very interesting. I knew about the German U-boats but to actually hear from someone who survived a torpedo. Your ship went down. Was there anything else that happened in the military? That was probably the pinnacle!
BC: Right. Well, when we were out in Okinawa, and anchored there, we had a smoke generator, so we made smoke for the ships that were downwind from us.
SM: When you were at Okinawa, had the battle already taken place to get the island?
BC: It was probably some of it still going on, I imagine.
SM: If you were making smoke, yeah.
BC: Because the Japanese bombers would come over at night.
SM: Did a Japanese kamikaze ever attack your ship?
BC: No. But it did another one of my friends, who was on a destroyer in the Pacific. They got hit. A kamikaze came down and hit the bridge and killed all the officers up there.
SM: I'm trying to get a feel... You were at Okinawa, and then of course they dropped the atomic bomb August 6, 1945. And soon after that, the war was over and then of course you came back to the States.
BC: Right.
SM: Was there ever any talk... You didn't know the bomb was going to drop. Nobody did, just a few people. But there were already these big plans for the invasion of Japan. Did you know at that time if you were going to be part of that invasion of Japan?
BC: I supposed we were. Of course I didn't know, but that's why I was happy when they surrendered.
SM: Do you have any other interesting stories with military, whether it be good or bad?
BC: Well, not that I can think of. I made quite a few cruises when I was in the Reserves here and we'd usually take our cruise in the winter time. And then you go out to the West Coast or down to the Gulf or something like that where it's warmer.
SM: So all that time you were part time working with the Navy reserve, you'd have these nice cruises, port of calls at different places.
BC: Right.
SM: Warm weather.
BC: Yeah.
SM: With all those port of calls over the years, when you were in the Reserves, what's one of your favorites?
BC: Well, let's see. I was on a repair ship, doing my two weeks cruise. So they had a bunch of chiefs on a repair ship, each department. So, they offered us a trip down to the Bacardi (Rum) distillery, so we went down there. That really surprised me, how they made it. They had seven huge vats, a couple of stories tall and big. They started out with a small beaker of yeast and stuff, and then put into a couple bigger ones and then from that into some carboys. And then they had a mixture of molasses and water and they dumped the yeast into that and it started working. It takes seven days. And then they would empty one out and it would go through the distillery, which was really high, way up. And it came out a solid stream of alcohol, about an inch and a half wide out of that thing. And then they put it in barrels and rolled it into the warehouse to age.
SM: You had a cultural experience there. The night when the ship was torpedoed, 29 March, 1942, off of North Carolina, did you lose any crew members?
BC: Yeah, about 24, I think we lost, altogether; probably passengers and crew members.
SM: How many total (were on) the ship, about?
BC: Well, we had 50 passengers and a bunch of porters who served the passengers, besides the regular crew that ran the ship, and then the armed guards, so we had a lot of people on there.
SM: It was 24 who went down with the ship, probably.
BC: Yeah.
SM: Do you know if they ever tried to find the ship?
BC: Well, it went down in 1,500 feet of water.
SM: We lost a lot of ships in World War II. I know we can't find each one.
BC: When we were coming back from South Africa, we stopped by the Panama Canal zone, in that area, and anchored, because they had to put new rings in one of the pistons. Those Sun-Doxford engines, we had two of them, three stories high. You had three crank shafts for each cylinder. The center crank throw pushed the bottom piston up. Then the two others, there was a crosshead, and it pulled the top piston down. Then the injectors were on the sides and they fired in between and then they would expand again. Ninety revolutions, top speed (and we made 14 knots).
SM: So one of these pistons had to be repaired?
BC: They had to take it out to put new rings in it.
SM: In the canal zone area.
BC: Yeah, so, there was an oil-tight door, a couple of steps up, and then you opened that, and then you could go across; there were railings in there. You could go across the main bearing, which is what? About two feet wide? And then around the other one and across the next main bearing and so on. So I stood on the center crank throw on the one piston and looked up there, and it was 12 feet long.
SM: Wow. When you were in Panama, at the canal zone, that was on that ship that would be torpedoed.
BC: Yeah. Right.
SM: The City of New York. I spent twenty years in the Air Force. I'm retired like you're retired. Do you ever miss the military?
BC: Well, I enjoy meeting with the guys. Like on the sixth, the Head of the Lakes Chief Petty Officer's Association is having a party over at the Hammond. My girlfriend is coming up for that.
SM: OK, all right. I belong to organizations too, with the veterans, just like yourself. (We) get together. I miss it. I miss the military. I miss the traveling. Once in a while you may miss the traveling.
BC: I did a lot of traveling after. My girlfriend and I drove to California and back to visit my niece out there. We drove down to Florida and back to see my son's wife down there in Panama City. We drove down to New Orleans and back. I enjoy driving.
SM: Over the years, were there ever reunions of your units that you belonged to in the Navy? Get-togethers?
BC: No.
SM: But you've had some contact with some of your buddies over the years?
BC: Oh yeah. We have our Head of the Lakes Chief Petty Officer's Association. We have a picnic out at Island Lake out there. And then we have the Christmas one, too.
SM: These people, the Petty Officer group, they're from your time when you were in the Navy?
BC: Yeah. And later, too. In fact, I think I'm the oldest one in the group.
SM: 95! So you'll be 96 this July 4th.
BC: Right. I had an artificial heart valve put in, about four years ago or so, and it's keeping me going.
SM: That's good. You look good. Anything else from your vast military? You have many years in the military. It seems you would go, leave, come back. Right? Until you finally stayed in until 1982. Did you ever think, when you were in high school, that you'd be that long in the military?
BC: No.
SM: It surprised you, right?
BC: Yeah.
SM: To make a career...
BC: Yeah. Do you know Steve Balach out in Gary?
SM: The dentist?
BC: I think the dentist is his brother.
SM: Yeah, well I know the family. I know the dentist, George Balach.
BC: Steve was on that destroyer that the kamikaze hit.
SM: Is that his dad, then?
BC: We got together. We'd meet at Mr. D's and we had pictures of our boats and all the guys who served on the wall at Mr. D's. We haven't met this winter at all. I don't know how Steve is, because I haven't heard from him lately.
SM: Maybe Steve is George the dentist's brother, or father?
BC: I don't know.
SM: It's a big family, I do know that. The dentist is a retired officer. He belongs to... I'm part of a retired officer's group. I was an officer. George Balach, the dentist, he's a retired officer. And then his dad also is a retired officer. I don't know if it's Steve or not. I don't know what his name is. The dentist's dad, George Balach's dad, was recently honored out in Gary-New Duluth, out by the Stowe Elementary School. There was a big thing last year. I don't know if you know what I'm talking about. It was a pretty big celebration in honor of him. Obviously, you're very proud of your military career.
BC: Oh yeah.
SM: I can tell by the way you're talking and by the way you come across, just like I am very proud of mine. Is there any reflection, like a wrap-up, you'd like to say about your life, whether it be military or civilian or both?
BC: No. I just enjoyed life and I'm always upbeat. I take every day that comes and I'm happy about it.
SM: Very good. Well, with that, then, we'll end, unless there's something else you'd like to say or talk about.
BC: Not that I can think of.
SM: We're going to stop then.
End of recording
Transcribed by Mary Beth Frost