George Grenville Barnum II
Era: Civil War
Military Branch: Army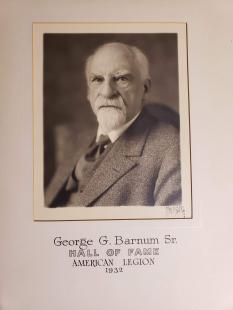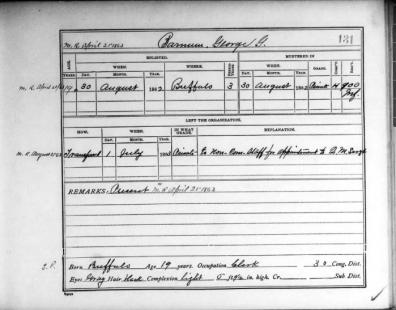 BARNUM II, George Grenville
George Grenville Barnum II was born in Buffalo, New York on October 10th 1843.
When the Civil War began he enlisted in the 100th Regiment, New York Volunteers on August 30th 1892. Barnum served for three years and was a Captain (Bvt CPT) when the war ended.
CPT Barnum was at Appomattox Court House in April of 1865 when Confederate Gen. Robert E. Lee surrendered to end the war. Barnum was part of the 24th Army Corps, 133rd New York Infantry. Upon orders from Gen. Ulysses S. Grant, Barnum delivered a wagonload of food to Confederate soldiers being held prisoner.
He was honorably discharged on August 28th 1865. After the war he emmigrated to northeastern Minnesota, married Laura M. [King] and they started a family.
Barnum was one of the first residents of Duluth, Minnesota arriving in 1867 as a member of the first survey party. He first was involved in the railroad and lake shipping industries before joining the grain trade as an incorporator of the Duluth Board of Trade and owner of the Barnum Grain Co.
The town of Barnum, Minnesota was named after him. He gave his monthly Civil War pension checks to the Children's Home and was known for other philanthropic efforts.
Mr. Barnum died on August 2nd 1936 at 92 years of age. He is buried at Forest Hill Cemetery in Duluth, Minnesota.
Source(s):
---
During his Civil War service, Barnum wrote letters to members of his family, including this one from Morris Island, S.C., dated July 20, 1863.
It read in part: "On the 18th the monitors and ironclads attacked Fort Wagner and kept up the bombardment all day long and part of the night, assisted by the gunboats above 12 or 14 in number, and it was the grandest sight I ever witnessed....Fort Sumpter remained silent, not firing a gun. The dirt flew high in the air every time a shot struck the fort, and one would think it would be blown to atoms, but it remained firm and replied to our guns thick and fast."
"The Negro Brigade...was ordered to charge on the fort. The boys went out with hearts beating high, longing to meet face to face with the enemy, and they did meet them. It was a splendid night."
---
Albert J. Amatuzio Research Center | Veterans Memorial Hall (vets-hall.org)
Page 1 New York Civil War Muster Roll Abstracts - Fold3
George Grenville Barnum Jr. (1843-1936) - Find a Grave Memorial
Ancestry.com - U.S., Sons of the American Revolution Membership Applications, 1889-1970