Welcome!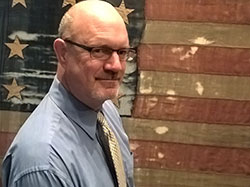 On behalf of Veterans' Memorial Hall, a program of the St. Louis County Historical Society, I wish to say thank you for visiting our website. Within this site you will find very valuable information and resources to assist you with learning about St. Louis County veterans, and the conflicts and military branches they served in. Inside are stories, histories and photos that tell a story – a story about duty, honor and sacrifice.
But there's more. Whether you are a casual visitor, teacher, student, or researcher, your learning experience is not complete until you explore the Veterans' Memorial Hall in person and see everything that it has to offer. Located in the Historic Union Depot ("The Depot"), the Hall has a variety of exhibits, displays and programs that educate and inspire.
I encourage you to visit and I always appreciate questions or comments.
Dave Boe
Program Manager

Exhibit Information
David Wheat Sculpture
Other exhibits include the Generations of Service, Salute to the Servicewoman and Joe Gomer Sculpture