Ferdinand Henry "Ferdie" Thums
Era: Cold War
Military Branch: Army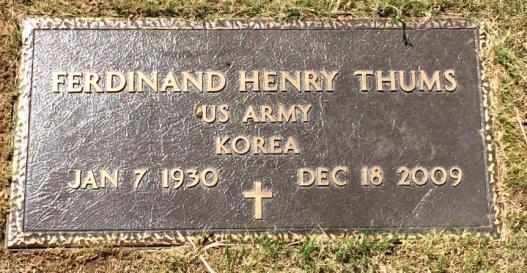 THUMS, Ferdinand Henry
Ferdinand "Ferdie" Henry Thums was born on January 7th 1930 to John & Theresa [Heider] Thums in Greenwood, Wisconsin. He moved to Minnesota and worked in the logging industry.
Mr. Thums joined the U.S. Army as a medic from March 30th 1951 until March 21st 1953.
After his service, he returned home to marry Lora Ellena [Meier] and they started a family. She died at a young age of 21 in Duluth, Minnesota. On May 6th 1961 he married Patricia Van De Voort.
Mr. Thums died on December 18, 2009, in Isabella, Minnesota, at age 79. He is buried at Isabella Memorial Cemetery.
Source: Duluth News Tribune, December 22, 2009.
---
Ferdinand Henry Thums in Social Security Death Index - Fold3
Ferdinand Henry Thums (1930-2009) - Find A Grave Memorial
U.S., Department of Veterans Affairs BIRLS Death File, 1850-2010 - Ancestry.com