Mary Elizabeth Ward
Era: Cold War
Military Branch: Army
Status: Featured Story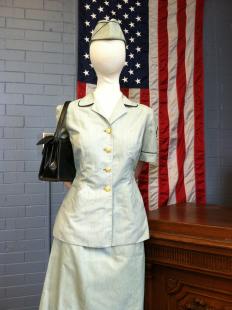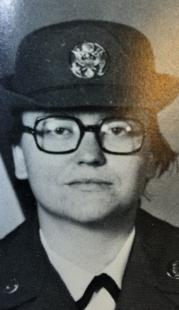 Mary Elizabeth Ward
In her words:
After graduation from high school in 1974, I enlisted in the US Army Woman's Army Corps or "WACs." I enlisted in the new program at the time called "Delayed Enlistment Program" on August 12, 1975, but did not report until January 11, 1976. I served from January 11,1976 to January 11, 1979.
I did my basic training at Fort McClellan, Alabama. At the time, the Army was in the process of doing away with the WACs and integrating women into the regular Army services with men and all the training would be together. The male drill instructors (old term – drill sergeant) were at this Fort to learn how to handle woman recruits.
At this time, the Army was ordered to recruit women at basic training for a program to enter a prep school to be one of the first woman cadets at West Point. Our commander presented the program to 25-30 women from your company. All the women had pre-qualified by their test scores and education levels and physical tests. No one was told of the program until that day, so we had no chance to better our scores or think about the program. We were all told it would be a very bad thing for our military career. We were given 10 minutes to decide to sign up for the program. All questions presented by the women were all answered with a negative spin. Not one person signed for this opportunity. I think it was well into the 80s before a woman got through West Point.
I did my training for being a Medic at the Academy Brigade, Academy of Health Sciences, Fort Sam Houston, Texas.
I was a Medic in the US Army for years, stationed at Madigan Army Medical Center in Tacoma, WA. Working with and treating patients from all ages from newborns to adults, from many diverse cultures & nations. In enjoyed patient care very much but not the paper work or politics. I found if you were not a physician, medicine good be a very degrading business to work in, so I became an accountant.
I left service at the rank of SP4/E-4. I received honorable discharge and received the US Army Commendation Medal for Leadership.
Statement about her service:
I served shortly after the Vietnam War, and people were not supportive of the services. We were not allowed to wear our uniforms on any public transportation. We were told not to wear our uniforms off post. If people knew you were in the service, anything you purchased went up in price, or you paid more for delivery, or they would not rent to you or serve you. It was very eye-opening for a young 20-year-old woman on her own from little Duluth, Minnesota. All the years I served, I qualified for food stamps.
I was discriminated against many times during my service, but the service as a whole was going through very bad times. Changes were great: all volunteer service, no draft anymore; women in new jobs (inching closer to combat roles); women commanding me, not just nurses; a lot less many because the war was over; many Vietnam veterans were being forced to retire or leave the service; many Vietnam veterans had drug and mental problems and were not being helped. My time in the service was a good experience for the most part. I learned a lot, and it laid a good foundation for all my future jobs.