Nick Basarich
Era: Cold War
Military Branch: Army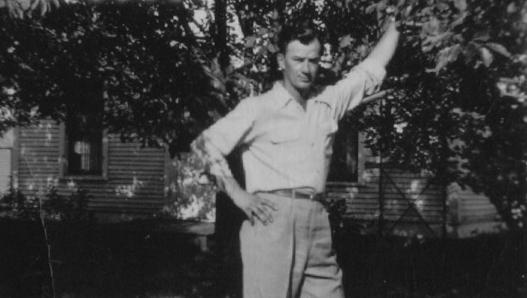 Photo: Mr. Basarich at home in 1947 after discharge. "Note ribbon of stars in window, 1 gold and 3 blue. My mother was very proud of them."
Mr. Basarich served in World War II. He served in the U.S. Army from January 1946 until August 1947.
His rank was Private First Class. He was a Radio Operator and a Paratrooper.
Mr. Basarich was decorated with the World War II Victory Medal, Army of Occupation Medal (Japan), Expert Rifle Badge, Parachutist's Badge, and the Silver Wings/Paratrooper.
Mr. Basarich was born in 1927 in Hibbing, Minnesota, the son of Peter and Frances (Rukavina) Basarich.
Source: Veterans' Memorial Hall veteran history form; veteran's account (below)
"During one of our parachute jumps in Sendai, Japan, shortly after our plane was in the air, the pilot turned on the red light, which means "get ready to jump." We knew we were a long way from our two-drop zone; none of the jumpers moved. When the pilot turned on the green light, which means "go," the jumpers still didn't move.
"The co-pilot came out and jumped, and we were quick to follow. As we descended, we looked up at the plane and noticed that one engine was burning. Some of the men landed on the beach, and some in the shallow water. None was seriously injured. Two transport trucks came to pick us up and bring us back to Sendai. The guy in the first truck drove down too far on the beach and his truck got stuck in the wet sand. The second driver had to tow the first truck out. After that, they brought us back to Sendai."