Frank Stokes
Era: Global War on Terror
Military Branch: Air Force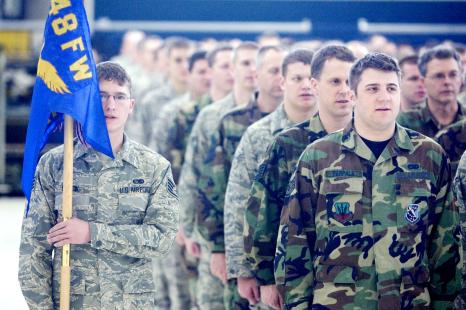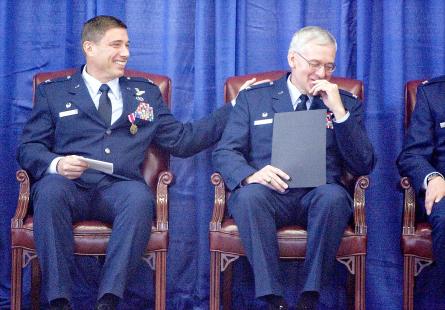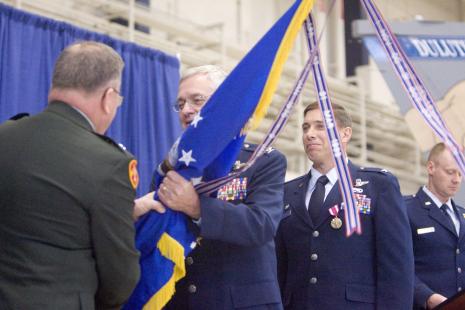 Photo 1: Frank Stokes
Photo 2: Frank Stokes
Photo 3: Adjutant General Larry Shellito, Commander Mark Johnson, and Commander Frank Stokes.
Photos courtesy of Duluth News Tribune
---
STOKES, Frank
Colonel Frank Stokes has had a long and successful military career that spans from 1983, but his toughest assignment lies ahead. Col. Stokes was promoted to Wing commander of the 148th Fighter Wing in Duluth during a change of command ceremony Sunday at the airbase. He will replace Col. Mark Johnson, who has been the commander since July 2004.
The toughest part for Stokes will be to continue the high-level of excellence at the base and strong reputation within the military. He said the airbase is at the top, but the difficult part is to stay at the top. "We need to instill the work ethic for those who follow," Stokes said, "We will never give up."
Stokes said there is a strong "vibe" of excellence at the airbase that starts the moment someone comes to the gate and is met by the security force. He added the fire is still there at the base to continue to be the best of the best.
Upon assuming command, Stokes brings an impressive resume that includes more than 3,300 flying hours (1,285 as an instructor pilot in the F-15 and F-16) and a recipient of the bronze Star. He served as the 455th Maintenance Group Commander in Afghanistan and from January to May 2007.
Both Stokes and Johnson placed all the credit for the success of the 148th on the brave men and women who have served over the years. They have had three tours in Iraq over the last four years and have been praised for their other assignments when called upon since 9/11.
Stokes and his wife, Kristy, have four sons. Stokes thanked his family for all of their support over the years and making the best of the time that he has been away. Stokes holds a master's degree in aerospace engineering and mechanics from the University of Minnesota. He is a graduate of Leadership Duluth through the Duluth area Chamber of Commerce, has served on the board at Kenwood Lutheran Church and coached baseball for the Central Little League.
By Wade Petrich Hermantown Star March 26-April 1, 2009 Vol. 22 Issue 13 ------ Frank Stokes
---
"The Minnesota Air National Guard 148th Fighter Wing announced the following: Col. Frank Stokes assumed the role of vice commander.
Stokes, a native of Duluth, joined the Air Force in 1983 and later joined the 148th in 1991. Positions he has held include air operations officer, 179th Fighter Squadron commander, vice wing commander and maintenance group commander.
From January to May, Col. Stokes also served as group commander for the 455th Expeditionary Maintenance Group commander, from January to May. Col. Stokes also served as group commander at Bagram Airfield in Afghanistan. He is a command pilot with more than 3,300 flying hours, 1,260 of which are as an instructor pilot in the F-15 and F-16."
Source: Duluth News Tribune, December 10, 2007