Penny Dieryck
Era: Global War on Terror
Military Branch: Air Force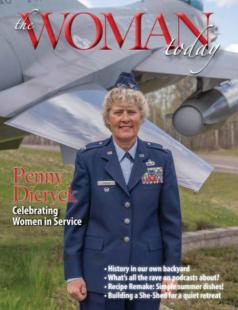 DIERYCK, Penny
Ms. Dieryck has served in the U.S. Air Force during the Global War on Terror.
On November 11th 2008, her rank was Colonel.
---
Source: "Veterans Day: Honoring Our Heroes," Hermantown Star, November 13, 2008 (see article, below)
U.S. Air Force Col. Penny Dieryck asked Hermantown Middle School students to stand up if they had a family member in the military. A vast majority of the students stood up.
With more local service men and women being called to active duty, many of the students will likely not have some of their loved ones home for the holidays this year.
Armistice Day was originally started in honor of the end of World War I in 1918. Fighting officially stopped on the 11th hour of the 11th day of the 11th month of that year. Since that time it has been changed to Veterans Day and the day is honored by many throughout the country.
Col. Dieryck spoke to the students Tuesday morning about Veterans Day and why it is important in this country. She spoke about the fact that if we did not have our freedom we could not text message our friends or use Facebook without others watching over us. If they wanted to protest something their government was doing in some countries, they would be thrown in jail.
"Remember your freedom," Dieryck said. "Thank God for our forefathers (who fought for us)."
An Iraqi War veteran, Col. Dieryck has served her country twice in that region. She told the students we are doing good things in that country, which was once ruled by a dictator. She shared some of her stories about serving there, including a visit by country music singer Toby Keith. She added that she was proud to serve her country while in Iraq.
"You do not always hear about the good things happening there," she said.
Col. Dieryck spoke a little bit about her background and her call to service. A Morgan Park and UMD graduate, she has worked her way up the chain of command with the Air Force. Her husband and son also serve in the military.
90 YEARS ago the war to end all wars was finally over, but since that time AMERICANS have been involved in conflicts all over the world to preserve our basic rights at home and to spread FREEDOM throughout the world.
Story by Wade Petrich