William T. Bestor
Era: Global War on Terror
Military Branch: Army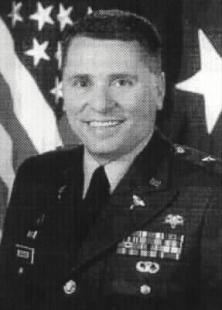 Brigadier General Bester was born in Duluth, Minnesota and holds a BSN degree from the College of St. Scholastica.
He is a graduate of the US Army Nurse Anesthesia Program at Madigan Army Medical Center. His assignments include staff nurse positions at Madigan Army Medical Center and the US Army Hospital in Okinawa, Japan.
During his assignment as a nurse anesthetist at the Reynolds Army Hospital, Fort Sill, OK, he was selected as the sole anesthesia provider for the Cuban Refugee Operation at Fort Chaffee, AR, during May/June 1980. He has also held positions as the Chief Nurse of the 10th Combat Support Hospital, Fort Meade, Maryland; Instructor at the AMEDD Center and School, Fort Sam Houston, TX; Brigade Staff Officer, 4th Recruiting Brigade, Fort Sheridan, IL; and Personnel Management Officer at US Army Personnel Command in Alexandria, VA. His most recent assignments include Chief Nurse, Fort Benjamin Harrison, IN, and Deputy Commander for Nursing at Fort Leavenworth, KA.
In 1994, he was assigned as the Deputy Commander for Nursing at the USA MEDDAC in Wuerzburg, Germany, and as the Chief Nurse of the 67th Combat Support Hospital. In December 1995, he deployed to Taszar, Hungary in support of Operation Joint Endeavor. During this development, in addition to his Chief Nurse responsibilities, Brigadier General Bestor served as the Advanced Party Commander and during his final 60 days in theater, was selected as the Medical Task Force Commander with responsibility for all medical assets in Hungary and Croatia.
He is a 1998 graduate of the United States Army War College. His last assignment was as the Commander, Moncrief Army Community Hospital, Fort Jackson, SC. He will be serving as the Assistant Surgeon General for Force Projection, Deputy Chief of Staff for Operations, Health Policy and Services as well as serving as the 21st Chief, Army Nurse Corps.
His awards include the:
Legion of Merit,
the Meritorious Service Medal with three oak leaf clusters
Army Commendation Medal with one oak leaf cluster,
National Defense Service Medal (with star),
Humanitarian Service Medal,
Army Achievement Medal and several service ribbons.
He is a member of the Order of Military Merit, the Sigma Theta Tau Nursing Honor Society, and he holds the Expert Field Medical Badge and Parachutist Badge.