Annette (nee Beauto) Mariucci
Era: Vietnam
Military Branch: Army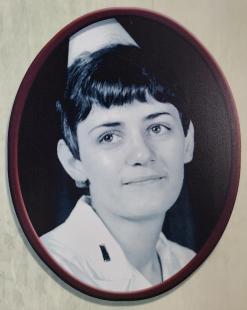 Annette (nee Beauto) Mariucci
Annette Beauto was born in Superior, Wisconsin and enlisted in the U.S. Army Nurses Corps in 1968 where she was assigned to the 44th Medical Brigade. This medical brigade was consituted in the regular Army in 1965, activated at Fort Sam Houston, Texas in 1966 and had its garrison headquarters at Fort Bragg, North Carolina.
It's mission was to organize, train, deploy, command, and control assigned and attached medical units to provide a camprehensive system of corps-level combat health support across the spectrum of conflict. It was assigned to Vietnam, first in Saigon and then at Long Binh.
Beauto received her basic traing at Fort Sam Houston and at Fort Bragg. She was assigned to Vietnam immediatley after training, arriving in January 1969 for a one-year tour of duty at the 93rd Evacuation Hospital at Long Binh. When Beauto was at Long Binh, it was the major U.S. Army command headquarters and the largest U.S. Army base in Vietnam with over 60,000 personnel attached to it. It had two hospitals - the 93rd and the 23rd Evacuation Hospitals.
During the war, the 93rd Evacuation Hospital admitted 73,023 patients, treated 9,343 battle casualties,and had over 230,000 out-patient visits. It participated in and recieved thirteen campaign streamers and received the Meritorous Unit Citation (with 3 Oak Leaf Clusters), and the Republic of Vietnam Civil Action Honor Medal, first Class Streamer Vietnam 1969-1970.
During its years in Vietnam from 1966-1972, including the year the Beauto served, the 44th Medical Brigade was given credit for participation in twelve campaigns. for her work at the hospital from January 1969 to January 1970, Beauto recieved the National Defense Medal, Army Commendation Medal, Vietnam Service Medal, and the Republic of Vietnam Campaign Medal.
After her year in Vietnam, Beauto was assigned to William Beaumont Hospital at Fort Bliss, Texas, until she was discharged in August 1970. She married Donald Mariucci in 1972 and settled in St. Louis County and currently lives in Virginia, Minnesota. Her message to all Vietnam veterans is, "Thank you to all who served."
She is spotlighted on the Salute to Servicewomen traveling exhibit produced by the St. Louis County Historical Society.