David Kenneth Watson
Era: Vietnam
Military Branch: Navy
Unit Info: USS Duluth LPD-6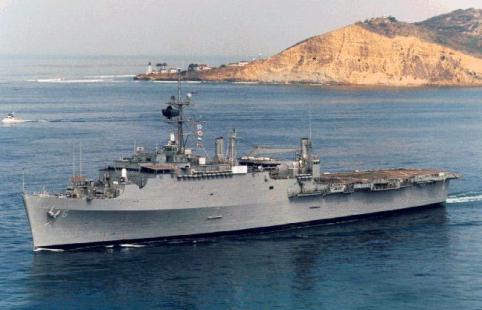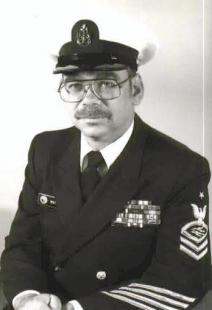 My name is David Watson. My rating during my career in the Navy was as a Radioman. I joined the Navy on February 1, 1969 at the age of 18, and retired in February 28, 1991 at the age of 40. I enlisted in the Navy in Missoula, Montana mainly because I did not want to get drafted and end up being a ground pounder in Vietnam. In May of 1970 I completed Radioman "A" School in San Diego, California. I spent time on 5 different ships and 4 shore commands. I started out as a Seaman Recruit and ended as a Senior Chief on the USS Samuel Gompers AD-37 in Alameda, California.
I joined the USS Duluth as an RM2 and was only attached to the ship for about two and a half years. I reported to the ship just days prior to the evacuation of Vietnam. Over the years I have served with many excellent people, and still correspond with a few that have made a very positive affect to me personally and professionally. I married Donna May Osterman in October 1972, and we have three children and five grandchildren. We have lived in Long Beach, California, San Diego, California and Seattle, Washington. We now live in Lake Forest Park, Washington, a suburb of Seattle, and have a beach house in Ocean Shores, Washington, which we split our time between the two locations.
1. Please describe who or what influenced your decision to join the Navy?
Primarily it was my father. He was in the Navy during WWII on a submarine (not sure which one), a sub tender (the USS Howard S Gilmore AS-16), and at the submarine base at Langley Point in the Philippines. As I was nearing graduation from high school in Missoula, Montana in 1969 I was not particularly interested in continuing with college. In January 1969 my father contacted a friend of his in the Navy Reserve in Missoula.
On February 1, 1969 I enlisted in the US Navy Reserve. I knew I did not want to get drafted and end up being a ground pounder in Vietnam, which is what probably would have happened if I did not attend college.
2. Whether you were in the service for several years or as a career, please describe the direction or path you took. What was your reason for leaving?
When I enlisted I thought that I would like to be a Ship Fitter. I took the ASVAB test and scored high in Radio and Radar. Not knowing what the difference was, and not really motivated to any other rating I applied for Radioman A School. In January 1970 I reported to NTC San Diego for Radioman A School.
Prior to beginning A School everyone had to be able to type on a typewriter accurately for I think 50 words per minute. It took me two weeks to do that and get assigned to a class. Then came CW (Morse Code) classes. That took a while to get out of there. I had trouble sending. Receiving code seemed to be easier than sending for me. Anyway, in May I graduated from Radioman A School and received orders to NAVFAC Keflavik, Iceland. I arrived there in June 1970 and was separated from active duty in November 1971 due to a reduction in forces authorized by the CNO. I returned to Missoula, Montana and rejoined the Reserve Unit. Under the GI Bill I enrolled in college in January 1972.
College was still not for me, so after the spring quarter I dropped out and went to work. In June 1972 I meet my future wife and we married in October 1972. In January 1973 I was laid off from my job, so I reenlisted in the Navy on active duty as a RM3. I was at NavSta Treasure Island for about a month, and then I received orders to the USS Juneau LPD-10 in Long Beach, CA. I reported to the Juneau in February 1973 and left there in 1975 as an RM2. I went to NTC San Diego for Radioman B School then orders to the USS Duluth LPD-6. I arrived there in April 1975 during the evacuation of Vietnam. I caught up with the ship in Sattahip, Thailand.
While I was on the Duluth I attended Teletype Repair School at NTC San Diego. I went to school while the ship was in the yards at NASSCO Steel in San Diego. I left the Duluth in 1977 after the ship completed RefTra and was getting ready to depart San Diego on a WestPac deployment. I left the ship one week prior to the ships departure. I went to NTC San Diego to Radioman C School, Communications Systems Technician School, followed by Instructor Training School, and then to Radioman A School as an instructor.
I was advanced to RM1 during CommSysTech School. I taught in a few different sections of A School for 2 and a half years, then got moved over to Teletype Repair School for a year and a half. In February 1981 I was assigned to the USS McKee AS-41 under construction in Seattle, WA. I was part of the nucleus crew in Seattle. The McKee was commissioned in August 1981 and we departed Seattle in October for our homeport in San Diego at the Submarine Base at Ballast Point.
After we arrived at the Subase the radio shack was reassigned TAD to ComSubGru 5 Staff. We then became the communications center for the entire base. It was while I was with the SubGru-5 staff I was advanced to RMC. After four years on the USS McKee and the SubGru-5 Staff, in May 1985, I was transferred to Naval Telecommunications Center in Seattle, WA.
This message center had the military communications guard for all the small commands in the Seattle area. I was the Officer in Charge, reporting to the Commanding Officer of the Naval Communications Station at Bangor, WA. I was the OIC until June 1989 when I was transferred to the USS Samuel Gompers AD-37 home-ported in Alameda, CA. The Samuel Gompers was on deployment to the Persian Gulf, and I flew out from Seattle to meet the ship, by way of Oakland, CA, Anchorage, AK, Clark AFB, PI, Subic Bay, PI, Diego Garcia, BIOT, al-Seeb Air Base, Oman, USS Wabash AOR-5 and finally the USS Samuel Gompers at anchor 16 miles off the coast of Oman.
On February 28, 1991 I retired from the US Navy with 22 years of active service. I retired because I was tired of deploying and being away from my family. I enrolled in college in April under the Vietnam Era GI Bill education program.
3. From your entire service, including combat, describe the personal memories which have impacted you most?
When I was on the USS Samuel Gompers AD-37 we went on my last WestPac cruise. I was a Senior Chief and the Assistant Division Officer in the R-4 electronics repair shop. We left from Alameda, CA and did the usual Hawaii, Yokosuka, Pusan, Subic Bay, Hong Kong, Sasebo, back to Subic Bay, Hawaii and Alameda.
During that entire cruise, whenever the ship arrived or departed every port, I was the OOD, even if it was not my duty day. That drove me crazy. As it turned out, not many of the other chief's on-board or junior officers had any experience getting a ship underway, or returning to port. When I was on the USS Duluth I was the radiotelephone talker for the Captain on the bridge for all the sea and anchor details and General Quarters.
I learned a lot from being out there, and it came in handy whenever the Gompers got underway and arrived in a port. I think I drove the crew crazy because I would not let anyone off the ship prior to all the trash being removed and the mail was brought on-board. Then I would hold liberty inspection of the crew's attire to make sure they were dressed properly. Somehow they learned what I was looking for and they slowly became better sailors, at least in my mind.
I remember looking up the passageway from the quarterdeck and seeing heads peeking out from the corners to see if I was letting anyone off the ship. Lots of people complained to the Duty Officers and the Captain, who came down a few time to see what all the excitement was, only to told that if he didn't like how I was conducting myself and the crew he could relieve me. You know, that never happened. Even he learned that I was serious about navy tradition.
4. Of all the medals, awards, formal presentations and qualification badges you received, or any other memorabilia, please describe those which are the most meaningful to you and why?
In 1975 while on-board the USS Duluth we were located at NAS North Island for a short maintenance availability with the USS Samuel Gompers. I was up in radio one evening and was practicing bring up a simplex radio-teletype circuit. While I was searching frequencies I came across a weak signal coming from a submarine off the coast of California that had been out of communications for a number of days and had a large backlog.
They wanted to know if I could accept their message traffic and process it into the communications network. I said sure, and they started sending their messages. After I had received and acknowledged all their messages they were gone. I then activated another teletype circuit with the Communications Station in San Diego and sent them all the messages from the submarine. This event took about 4 hours to process. I don't remember the name of the submarine or how many messages they needed processed. It was quite a few, more than 25.
When I transferred off the Duluth and was going to school at NTC San Diego in Communications Systems Technician school I was notified that I was required to attend an awards ceremony at the base commander's office. Being a lowly 2nd Class Petty Officer I was unsure of what I was doing there.
When I went out to line up for the awards ceremony I was the only enlisted man in the line of about 6 to 8 officers. I asked if this was right, but was told to just follow instructions. When we marched out for the ceremony, I was first. This was the first Navy Achievement Medal that I was awarded. At the time the qualifications for the medal only dictated that officers would receive the medal. Needless to say the rest of the officers receiving awards were a bit miffed. It was right after my receiving the NAM, that the requirements were rewritten to include enlisted personnel.
That batch of outgoing messages from the submarine had some very important messages that were time sensitive and of a highly classified nature that the submarine's captain notified their squadron and recommended me for an award. So I was the first enlisted man to receive a Navy Achievement Medal stationed at NTC San Diego, CA.
5. Which individual(s) from your time in the military stand out as having the most positive impact on you and why?
There are three of them. The first was while I was on the USS Juneau LPD-10 as a young Second Class. He was an RM1 named Mike Milam. He came to the ship from Tech Control at NavCommSta San Diego. He was the first to teach me all the particulars of standing watches in Radio Central and keeping transmitters and receivers tuned properly and that the teletype and voice radio circuits operated properly and at the time needed by the different stations – the Bridge, CIC, Flag Bridge, Flag Ops, and PriFly. I only worked with Mike for about a year and a half, but he turned me into a professional Radioman. He too finished his career as a Senior Chief Radioman.
The other major influence was also an RM1. He was Tom Bennett there on the USS Duluth. He was the LPO when I reported to the Duluth as a more experienced Second Class Radioman. Tom was the kind of guy who was a hands on leader. If you were to do a job for him he would show you how to do it his way, and that was usually the right way, and on the first try. He was a hard man who worked hard, and played just as hard. He went on to become a Master Chief Radioman and retired after 30 years in the Navy.
These two shipmates had a direct and positive influence on me for the rest of my navy career. The first started me on my way as a professional Radioman, and the second turned me into a professional sailor. I am in occasional contact with Mike Milan, but unfortunately have lost contact with Tom Bennett. These two are my personal hero's.
My third was RMCS Max Amrine from the USS Duluth. He was a no-nonsense leading chief. Senior Chief Amrine was an excellent organizer. He taught me the importance of acquiring and mastering administrative skills, which can be used for a lifetime. I use those skills to this day, and occasionally I think of Max while I'm doing one of those skills. At times Max would really piss me off with some of his policies and reasoning, but I'm still very grateful for his diligence and his ability to push me, my watch section, and the Radio Shack as a whole to work together for ourselves and the good of the ship. The ship received a Green C for our work in Radio and on the Signal Bridge during the evaluation cycle. And I'm happy to say that Max is a great friend and would readily help any of his shipmates if it was in his power. Thanks Max for making me a better sailor and also a better person.
6. What profession did you follow after your military service and what are you doing now? If you are currently servicing, what is your present occupational specialty?
After I retired in February 1991 I immediately enrolled in college. My intention was to study Mechanical Engineering. I started at Shoreline Community College and went to school for a year and a half, even taking classes in the summer. I graduated with an Associate's Degree in Applied Arts and Sciences. About half way through I had a meeting with my advisor and he talked me into changing to Civil Engineering, which had a greater chance of finding a job in Washington than a Mechanical Engineer.
At the same time I was going to Shoreline I was also taking classes at North Seattle Community College in their Construction Engineering program. After I had finished at Shoreline and while I was going to North Seattle I found a job working part time at King County Public Works in downtown Seattle. After I was done at North Seattle Community College I started working full time at King County as a temporary employee.
After 5 years as a temporary I was hired on as a permanent employee. I worked there for 21 years, starting out as a Engineering Assistant, then moved up to an Engineering Technician as a CAD operator, then advanced to an Engineer II working on roadside drainage systems, followed moving up to an Engineer III working in drainage and conveyance systems.
About 5 years ago I moved over to Construction Inspection on small to medium priced road projects. Those types of projects were priced in the $200,000 to $1,500,000 range. I would have anywhere from 4 to 8 projects going on at one time, and supervised 2 to 3 different Inspectors. My last two years were with the Marine Division doing the Construction Management for two new passenger only ferry boats. That project was for $13,000,000. After the second boat was delivered and was put into service I retired from the County.
7. What military associations are you a member of, if any? What specific benefits do you derive from your memberships?
I have been a member of the Fleet Reserve Association since I retired from the Navy, but have not been active with them. At the time I retired the building where they held their meetings was south of Seattle, and was a long drive through traffic to get to and from that location. And the meeting times were not real convenient for my schedule. Since I have retired from working the meetings times are more convenient to attend and become involved. And the meeting location has moved north of Seattle, which is closer to where I live, making it easier to get to. I'm also a member of the American Legion, and the same problem holds for this organization too. But since I have retired I plan on becoming more active with them as well.
8. In what ways has serving in the military influenced the way you have approached your life and your career?
I have become much more disciplined in my attitude towards my coworkers and friends. Occasionally I have had to remind my supervisors that their approach to solving problems has not been with the interests of the people involved. As a Chief and Senior Chief I had honed my leadership techniques and values out in the fleet, and those same techniques and values still apply, even in civilian life. Taking responsibility for our words and actions still means a lot to me, and I have tried to apply those principles to my civilian jobs.
9. Based on your own experiences, what advice would you give to those who have recently joined the Navy?
Tradition. Follow what your LPO's, Chiefs and Division Officers tell you. Don't try to buck the system. The way ships operate has been going on for centuries, and will continue to go on. Even with advanced technology, Seamen, Petty Officers, Chiefs, and Officers are still needed to keep the ship going and each other safe. It's teamwork that gets the job done. Disciplined men and women, working side by side, living side by side on deployments and even back in your home ports keeps the ships and the Navy moving forward. Just remember that you are all adults now, and need to conduct yourselves in a respectful, professional manner at all times. When you are away from your ship or command is the time to relax and enjoy life. On-board your ship or command is the time for professionalism.
10. In what ways has the USS Duluth Crewmembers Association helped you remember your military service and the friends you served with?
At the 2013 and 2015 reunion in Duluth, Minnesota I was able to strike up many conversations with other shipmates that I had never really had a friendship with while I was on the ship. But being a member of the Association, having served in the USS Duluth, no matter when, each one of us seemed to have a mutual respect for each other because it was something that we had in common and had gone through, not matter when or where.
The comraderie is a very special bond that never seems to tarnish or go away. When I met up with the other Radiomen which I served with, our conversations took off as if we had just stood watch yesterday. But it was 40 years later, with very little contact with each other in between. We all had that respect for each other that has not faded over time. I'm glad that I was able to attend both reunions, and my former shipmates were also able to attend. I wish more of them were able to attend.
---
For more information about the USS Duluth, follow this link: