Dennis Wayne Pawlowicz
Era: Vietnam
Military Branch: Marines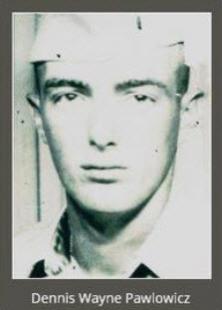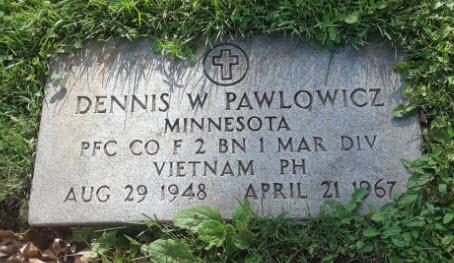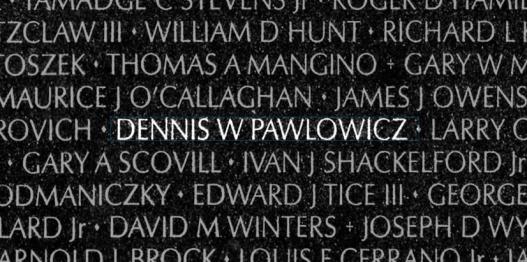 PAWLOWICZ, Dennis Wayne
Dennis Wayne Pawlowicz was born on August 29th 1948 to Jasper & Donna Bernice Pawlowicz in Duluth, Minnesota.
Mr. Pawlowicz enlisted in the U.S. Marine Corps on July 1st 1966 in Minneapolis Minnesota. While in Vietnam, he was served with the 1st Marine Division, 2nd Battalion, 1st Marine Regiment, Company F as a rifleman. He rose to the rank of Private First Class (PFC).
On April 21st 1967 Company F came into heavy contact with the North Vietmanese forces in the vicinity of Binh Son and began to take heavy casualties. Reinforcements quickly arrived and joined in the battle to break through to the Marines of Company F who were surrounded by the enemy.
By the end of the day, 42 Marines were killed in action and many more were wounded, four would die from their wounds. Tragically PFC Pawlowicz was one of those who died of their wounds from small arms fire in the Quang Nam Province of South Vietnam.
PFC Pawlowicz earned the following merits for his service:
National Defense Service Medal,
Vietnam Campaign Medal, -and-
the Purple Heart (posthumously).
PFC Pawlowicz's remains were brought home and laid to rest in Oneota Cemetery in his hometown of Duluth.
Source(s):
---
Albert J. Amatuzio Research Center | Veterans Memorial Hall (vets-hall.org)
Dennis Wayne Pawlowicz: PERSON, pictures and information - Fold3.com
PFC Dennis Wayne Pawlowicz (1948-1967) - Find a Grave Memorial