Herbert "Andy" Roy Anderson
Era: Vietnam
Military Branch: Army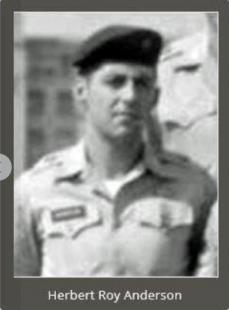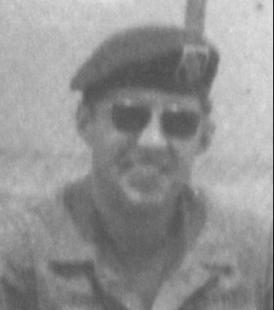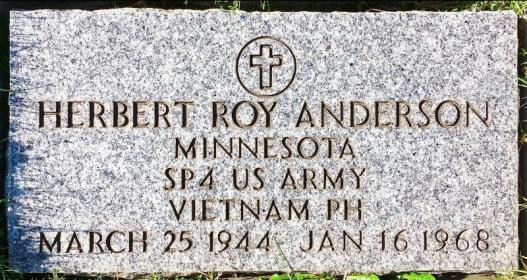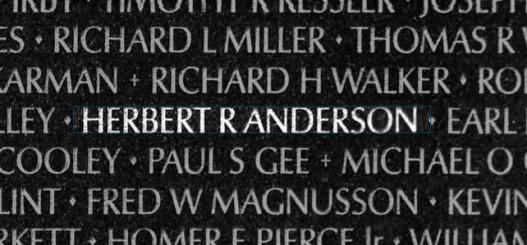 ANDERSON, Herbert Roy
Herbert Roy "Andy" Anderson was born on March 25th 1944 in Virginia, Minnesota. He was the son of Herbert Kuhn & Evelyn Virginia O. [Isakson] Anderson.
He served in the U.S. Army, Detachment A-411, Company D, 5th Special Forces Group during the Vietnam War. He was assigned to Camp My Phuoc Tay and served there as Medical Specialist of the detachment.
He rose to the rank of Specialist 4th Class (SPC4).
According to the official account, Mr. Anderson was tragically killed in action on January 16th 1968, in a Viet Cong mortar attack on a medical dispensary in My Phuoc Tay (see below). He was justt 23 years of age.
However, a second, unofficial account relates a different history of how Mr. Anderson died (see below). It indicates that Mr. Anderson died in combat as he and Commanding Officer Young of A-411 were attempting to rescue Sergeant 1st Class Earl Biggs and Sergeant 1st Class Frank Parrish on January 16, 1968.
SP4 Anderson earned the following merits for his service:
Silver Star,
National Defense Service Medal,
Vietnam Campaign Medal,
Vietnam Service Medal, -and-
Purple Heart.
His body was recovered and he was returned home and buried at Greenwood Cemetery in Virginia. He is also honored on the Vietnam Veteran's Memorial in Washington DC.
Source(s): Herbert K. Anderson, father; fellow service member who was part of My Phuoc Tay (January-July 1967)
---
Official account, two documents:
Dedication Address of the Anderson Clinic
(Delivered June 14, 1968, in Can Tho, South Vietnam)
This dispensary is dedicated today in memory of Specialist Fourth Class Herbert R. Anderson, RA17722387, United States Army, Detachment A-411, Company D, 5th Special Forces Group who gave his life for his country on 21 January 1968. This soldier, twenty-three years old when he met his death, entered the service in 1965 from the State of Minnesota. Arriving here in Company D in August 1967, he was assigned to Camp My Phuoc Tay, and served there as Medical Specialist of the detachment. The sympathy and humanity he displayed in the performance of his duties there quickly earned him the respect and admiration of all who knew him, American and Vietnamese alike. The rapport he achieved with his counterparts was evidenced by the fact, that at the time when his body was recovered, it was surrounded by the Camp Strike Forces soldiers came to pay their last respects to one who had been a friend as well as an advisor. His courage and leadership in the field on numerous combat operations were proved repeatedly, and his actions were in keeping with the highest traditions of Special Forces and the military medical profession to which he has dedicated his life. It is most fitting that this dispensary, dedicated his life. It is most fitting that this dispensary, dedicated to the care of both Americans and Vietnamese, should be named in memory of Specialist Anderson, who was so deeply concerned for the care of both.
---
(The following letter was received by the veteran's father.)
COMPANY "D"
5TH SPECIAL FORCES GROUP (AIRBORNE), 1ST SPECIAL FORCES
APO San Francisco 96215
29 June 1968
Mr. Herbert K. Anderson
418 – 8th Street
Virginia, Minnesota 55792
Dear Mr. Anderson,
Our Group Headquarters has referred to us your inquiry of June 10, 1968, concerning your son's awards. No recommendation for award was submitted for him other than the Silver Star which he received.
As you may be aware, both the Detachment Commander under whom he served were killed in action, and accordingly we cannot determine whether one of them might have intended to recommend him for on action in the time period you mentioned in your letter. Most of the award recommendations for his detachment were prepared at this Headquarters and interviews of the survivors did not disclose any other proposed award for your son.
We would like to take this opportunity to inform you that a new dispensary, to replace the one destroyed by a VC mortar attack, has been recently constructed here at Can Tho. This was named in your son's memory on 14 June 1968, in tribute to the dedicated service he rendered. The dedication was made by LTC Ludwig Faistenhammer Jr., Commanding Officer of Company D. The ribbon was cut by Colonel Aaron, Commanding Officer of the 5th Special Forces Group (Airborne) and by CPT Bohannan Group Surgeon. Present at the ceremony were LTC Nguyen Thahn Chuan, Vietnamese Special Forces Commanding Officer of Company D, and members of the Group and Company Staffs. The dispensary has a thirty bed capacity, and will be for the care of American and Vietnamese Special Forces and Camp Strike Force personnel. The inclosed photographs show the dispensary and the dedication. LTC Ludwig Faistenhammer Jr., Commanding Officer of Company D, is shown making the address. A copy of his remarks at the dedication ceremony is attached. Facing him (with his back to the column) is Col Harold R Aaron, Commanding Officer of 5th Special Forces Group. At Col Aaron's left is LTC Nguyen Thanh Chuan, Vieetnamese Speecial Forces Commanding Officer of Detachment C-4, Company D, LTC My, province Chief of Kien Tuong Province and LTC Nagle, Commanding Officer of Detachment B-41. The other photographs show the dispensary itself. The words "BENH-XA BIET KICH QUAN C4" MEAN IN Vietnamese "Dispensary, Camp Strike Forces, C4". The camp Strike Forces are the indigenous forces who serve at our camps throughout the Mekong Delta.
FOR THE COMMANDER:
NICHOLAS SELLERS
Captain, Armor
Adjutant
---
Unofficial account, provided by a fellow service member who served in My Phuoc Tay:
"Andy did not die in a mortar attack on the dispensary, he died in combat as he and the CO [Commanding Officer] of A-411 were trying to rescue SFC [Sergeant 1st Class] Earl Biggs and SFC Frank Parrish on January 16, 1968. I believe the location of his death was XS252570, the camp was located XS203598. Captain John Young was KIA with him. All four men were killed that day. Our camp had lots of holes in buildings from recoilless rifles. I never experience[d] a single mortar round. I'd bet it was a RR that destroyed the dispensary. I have photos that I received from other teammates after I was MEDEVACed."
---
Source(s):
Albert J. Amatuzio Research Center | Veterans Memorial Hall (vets-hall.org)
Vietnam Wall Vietnam Veterans Memorial - Fold3
SPC Herbert Roy "Andy" Anderson (1944-1968) - Find a Grave Memorial
U.S., Headstone Applications for Military Veterans, 1925-1970 - Ancestry.com