James Arne Niemi
Era: Vietnam
Military Branch: Navy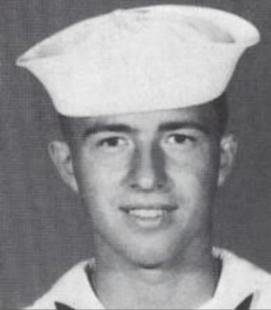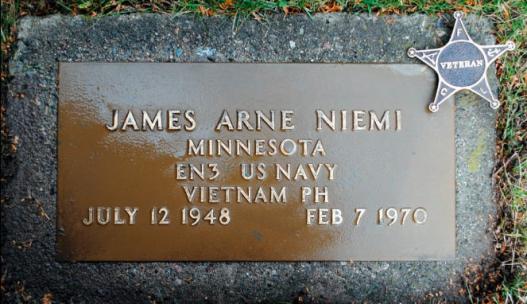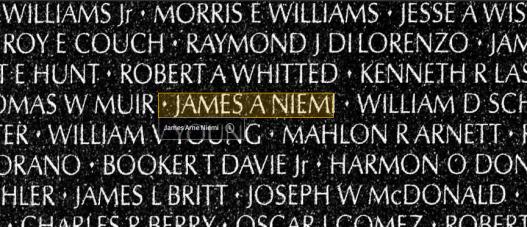 NIEMI, James Arne
James Arne Niemi was born on July 12th 1948 to Arne John & Irene Jean [Haupt] Niemi in Hibbing, Minnesota.
Mr. Niemi joined the U.S. Navy in 1969 and his tour of duty in Vietnam began on May 24th 1969 as Petty Officer 1st Class (PO1). He served with U.S. Naval Forces-Vietnam, Task Force 116, River Division 552, He rose to the rank of Engineman 3rd Class (EN3).
He was killed in action on Feb. 7th 1970 in Vietnam at the age of 21. At the Navy base at Tra Cu in Hau Nghia Province. The unit came under enemy mortar attack. At 0157 hours, mortar rounds began exploding outside the base defensive wire. General Quarters were sounded and personnel proceeded to their assigned bunkers. PBR boat personnel then proceeded to scramble the boats. Three more rounds fell near the pier, and a last round impacted between the observation tower and the sick bay.
EN3 Niemi was killed dying outright from multiple fragmentation wounds after being hit by fragments from the falling shells. Another six Americans were injured and six Vietnamese naval personnel were also wounded. All casualties were evacuated by helicopter.
He is honored on the Vietnam Memorial in Washington DC and on the Wall of Remembrance in the Veterans Memorial Wall (VMH) Gallery at the DEPOT in Duluth, Minnesota.
He was repatriated and buried at home in Hibbing at Maple Hill Cemetery. He was posthumously awarded the Purple Heart as well as the National Defense, Vietnam Service, and Vietnam Campaign medals.
Source(s)
---
Albert J. Amatuzio Research Center | Veterans Memorial Hall (vets-hall.org)
EN3 James Arne Niemi (1948-1970) - Find a Grave Memorial
U.S., Headstone Applications for Military Veterans, 1925-1970 - Ancestry.com