Kenneth Leroy Bauer
Era: Vietnam
Military Branch: Army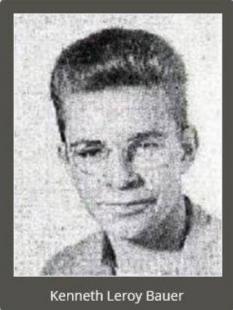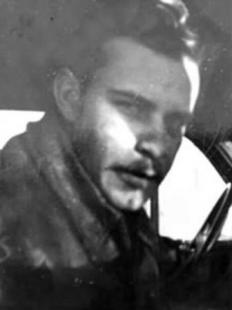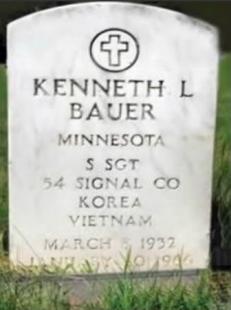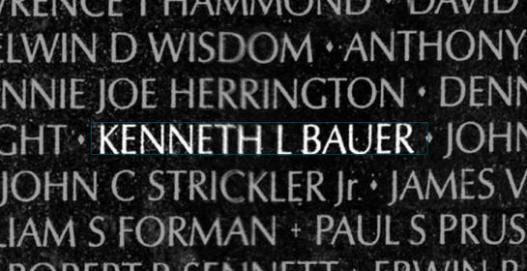 BAUER, Kenneth Leroy
Kenneth Leroy Bauer was born on March 8th 1932 to John Francis & Ann Marie [Hebert] Bauer in Stears County, Minnesota.
He was enducted into the U.S. Army on August 17th 1949 during the Korean War. He rose to the rank of Staff Sergeant (SSGT). After the war he returned home and married Reiko [Tateuji] Bauer and they started a family.
SGT Bauer's tour of duty in Vietnam began on October 1st 1965. He was assigned the 54th Signal Company of the 1st Signal Brigade.
He died in combat on January 20th 1966 at 33 years of age. He was returned home and is buried at Maple Hill Cemetery in Hibbing, Minnesota. He is also honored on the Vietnam Veterans Memorial Wall in Washington, DC.
He earned the following merits for his service:
National Defense Service Medal,
Vietnam Campaign Medal, -and-
Vietnam Service Medal.
[There is indications that he may have served in the Navy (7/3/1945 - 2/23/1949) prior to his Korean War service.]
Source(s)
---
Albert J. Amatuzio Research Center | Veterans Memorial Hall (vets-hall.org)
Vietnam Wall Vietnam Veterans Memorial - Fold3
Kenneth Leroy Bauer (1932-1966) - Find a Grave Memorial
U.S., Department of Veterans Affairs BIRLS Death File, 1850-2010 - Ancestry.com
U.S., Headstone Applications for Military Veterans, 1925-1970 - Ancestry.com