LaVeryn Slaughter McKeever
Era: Vietnam
Military Branch: Not Available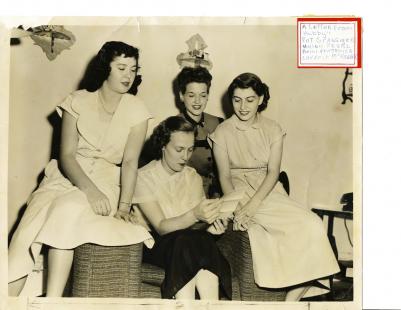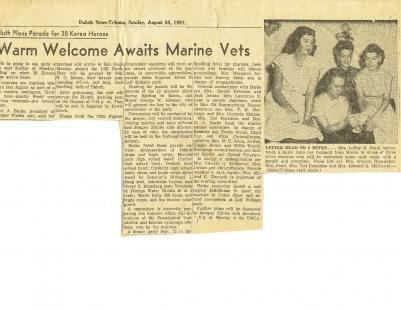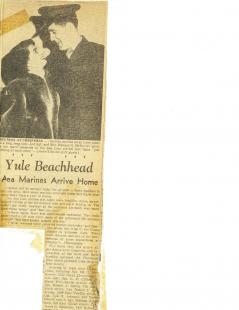 Photo 1: Four members of the Semper Fidelis club (left to right: Pat Grassinger, Helen Pearl, Bamy Pratchios, and LaVeryn McKeever) look at a letter from abroad. (Source: Duluth News Tribune, 1951.)
Photo 2: Article from Duluth News Tribune, August 26, 1951.
Photo 3: Article from Duluth News Tribune, December 25 or 26, 1951.
Ms. McKeever was married to Edward McKeever. She had just given birth to their daughter, Patricia, when his unit, B Company Marine Reserves, was activated for the Korean War. He left on August 21, 1950, and returned on Christmas Eve, December 24, 1951. In his absence, Mrs. McKeever and a number of other family members of soldiers created the Semper Fidelis club to support one another.
The McKeever's only son at the time, Michael, was a toddler. Years later, he served in the Vietnam War in the Marines.
"I think of them, and I think of my son," LaVeryn McKeever says. She has gotten close to Vietnam veterans in the area, who remind her of her son, Michael, who did not return from his volunteer tour in Vietnam. He was killed a month and a half into his second tour - just 20 years old. He had befriended a young Vietnamese boy during his first tour, according to his mother. And upon returning to his village one day, he found that the Vietcong had killed the boy as an example because they didn't want the locals getting friendly with the Marines, or any Americans.
"That really tore at his heart because he really loved the children," tells LaVeryn, saying he decided on a second tour because of the murder.
When the traveling Vietnam Memorial Wall came to Duluth in 1999, a big crowd showed up to honor the vets of an unpopular war. "It's been rewarding to see how many people care and remember." McKeever said. "It hurts (to see his name on the wall). I wish he were here, with me, but this was something he wanted to do."
McKeever Family information:
The McKeever family of Duluth had two members serve with honor in the U.S. Marine Corps, one in the Korean War and one in Vietnam.
Edward McKeever enlisted in the Marine Corps Reserve in 1948 as a member of B Xompany of the Fourth Marine Intantry Battalion, First Division. His unit was called to active duty on August 21, 1950, less than two months after the Korean War began.
Sgt. McKeever was involved in campaigns at Wonsan, Hungnam and the Chosin Reservoir from October 10, 1950, to December 21, 1951. He was awarded the Presidential Unit Citation Combat Action Ribbon, National Defense Service Medal with one star.
His son, Michael, enlisted in the Marines in June 1966 during the Vietnam War. After completing his tour of duty in Vietnam, he volunteered for a second tour and was killed in action on February 23, 1968.
The Duluth News-Tribune has documented the history of Edward and Michael McKeever, publishing a photo in August 1950 of Edward holding his son just before he departed for the war in Korea. LaVeryn McKeever, Edward's wife and Michael's mother is in the photo.
In 1976, the newspaper published a photo of the same three people as Michael prepared to leave for service with the Marines in the Vietnam War.
After his Korean War service, Edward McKeever was actively involved in reunion activities of the B Company Marines. He initiated plans for the reunions in 1975, 1980 and 1985. He died March 20, 1987. The B Company Marines held the 50th reunion of their departure for the war in August 2000.
Also, see link to an article: http://www.duluthnewstribune.com/event/articl...