Albert J. Amatuzio
Era: World War II
Military Branch: Navy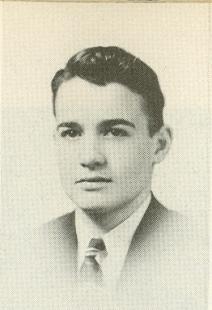 Photo: Albert J. Amatuzio as a student at Denfeld High School, Duluth, Minnesota.
--
Albert J. Amatuzio served in World War II and during the Korean War.
During World War II, Mr. Amatuzio first served in the U.S. Naval Air Corps. He went to boot camp at Wold Chamberlain Naval Headquarters, Minneapolis. As part of the Navy's V5 Civilian Pilot Training Program, he attended St. Olaf, Minot State Teacher's College, and the University of Iowa. By the time he returned to the flight-training portion of the program, the Navy had concluded that it did not need as many pilots, and Mr. Amatuzio was discharged without having received his wings. He returned to Duluth in 1944.
Mr. Amatuzio then joined the Merchant Marines as an Able-bodied Seaman. He was assigned to the Fisk Victory, which served in the Pacific Theater in support of the Navy. The ship was off the coast of Okinawa in 1945 when a terrible storm with winds of 180 miles per hour came through, sweeping 2,000 troops off the beach. Mr. Amatuzio was next assigned to the SS Mission De Pala, which carried oil and fuel to Allied forces in the Pacific, and he returned to Duluth in 1946.
In 1949, after the Air Force announced a new jet-flying program, Mr. Amatuzio joined the Air Force. He earned his wings and became a 2nd lieutenant. He flew the F80 Shooting Star jet fighter. He was an outstanding pilot. A year later, he needed to return home to help his family. He left the service and returned to Duluth, and he joined the Air National Guard. He flew P51 Fighters as a weekend pilot. When the Korean War broke out, his unit was activated, and because of his skills he was assigned as an Air Force pilot instructor. Frustrated that he was kept stateside during the war, he resigned his Air Force commission.
In 1955, Mr. Amatuzio rejoined the Air Guard. In 1956, he became a full-time technician instructor with the Air Guard. Eight years later, in 1964, he won first place in the Earl T. Rick's All Weather competitive shot at Tyndall Air Force Base in Florida; the Duluth Air Guard also took first place at that competition against the regular Air Force. In 1970, the Duluth Air Guard took first place in competition with other Air Guard units, the Air Force, and the Canadian pilots. Mr. Amatuzio served with the Duluth Air Guard until 1974.
Mr. Amatuzio was born in Duluth, Minnesota, in 1924. He graduated from Duluth Denfeld High School in 1942.
Source: "There's nothing 'synthetic' about this fellow, he's for real, alright!", Duluth Budgeteer, December 22, 1976