Clifford L. Jablonski
Era: World War II
Military Branch: Army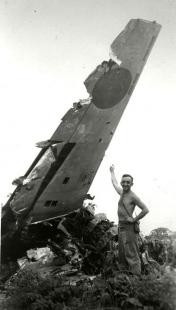 Clifford L. Jablonski entered the Army on January 13, 1942.
He served as a Corporal with the 340th Engineer Battalion, building roads and airstrips in Alaska, Australia, New Guinea, Morotai, and Luzon, Philippines.
" Many times we had challenges that you wonder, 'What in the World?'. Are we here for the mosquitoes, tents, swamps. Home--Family--War. What is it all about? Work? Night and Day! After much time and work, the highway was a reality--cold weather many days of 40 and 50 degrees below zero. The next Job--the Hanes Road, Another challenge! Mud--Mud--and more mud! our company was called 'The Mudders'. ....6,462 miles: caves, booby traps, foxholes, death, shrapnel and bombs, the sleepless nights, Jap hunting, the joy of coming home!"
Mr. Jablonski was honorably discharged on December 23, 1945.
Source: Hometown Heroes: The St. Louis County World War II Project. 124.