Donald Andrew Elofson
Era: World War II
Military Branch: Army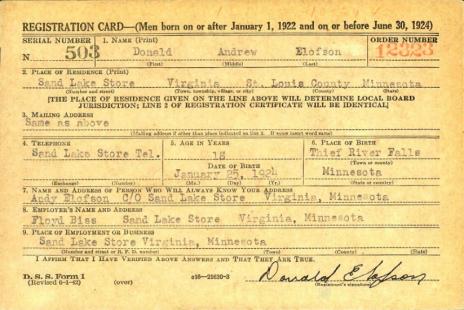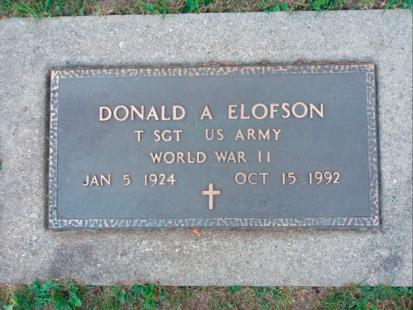 ELOFSON, Donald Andrew
Donald Andrew Elofsonwas born January 5th 1924 to Robert Earl & Agnes Elizabeth [Hovland] in Thief River Falls, Minnesota. The family moved to the Iron Range of Minnesota.
Mr. Elofson entered the U.S. Army Air Corps on March 8th 1943. He served as a radio operator and mechanic gunner. He rose to the rank of Technical Sergeant, (TSGT)
SGT Elofson was separated on October 29th 1945 at Chanute Field, Illinois.
He later served in the Minnesota National Guard with Company F, 136th Infantry Regiment.
SGT Elofson was honorably discharged again on August. 2nd 1948. After the war he married Virginia Evelyn [Knox] and they started a family.
Mr. Elofson died on October 15th 1992 at 68 years of age in Duluth, Minnesota. He is buried at Gilbert Cemetery in Gilbert, Minnesota.
Source(s): Hometown Heroes: The St. Louis County World War II Project. 74.
---
Albert J. Amatuzio Research Center | Veterans Memorial Hall (vets-hall.org)
Page 1 WWII Draft Registration Cards - Fold3
Donald Andrew Elofson (1924-1992) - Find a Grave Memorial
U.S., Department of Veterans Affairs BIRLS Death File, 1850-2010 - Ancestry.com