Edith May Witt
Era: World War II
Military Branch: Not Available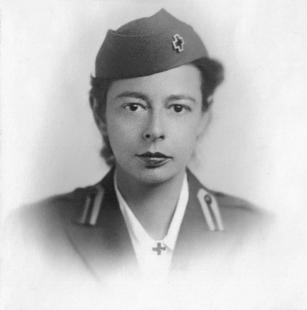 Edith Witt was a passionate participant in history, from her childhood in the early 1900s through the Depression, World War II, the McCarthy era, the civil rights movement, and events that transformed American cities in the 1960s and 1970s.
She joined the American Red Cross as a staff assistant in December, 1942. She served in Oran, Algeria for all of 1943, then a number of different club postings in Italy during 1944 and 1945.
While Edith's parents had humble beginnings and were not of substantial means, they did provide her and her brothers with a solid upbringing and an appreciation for education. Her oldest sibling Arthur would serve as a model to Edith and Bert with his social justice activism. For example, Arthur worked in a Cleveland settlement house, organized workers in Chicago, and in 1937 went to Spain to join the international brigades that were aiding Spanish government forces in their fight against the fascists. Her brother, Bert, served in the Army during World War II.
Edith not only participated in social movements herself but also wrote about them over her life. She started writing when she was very young and never stopped. In her youth, she wrote poems and stories, and she later wrote letters to her mother and other relatives during her World War II Red Cross service in North Africa and Italy. After the war she wrote more detailed accounts of those experiences based on her letters and the copious notes she made during the war. And finally, near the end of her life, Edith wrote a vivid and engaging autobiography.
Combined, these materials provide us with a compelling look into the life of a woman who was ultimately honored by her community for her many contributions through the naming of the Edith Witt Senior Living Community housing project in San Francisco. Edith's life and writings are captured in a 2018 book: Edith's War: Writings of a Red Cross Worker and Lifelong Champion of Social Justice by her nephew Peter A. Witt and published by the Texas A&M University Press.