Getchell Widdes
Era: World War II
Military Branch: Coast Guard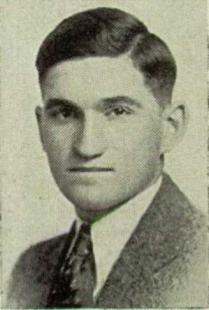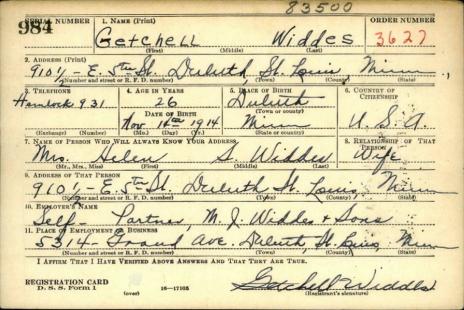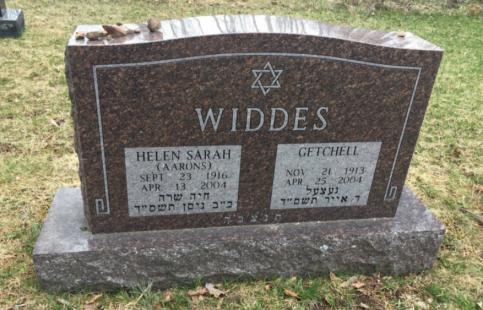 WIDDES, Getchell
Getchell Widdes was born on November 21st 1913 to Maurice J. & Sarah [Kener] Widdes in Duluth, Minnesota. He attended Central High School.
Mr. Widdes joined the Merchant Marines in September 1943 and was appointed Engineering Instructor (ENGR) in Sheep's Head Bay, NY before shipping out.
During World War II he was on both oil and gas tankers in the Atlantic and the Pacific Oceans. He also had the misfortune to be in a typhoon while sailing on the Indian Ocean.
ENGR Widdes was discharged in October 1945. After the war he returned home to Duluth and married Helen Sarah [Aarons] and started a family.
Mr. Widdes died on April 25th 2004 at 90 years of age. He is buried at Adas Israel Cemetery in Arnold, Minnesota.
Getchell's grandfather was in the cattle business in Lithuania and Getchell's father, H.J. Widdes, started the thriving Widdes Feed and Farm Supply that now operates in Esko, Minnesota.
---
As a side note, in World War II the Merchant Marines were a branch of the Coast Guard but until recently were not considered a military branch. However, the Merchant Marines lost more men the first year of the war than any other branch. They were given extensive training in multiple types of gunnery and fought alongside their Navy peers. In addition the Merchant Marines were responsible for delivering 95% of the supplies needed in Europe and the Pacific.
---
Albert J. Amatuzio Research Center | Veterans Memorial Hall (vets-hall.org)
Page 1 WWII Draft Registration Cards - Fold3