Kenneth W. Scherer
Era: World War II
Military Branch: Navy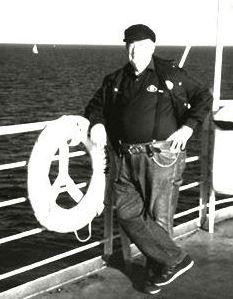 Kenneth W. Scherer entered the Navy on December 9, 1942.
He served as an Electrician's Mate First Class aboard the USS Kassan Bay (CVE 69) in the Pacific, Mediterranean and European theaters.
He recalls; "Invasion of Southern France, 1944 and antisubmarine patrol most of the war. North Atlantic to the China Sea. After the war I was one of the 10 original plank owners (crew member at ship's commissioning) to decommission the ship in June 1946 at Boston. In July 1993, I received a piece of a plank from the flight deck of the ship from the Navy Department -- 50 years later!"
He was discharged from the service on December 9, 1948.
Source: Hometown Heroes: The Saint Louis County World War II Project, 283.