Margaret "Peggy" Minor Alvar
Era: World War II
Military Branch: Navy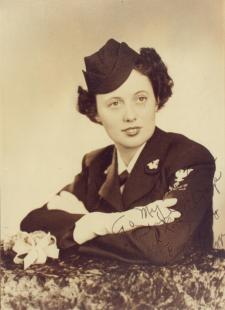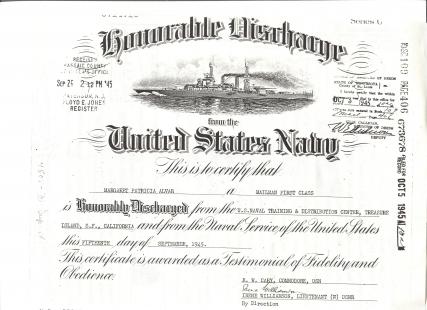 Ms. Alvar was born February 18, 1922. She graduated from Patterson, New Jersey, Central High School in 1940. Ms. Alvar then worked at the Curtiss Wright Company. She joined the WAVES in 1943, training at Sampson, New York, and served at the Fleet Post Office in San Francisco until September 1945.
Her rank was Petty Officer; she was a Mailman 1st Class. While in the WAVES, she was responsible for Navy Code, setting up mail delivery to US Naval vessels throughout the Pacific.
After marriage in San Francisco in July 1945, she and her husband Bob came to Duluth and established a company called Refrigeration Wholesalers, in which she served as bookkeeper. She also worked at the Van Evera Law firm for 10 years before retirement. She was a historian in Duluth, Minnesota's first all-women American Legion post, a member of the Minnesota Historical Society, a member of American Association of Retired Persons, a member of the YWCA swim group, and a member of the St. Lawrence Catholic Church and its OK Club.