Mike Colalillo
Era: World War II
Military Branch: Army
Status: Featured Story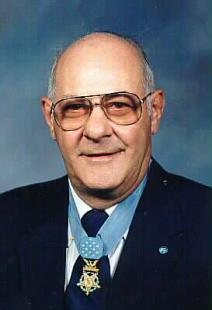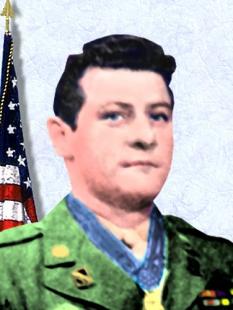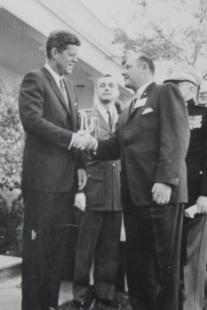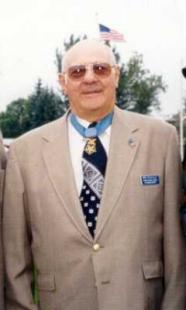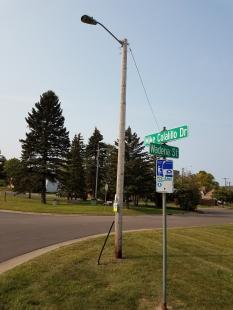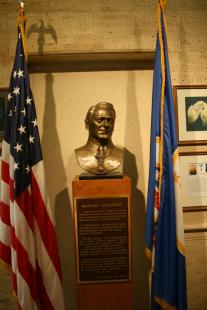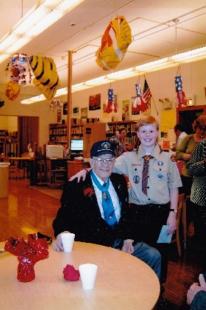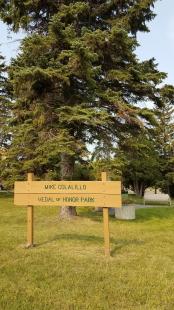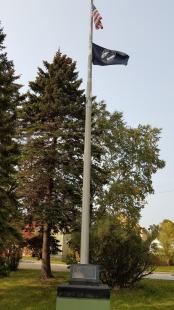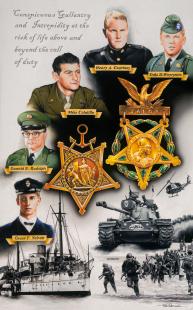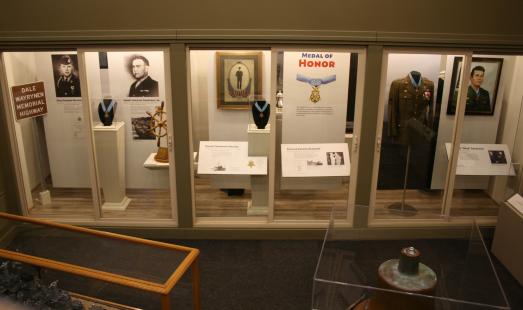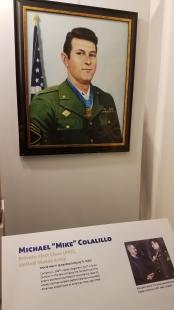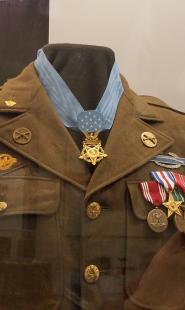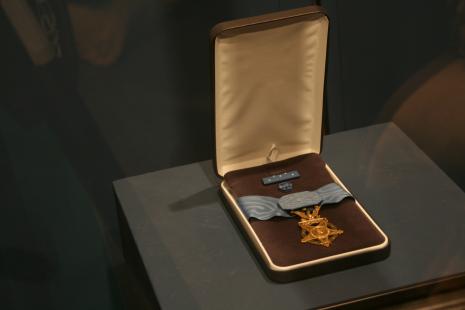 Photo 1: Portrait of Mike Colalillo wearing Medal of Honor. Photo 2: Receiving Medal of Honor and citation from Pres. Harry Truman, December 18, 1945. Photo 3: Receiving Medal of Honor and citation from Pres. Harry Truman. Photo 4: Shaking hands with Pres. John F. Kennedy in the Rose Garden of the White House at a gathering of 240 Medal of Honor recipients, May 3, 1963, commemorating the 100th anniversary of the Congressional Medal of Honor. Photo 5: Mike Colalillo wearing the Medal of Honor. Photo 6: Mike Colalillo Drive, Duluth, Minnesota.
____________________________________________________________________
Mike Colalillo served during World War II. He served in the U.S. Army from March 7, 1944, until October 15, 1945. Mike Colalillo was inducted into the Army on March 7, 1944.
He had his physical at Fort Snelling. He took a train to Camp Fanning, Texas, where he had basic training. He was assigned to Company C, 398th Infantry, 100th Infantry Division. In fall 1944, he boarded a ship for Marseilles, France.
It was part of a large convoy crossing the Atlantic. He and his unit disembarked and bivouacked for two weeks. Then the division headed for the front near Metz. The fighting was intense; several of the men in his unit were killed soon after they arrived. Mr. Colalillo remembers that it was scary.
During his first battle, he ruptured an artery. He spent two months in a French hospital and was sent to England for another month. Then he was returned to the front. Mr. Colalillo, who was sometimes picked on by his sergeant, was nonetheless singled out by his sergeant for demanding duties, such as going ahead of their unit with another man, Clay Landahl, on scouting assignments.
Once, when the Germans had their unit pinned down with machine gun fire from two different machine gun nests, Mr. Colalillo and Mr. Landahl offered to take action. They managed to sneak up behind the German gunners and shoot them. One of the American officers told Mr. Colalillo that he would be recommended for a Silver Star for his heroism.
To Mr. Colalillo, who didn't have any familiarity with the honor of receiving a Silver Star, it was neither here nor there. On April 7, 1945, Mr. Colalillo and his unit were engaged in particularly heavy combat near Untergriesheim, Germany. They were again pinned down by German fire. A friend of his was killed.
He realized that either the Germans would get killed or the Americans would. A couple of American tanks were moving past them, firing on the Germans. Against astonishing odds, nineteen-year-old Colalillo stood up, shouted to his company to follow him, and stepped into battle behind an American tank while firing his weapon. His example inspired the rest of his company to get up and follow him into combat behind the advancing tanks.
Mr. Colalillo's automatic rifle was knocked out of his hand by shrapnel. Unarmed, he vaulted atop the tank he had been following and--completely exposed to enemy fire--asked the tank crew if he could use the machine gun mounted on its turret. They agreed, and the tank captain helped him find targets. He successfully fired on a German enemy machine gun nest and at another German position.
Then the tank's machine gun jammed. He accepted a submachine gun offered by one of the tank drivers and continued to fire on foot. The American tanks ran out of ammunition, and they and Mr. Colalillo's unit were ordered to retreat.
Mr. Colalillo heard a soldier call out to him that he'd been hit. Mr. Colalillo ran to retrieve him despite heavy German fire and brought him back to safety.
For his acts of valour near Untergriesheim, Mr. Colalillo received the highest military decoration awarded by the U.S. government, the Medal of Honor. On December 18, 1945, President Harry S. Truman, in the name of Congress, bestowed the Medal of Honor on Mr. Colalillo in the Oval Office.
The citation for Mr. Colalillo's Medal of Honor award reads: "He was pinned down with other members of his company during an attack against strong enemy positions in the vicinity of Untergriesheim, Germany. Heavy artillery, mortar and machinegun fire made any move hazardous when he stood up, shouted to the company to follow and ran forward in the wake of a supporting tank, firing his machine pistol. When his weapon was struck by shrapnel and rendered useless, he climbed to the deck of a friendly tank, manned an exposed machinegun on the turret of the vehicle and, while bullets rattled about him, fired at an enemy emplacement with such devastating accuracy that he killed or wounded at least 10 hostile soldiers and destroyed their machinegun. Maintaining his extremely dangerous post as the tank forged ahead, he blasted 3 more positions, destroyed another machine gun emplacement and silenced all resistance in the area, killing at least 3 and wounding an undetermined number of riflemen as they fled. His machinegun eventually jammed, so he secured a submachine gun from the tank crew to continue his attack on foot. When our armored forces exhausted their ammunition and the order to withdraw was given, he remained behind to help a seriously wounded comrade over several hundred yards of open terrain rocked by an intense enemy artillery and mortar barrage. By his intrepidity and inspiring courage, Pvt. Colalillo gave tremendous impetus to his company's attack, killed or wounded 25 of the enemy in bitter fighting and assisted a wounded soldier in reaching the American lines at great risk of his own life."
He was discharged and returned to Duluth. Not long after he received the Medal of Honor, he was also decorated with the Sliver Star and a Bronze Star. His rank was Private 1st Class when he was Untergriesheim. At the time of his discharge, his rank was Sergeant.
Mr. Colalillo's other decorations and awards include the Combat Infantryman Badge, Good Conduct Medal, European-African-Middle East Campaign Service Medal with bronze battle stars, World War II Victory Medal, and overseas service bars.
Mr. Colalillo is the last living Medal of Honor recipient in the State of Minnesota. His parents were Carlo and Vittoria Colalillo, Italian immigrants who settled in the Northland. His father came first and worked in the iron mines, and when he had saved enough money, he brought his wife and four children to Hibbing.
On December 1, 1925, Michael was born. Three more children followed. The family relocated to Duluth when Mr. Colalillo was a child. His house was right beside the railroad tracks on Raleigh Street. He was one of the "Raleigh Street boys." It was a tough neighborhood, it was during the Depression, and children would scramble on to stationary coal cars so that they could toss coal down to friends to heat their houses or to sell.
When Mr. Colalillo was sixteeen, his mother died. His father had four children still at home. Mr. Colalillo, who attended Denfeld High School, left school to work at the Grand Bakery on 57th Avenue West to help out. His father was not happy with this decision, but Mr. Colalillo insisted. He was a baker's helper, assisting wherever he was needed at the bakery.
He was still working there two years later when the Draft Board contacted him. Many of his friends had already been drafted. After the war, Mr. Colalillo returned to Duluth.
Source: veteran's summary;
Medal of Honor citation and two articles (see below); "Medal of Honor," Minnesota Legionnaire
(http://www.mnlegion.org/paper/html/colalillo....);
also see MPR link (http://minnesota.publicradio.org/display/web/...
NBC Nightly News "Daily Nightly" link (http://dailynightly.msnbc.com/2007/06/medal_o...);