Ralph E. Eisenach
Era: World War II
Military Branch: Army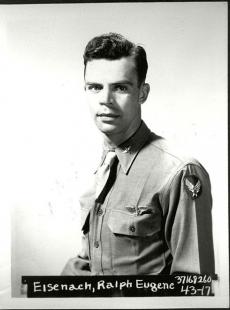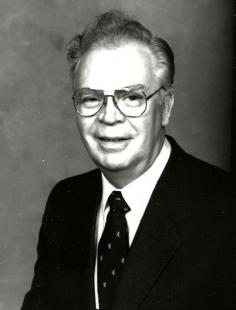 Ralph E. Eisenach entered the Army on March 17, 1942.
He initially served as a lineman with Headquarters Battery of the Field Artillery Unit of the 7th Infantry Division in the continental U.S. He was later transferred to the Air Corps as an air cadet.
He was commissioned as a 2nd Lieutenant and bombardier on a B-17 Flying Fortress aircraft. He flew to Ireland and began bombing missions. He participated in the D-Day bombing on June 6, 1944.
He was shot down by German Focke Wolfe fighters over Paris. He parachuted to safety from 28,000 feet and was hidden by the French Underground, but was turned in to the Germans by an Underground member and was taken to a French prison.
When American forces neared Paris, he was transferred to Weisbaden, Germany, then to Frankfurt and finally turned over to the Luftwaffe (German air force) and sent to Stalag Luft III prison camp where he stayed until July, when Russian forces neared the prison camp. Prisoners were marched for three days and four nights and then put on a train for a prison camp near Munich, where 15,000 prisoners of war were held under bad conditions.
They were liberated by General George Patton's 7th Armored Division on April 26, 1945 and finally returned to the continental U.S..
He was honorably discharged with the rank of Captain on Aug. 24, 1945 at Fort Logan, Colo..
Source: Hometown Heroes: The St. Louis County World War II Project. 73.