Robert J. Willman
Era: World War II
Military Branch: Army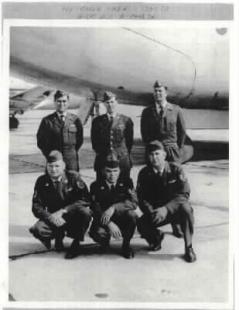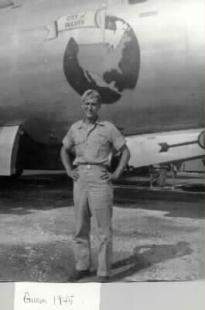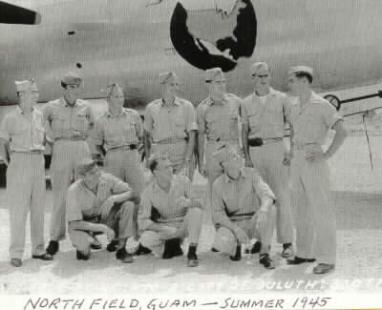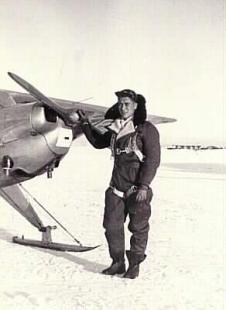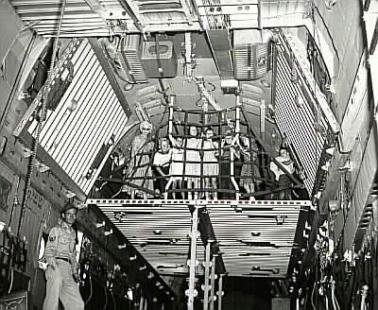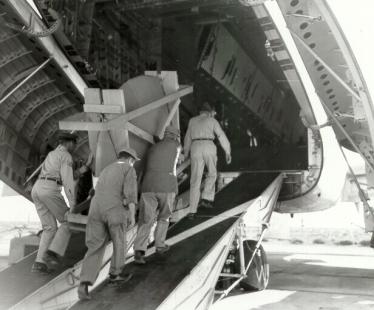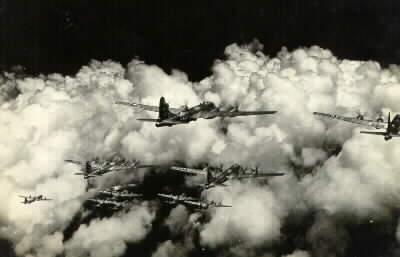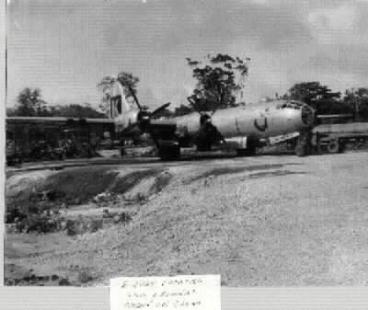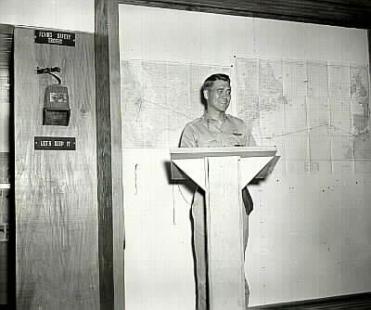 Photo 1: Willman and crew in front of the C-124 that he flew between 1951-53 during the Korean War. Photo 2: Willman and the "City of Duluth" (B-29) on Guam, 1945. Photo 3: Willman and crew standing beside the "City of Duluth," Guam, 1945. Photo 4: Willman in flightsuit beside unidentified aircraft. Photo 5: Guests inside unidentified aircraft. Photo 6: Boarding unidentified aircraft. Photo 7: Airborne. Photo 8: "City of Duluth." Photo 9: Unidentified briefing.
Robert J. Willman enlisted in the Army in the Aviation Cadet program on September 25, 1941, at Fort Snelling, Minnesota.
He graduated flight training on April 24, 1942. He served as a flight instructor at Gardner Field, California, and Pecos, Texas. He attended B-17 training in 1944 and crew training as an aircraft commander on B-29s. He was commisioned Captain and pilot with the 457th Bomb Squadron of the 330th Bomb Group. He flew B-29 raids in the Pacific Theater, and Air Offensive, Japan.
Mr. Willman was awarded the following: Air Medal with Oak Leaf Cluster, American Campaign Medal, Asiatic-Pacific Campaign Medal with one bronze battle star, and World War II Victory Medal.
Separated January 4, 1946, at Camp McCoy, Wisconsin
Source: Hometown Heroes: The Saint Louis County World War II Project, page 343.
---
Source: Veteran's account (see below) Robert J. Willman of Duluth enlisted in the Army Aviation Cadet program on September 25, 1941. He completed flight training on April 24, 1942, and worked as a flight instructor at Gardner Field in California and at Pecos, Texas.
He took B-17 training in 1944 and trained as a commander of B-29 bombers. He was promoted to captain and assigned as a pilot with the 330th Bomb Group in the Pacific and flew missions in the air offensive against Japan in the final months of World War II. He was separated from active duty on January 4, 1946, but was later recalled to active duty during the Korean War. Willman was a pilot with Delta Airlines for more than 30 years and retired in 1976.
In early 1945 Willman was assigned to Guam as a B-29 pilot. As part of the effort to raise public support for war bond drives, the big bombers were each named for a city in the United States. He describes what happened: "I called my crew together and asked each one to put the name of his hometown on a piece of paper. We'd put all the names in a hat and have one of our mechanics pull one name out of the hat. Whatever name was on the paper would become the name of our airplane. I believe there was a conspiracy. Without a doubt, there were 11 pieces of paper in that hat, all with the name Duluth on them."
Thus Willman's B-29 became the City of Duluth. And here is his story of what happened to the plane and crew: We returned to our base in Kansas shortly after the middle of February. Ground school had been completed, but we continued flight training. Our operation officer advised us that we had a little more than a month before we would leave for overseas, and to take care of any family responsibilities we might have.
In the meantime, my mother wrote Carolyn [who was in Des Moines, Iowa] to tell her that she would take care of Bobby if Carolyn had a chance to visit me in Kansas before I had to ship out. Carolyn called me and I said I'd start looking for a place to stay. Within a couple of days Carolyn and our baby were on a Mid-Continent Airlines flight to Minneapolis where she met my mom, who took Bobby to Duluth on a train.
The day after she returned to Des Moines, Carolyn drove our 1941 Ford to Hays, Kansas, on icy roads. As usual, housing was very difficult to find. So as a last resort I went to the local hotel to get a reservation. Thank goodness I had been warned by friends to get a miniature photocopy of our marriage license. Then he asked to see our driver's licenses to make sure we were the people on the marriage license. There would be no shenanigans at this hotel.
How nice it was to be back together again! Well, I still had things to do back at the base, so while I was at work Carolyn went looking for a room or an apartment. She has always been better than me at finding a place to stay. And this time was no different. She found one room in a nice, large, older house. It was a two-story house that had been remodeled into about eight one-room apartments. Each floor had a complete bath, including the basement. All the occupants were very considerate about sharing the bathrooms. There were no cooking facilities, so we had to eat out.
Our evening and weekend meals were usually at the Officers' Club. And almost all our social activities were at the club. I was the only officer on the crew who was married. Two of the enlisted men were married and both were gunners. George Bearup was the right gunner, but his wife did not join him at Walker. Ollie Eubanks was our tail gunner and his wife, Margaret, was with him. We soon found out they had one of the basement apartments in the house where we were staying. We occasionally got together.
Here comes another of our famous coincidences: One evening at the Officers' Club, who should we run into but Mary and Gene Cox. Mary Downey Cox was one of Carolyn's best friends in Des Moines. Mary had met Gene Cox, who was an Army pilot, in Des Moines almost the same way Carolyn and I had met.
As our bomb group was getting ready to go overseas, Maj. Gene Cox was just reporting to Walker Army Air Field to be trained as a B-29 aircraft commander in another bomb group. As luck would have it, the war ended just as their group was finishing its training, so they didn't have to go overseas. Anyway, I was glad that Carolyn had someone whom she knew that she could be with occasionally. Here again we found out that Mary and Gene had taken a room in our building.
Soon, B-29's were arriving daily at Walker from the factory. These were the planes we would be taking overseas. Our first flight in our new plane was a distance of 120 miles to the air base at Kearney, Nebraska. It was March 22, 1945, that we had to say goodbye to our wives. The commander at Walker Army Air Field allowed our wives to come to the flight line to see us take off for destinations unknown.
It was an emotional experience for us and our wives, for we knew not what lay ahead. During her short stay at Walker, Carolyn had become acquainted with Karin Caldwell, the wife of Maj. Ralph Caldwell of Duluth. Since Ralph and I had gone to different schools in Duluth, this was our first meeting. Even though Ralph was a pilot, he had a desk job at group headquarters.
While on Guam he flew on one mission with our crew as an observer. Because Carolyn had a car, she offered to drop Karin off at Omaha where she could get a train to Salt Lake City, her home. Ollie Eubanks' wife, Margaret, also needed a ride to a major city to take a train to her home in South Carolina. So she went all the way to Des Moines with Carolyn.
My folks, knowing of the strained relations in Des Moines, invited Carolyn to come to Duluth and stay with them. So after an overnight stay with the Grays in West Des Moines she left for Duluth in our dependable Ford. En route to Duluth, Carolyn stopped in St. Paul to visit Millie Hendrickson and was invited to spend the night.
Ed, who had taken his B-29 training at another base, was also on his way overseas. He ended up based on the island of Tinian. The next day Carolyn drove on to Duluth where she stayed with my folks for a couple of days until she found a small apartment in a house on Central Avenue. Duluth was the first place where housing was not too difficult to find.
Now, back to the Army. Our flight to Kearney Army Air Field was a short one. This base was set up for processing the personnel records for flight crews headed for overseas duty. All our required medical shots were brought up to date, and the airplanes were equipped with emergency equipment that was required for overseas flights. We were at Kearney for only two days.
I'll never forget the send-off we got at a meeting of all crews at the base theater the day we left for Mather Army Air Field at Sacramento, California. The base commander gave a speech and to impress upon us the seriousness of our mission said, "One week from today, 11 of you men will be dead." This prediction, based on previous experiences, turned out to be true, and I'll explain later.
Our flight to Mather was uneventful, and we were to spend two days there preparing for the over water part of our flight. We knew we'd be crossing the Pacific Ocean, but we still didn't know our destination. By the way, Mather Field is where I had graduated from flying school three years earlier. Hickam Field near Honolulu was to be our first destination, and our departure time was to be at midnight. Besides our crew of 11 we carried Vernerd Fitzgerald, our squadron bombardier and the crew chief of our airplane, and his three mechanics.
Just before we departed I was given a sealed envelope containing a paper telling us of our secret final destination. I was told not to open the envelope until we had passed the "point of no return." In the event of a mechanical malfunction and having to return to Mather, no crew could call home and tell his family that our secret destination was Guam.
We arrived at Hawaii shortly after daybreak and what a welcome sight it was. Since we were part of a large movement of B-29s, the personnel were ready for our arrival. Crewmembers and passengers were assigned quarters and told where our mess halls were located. Since we had been up all night, most of us chose to take a nap after breakfast. The motor pool driver who had taken us to our barracks told us he would take us on a tour of Hickam Army Field after lunch if we were interested. Most of us took him up on his offer.
In the three years since the attack on Pearl Harbor, much of the damage had been cleaned up, but we were shown machine gun bullet marks on many of the buildings caused by Japanese fighter planes. Then we were driven to Pearl Harbor where we could still see the superstructures of a few sunken ships. Walking around the docks we came upon a U.S. submarine preparing to go on patrol. One of the officers on deck asked us if we'd like to come aboard. What a treat that was! No place for a person with claustrophobia.
After a good night's rest we took off the next morning on the next leg of our trip. Our destination this day was Kwajalein Atoll, a small island in the middle of the Pacific Ocean. I had never seen so much water, hour after hour went by with no sight of land. It dawned on me that I'd better get used to these conditions. The only sight of land that we saw en route was tiny Johnston Island, just large enough for an airport and a few buildings.
Johnston was used mainly by the Military Air Transport Service [MATS] as a refueling stop. Later that afternoon, Charlie Sweeney, our navigator, told Ray and me to be on the lookout for Kwajalein. Minutes later we saw an island, this place had just enough room to accommodate a runway long enough to accept a B-29 plus a few tents and buildings. Living conditions were crude; thank goodness we only had to spend the night here. Bear in mind many U.S. Marines sacrificed their lives to take this island from the Japanese so our airplanes could use this base for refueling. Early the next morning we took off on the last leg of our trip to Guam.
Our destination this day was a considerably larger target to find compared to Kwajalein. Guam is an island about 30 miles long and its width varies from 4 to 10 miles. It has some high hills and dense forests. A year before we arrived, the Marines and some Army troops took this island from the Japanese with a great loss of lives. Then the Navy construction battalions [Seabees] moved in and created three large airports. Northfield was the home of our 314th Bomb Wing. The 315th Bomb Wing got Northwest Field. The airport in the middle of the island was operated by MATS.
Upon landing we were directed to our hardstand where our airplane, K-5, would be parked and where our mechanics would do their work. An Army truck was there to take the officers and enlisted men to their barracks. The barracks were Quonset huts made of corrugated steel and could house about 20 men. We slept on metal army cots and there were no partitions. Out in the middle of the barracks area were our outdoor sanitary facilities. There was running water for washbasins and showers, but not for toilets. Since there were no laundries on the island, we improvised by half filling a 55-gallon can with water, building a fire under it, adding soap and clothes and stirring with a mop handle.
Our first meals for both officers and enlisted men were at a field kitchen. We were at a brand-new facility, and construction of mess halls were just beginning. At a field kitchen the cooks work under the shelter of a tent using bottled gas for their stove, on which they cook plain food that is nourishing and filling. A line was formed as in a cafeteria. Each person had his own mess-kit. At first there were no tables or chairs, but soon the mess officer had some stand-up tables made. After eating we had to dispose of our own leftovers and wash our mess kits.
First there was a garbage can, then there was a 55-gallon can with hot, soapy water where we washed our kit and utensils and finally a 55-gallon can with boiling water where we killed the germs. It didn't take us long to settle in and find our way around the base but, before we had a chance to think about why we were here, our 330th Bomb Group was called out on its first combat mission.
It was April 12, 1945, that we were briefed to bomb an oil refinery near Koriyama, about 100 miles north of Tokyo. Our B-29s took off at one-minute intervals and flew over the target single file and dropped our high-explosive bombs from 20,000 feet. Our gunners say they spotted fires breaking out at the refinery. We encountered no fighter opposition and only spotty and inaccurate flak. This, our first mission, turned out to be our longest. We were in the air 18 hours and five minutes.
Consequently, our landing back at Guam had to be made after dark. Our field had no instrument landing facilities. The crew ahead of us encountered low clouds over the field and missed their approach and somehow made contact with a tree, resulting in damage to the plane on their climb-out.
They requested a weather report at the Navy field at the middle of the island and were told that the weather was clear there. The aircraft commander elected to make an emergency landing there. In the meantime, conditions had improved at North Field, so we were able to make our landing.
Shortly after we had parked our airplane, word came to us that the B-29 in distress had crashed just short of the Navy airport while attempting the emergency landing. The next morning we found out that of the 11-man crew, only the radio operator survived. We then found out a burial service was to be held the next day at the new military cemetery at the far end of the island. We requisitioned a small truck from the motor pool and our entire crew attended the service.
It was sobering for us to see 10 wooden boxes all lined up beside the open graves. Our group chaplain conducted a short but dignified service. We all remembered the prediction made at Kearney Army Air Field only a week before.
Now that we had been here about a week, I was beginning to feel at home and was learning my way around the base. I had heard that Dick Williams, my fellow instructor at Pecos, had arrived on Guam, so I decided to look him up after our next mission. Dick was in another squadron and quartered a few blocks away.
That evening our crew was alerted that we were scheduled to go on a mission to Tokyo the next day. This would be our second trip over Japan. Planes were dispatched at one-minute intervals and we made the 7-hour trip in single file as a fuel-saving measure. Fifty miles off the coast of Japan we formed into three-ship formations as a protective measure against the Japanese fighter planes.
Experience had shown that the fighters were reluctant to engage B-29s in formation. However, if flak would hit and disable a plane so it could not keep up with the formation, the fighters would attack the lone plane, and often with success. Flak was heavy over Tokyo while we were attacking an aircraft plant. We were at an altitude of about 20,000 feet and the sky was clear. Since we were in formation I could not take my eyes off the lead plane, but at one point from the corner of my eye I caught a glimpse of Mount Fuji.
We dropped our high explosive bombs and headed out to sea still in formation with the Japanese fighters escorting us hoping at least one of us might have to drop back so they could go after us. While we were in formation the combined firepower of the B-29s was deadly. About 50 miles off the coast the enemy fighters turned back and we resumed single file flight to conserve fuel.
The 7 hours back to Guam was uneventful. After parking the airplane and reporting any discrepancies to the crew chief we were taken to a debriefing room to give a full report of our mission to the squadron intelligence officer.
At this time the Red Cross served us coffee and doughnuts and the Army gave us a shot of whiskey. Next, we headed for our bunks. After my nap and getting something to eat I went looking for Dick Williams and found out he had been on the mission to Tokyo also but he had not yet returned. Things did not look good, but he and his crew could be down at sea and still survived.
The U.S. Navy always had submarines on patrol in the area whenever we had a mission. The B-29 could be ditched successfully and it was equipped with life rafts. One of the last crews to be debriefed from this mission told of seeing a B-29 with smoke coming from two engines ditch successfully in the ocean within sight of Japan. They also said they had seen some crewmembers climbing aboard life rafts. Once again we had hopes they might be picked up by an American submarine.
Days went by and there was no word from or about them. The possibility existed that they could have been spotted by the Japanese Navy. It was 40 years before I found out what had happened to Dick and his crew. The 330th Bomb Group had its first post-war reunion at Dayton, Ohio, and it was there that I found out that Dick's navigator had survived the war.
Although he wasn't at this reunion I got George Farmer's address from the roster. He was living in Sioux Falls, S.D. After the reunion I wrote to George and explained that I knew Dick from our days as instructors at Pecos, Texas. I asked him if he would mind telling me what had happened to his crew.
Here is the story in his own words: "We had been on Guam only about 10 days and were on our second bombing mission, having volunteered to fill another aircraft's slot when that pilot chipped a prop on the coral. At any rate, we took off on our second mission, and it turned out to be a fateful one. We lost our No. 1 engine over the target after being hit by flak and were unable to feather the prop. We could not maintain formation and had to drop back and at that time were jumped by fighters who hit the No. 2 engine, which caught fire. We were also unable to feather that prop.
"At that point in time, with smoke coming from the No. 2 engine, Dick ordered us to abandon the aircraft. The radio operator and I went out the forward bomb bay just as the plane left the coast of Japan. The radar operator bailed out from the rear of the aircraft. "The rest of the crew apparently decided later to ditch in the ocean, although we didn't know that until the war was over and we had returned to the United States.
We, too, had heard that another crew had seen survivors in life rafts in what was apparently a calm sea, but nobody was ever heard from again. My personal theory is that they were discovered or picked up by the Japanese Navy, which was notorious for their treatment of the enemy and probably eliminated right there on the spot.
"The three of us were picked up individually [by the Japanese] and did not get together for about 10 days or so after being interrogated separately. We survived on one little biscuit and a half-cup of water a day for about 10 days of interrogation. We were then transported to a regular POW camp near Nagoya, Japan. We spent the next five months there with American survivors of Bataan and Corregidor, Britons from Hong Kong, Australians and Dutch from Java.
"We were kept segregated from the other prisoners and not allowed to communicate or mix with them until the war was over. We did work out Morse Code signals through our windows to communicate with the British prisoners who were in the so-called mess hall right across from our cell.
"Treatment was not good but survivable, and we were fortunate to survive the war. Thoughts went through our minds all this time that perhaps we had made an error in bailing out and that maybe all of the crew could have made it to Iwo Jima."
By the way, two years later George Farmer attended the next reunion of the 330th and delivered this story to the entire membership in person. In February and March of 1945, more than 5,000 men of the Third, Fourth, and Fifth U.S. Marine division gave their lives to capture this strategic island from the Japanese. Iwo became a base of refuge for B-29s that had been damaged over Japan and would not have been able to make it back to their base in the Marianas.
Our crew landed for fuel at Iwo one time after the flight engineer told me we might not be able to make it to Guam on what we had. What a desolate place it was, still having the appearance of a war zone, which it was. Soon after its capture, Iwo Jima became home for the P-51s of the Air Corp's 567th Fighter Command. Their mission was to accompany B-29s to the target area and engage enemy fighters. The P-51s would often strafe targets of opportunity such as rail yards.
Getting back to life on the island, construction was going on at a rapid pace, and it wasn't long before we had our own mess hall. Officers and enlisted men used the same building, but sat at different tables. Our tables were picnic style, but we no longer had to use our mess kits. We were now able to have regular dishes and normal tableware. Food was served cafeteria style and I had no complaints about it. When we would go on a mission, each of us would be given sandwiches and fresh fruit and enough water and coffee for the crew.
As you know, Guam has a tropical climate, but I never found the heat to be oppressive. In fact it was rather pleasant since there always seemed to be a breeze. During the summer rain showers were common as in Jamaica.
Our next mission was a night firebomb raid against Tokyo. We were told by our intelligence officer that much of the civilian population had been evacuated and a cottage industry had been set up to manufacture fighter airplane parts and other war material.
The powers that be decided a firebombing would put a stop to that. The operations officer told us we would go in, one minute apart, at staggered altitudes to avoid mid-air collisions and to throw off the radar-controlled antiaircraft guns. This was to be a massive B-29 strike against Japan. We took off from Guam about 5 p.m. so as to arrive over Japan just after midnight. Our departure had to be coordinated with the B-29 bases at Tinian and Saipan to assure a smooth flow of traffic over the target.
About 100 out we could see a glow on the horizon. This turned out to be Tokyo on fire, which had been started by the airplanes ahead of us. This time the bombing would have to be done by the use of radar in cooperation with the bombardier because heavy smoke obscured the target.
As we approached the drop area, the bombardier and radar operator told me they were ready for me to turn the autopilot on. The bombardier with direction from the radar operator was now flying the airplane with our super-secret Norden bombsight. We were now on the bomb run and there could be no deviation.
The smoke clouds from the fires below were producing turbulence not unlike that found in a moderate thunderstorm. Next we saw the tracers from the aircraft guns. They had found our bomb run and apparently also our altitude for the bright tracers formed a giant inverted "V" with the apex always directly ahead of us.
At this time I thought, "How can we possibly make it through this without getting hit?" It was a tense several minutes. As soon as I heard the bombardier call out, "Bombs away!" over the interphone, I made a hard right turn to get away from the flak and smoke. Soon we emerged from the dense smoke and I asked our navigator for our first compass heading back to Guam.
I guess we had all started to relax a bit when the tail gunner called out over the interphone, "Skipper, it looks like we've got a kamikaze on our tail." I immediately added power and pushed the nose of the plane down to gain speed. We had been warned that the Japs had these suicide pilots flying light planes in the area and that they would sneak up on the B-29s that had escaped the flak and attempt to ram them. Our hearts were pounding until the tail gunner called to say that we were pulling away from him. I climbed back to our cruising altitude and set course for the 7-hour trip to Guam.
Now that I had time to reflect on what had taken place over Tokyo, I marveled that we were in one piece with all four engines running. I had never witnessed such a massive fire. Can you imagine the entire city of Tokyo in flames? I'm really sad that we had to be the agents of such damage.
However, having been told that, if the United States would have to invade Japan, we would have lost tens of thousands of American soldiers, sailors and Marines, so I guess we had to do what we had to do. The rest of our trip back to our base was uneventful.
As usual, upon our return our crew chief and his two assistants would examine the exterior of our airplane for damage. This time they found small shrapnel tears on the underside of the wings. These tears could be easily repaired. After we left for our interrogation the mechanics went over the whole plane performing routine maintenance.
Two days later we were alerted for a mission to bomb the Kanoya Airfield on Kyushu, the southernmost island of the Japanese chain. This mission was meant to knock out this airfield, from which Japanese fighter aircraft were operating. This was planned as a daylight raid, so we left at night so as to arrive over Kyushu about daybreak. We carried high-explosive bombs in the front bomb bay and an auxiliary fuel tank in the aft bomb bay. Our takeoff was normal and we were in our climb to our cruising altitude of 10,000 feet.
About 20 minutes into our flight the flight engineer called me on the interphone and said, "Skipper, we're losing oil in our No. 2 engine." I ordered the co-pilot to feather that engine. Ray pressed the feathering button and nothing happened.
Just then, Johnnie called and said, "We just lost all the oil in No. 2." We needed some oil to control the propeller, so now we had a runaway prop. I immediately made a reversal of course to return to our base. Next I had to trim the plane to fly on three engines. Johnnie closed the fuel flow and turned off the ignition to the No. 2 engine. The prop was spinning fast but not producing any power. I slowed the airplane down to try to slow the spinning of the prop.
Then I told Bill to salvo the bomb load and after that to drop the auxiliary fuel tank from the rear bomb bay. It hurt to drop 640 gallons of aviation fuel into the ocean, but at six pounds per gallon, that reduced our landing weight by 12,000 pounds and reduced the risk of fire or explosion if there should be a problem landing.
George had called our base on the radio and told them we had to abort the mission and were running on three engines and to have emergency equipment standing by. In the meantime, I called Sweeney on the interphone to ask how the prop looked. His position was at a window right next to that prop. He said that the prop was red hot. Ray took over the flying while I got out of my seat to see for myself. By the time I got there the hub had turned white hot. Because runaway props have been known to tear away from the engine and slice into the fuselage, I told Sweeney and Murphy to leave their positions and come up near the cockpit.
All this time we were descending and keeping our speed as slow as possible. Thank goodness the night was clear and we spotted Guam from about 30 miles out. Ray called the tower and they cleared us to land and said emergency vehicles were standing by. The approach went well and the moment we touched down the prop seized. We taxied to our hardstand and the emergency vehicles returned to their area.
The next day we found out why we had lost all the oil in the No. 2 engine. During the day before our mission, the assistant crew chief had been working on that engine, which included changing the oil. In the meantime the assistant crew chief was called away from the hardstand before he had finished his job. The engine remained uncowled. The man who had been working on No. 2 hadn't returned, so another mechanic asked the crew chief if he should cowl the engine. The crew chief said, "Go ahead." What they did not know was that the assistant crew chief had not yet replaced the oil sump drain plug. It had taken us only 20 minutes to loose all 40 gallons of lubricating oil. The engine and propeller had to be replaced.
The B-29 engine was the newest and most powerful radial engine available at the time. Wright Aeronautical Co. had the contract to build this engine especially for the B-29. It was an 18-cylinder, twin-row radial type with exhaust-powered superchargers for high-altitude flight. Each engine could develop 2,200 horsepower. There was one problem in that they were prone to overheating and catching fire. We were taught to climb to only 500 feet after take-off and accelerate to 200 mph before resuming our climb.
This engine, being air cooled, required plenty of air flow. One of our crews was lost in Kansas during a training flight due to an engine fire. Our flight engineer was adept at manipulating the cowl flaps, so we never encountered this problem. One other thing I thought unusual was that the engine had to be changed for overhaul after only 100 hours of flying time. Airplanes like the DC-3, at the time, were getting 1,200 hours between overhauls. Of course, the B-29 engine was twice as powerful. After the war I met an aeronautical engineer from the Wright Co. who told me that Wright didn't want to release the 3,350-cubic-inch engine when the Army wanted it, but the Army told Wright that they needed it now. Our crew actually had good luck with the engine, except for the runaway prop, which was not the fault of the engine.
The next day we were selected to go on what was called a Dumbo mission. Our job was to fly to a designated spot about 100 miles off the coast of Japan and orbit for about two hours to be on the lookout for any B-29s in distress after that day's bombing raid. We carried extra life rafts, life vests, K-rations, drinking water and first aid supplies that we could drop to a crew involved in a ditching or bailout.
Sweeney, our navigator, told me when we had reached our area of orbit. We made wide circles in the area and Murphy, our radio operator, kept tuned to the emergency frequency in case a ditching or bailout were to be reported. It was rather boring duty, but a couple of interesting things did happen. During one of our large circles we spotted a small island and we decided to take a look. I guess the island was no more than 25 acres in size, but we could see a small house and barn and some crops from a low altitude.
We made a few passes around and over the island. Upon resuming our orbit I noticed smoke rising from the ocean in the distance. So we were off to investigate. To our great surprise we came upon a small volcano rising from the sea. It appeared to us that a small island was being formed. The water around it was very turbulent and what appeared to be molten lava was pouring in spurts out of a cone. It was something none of us had ever seen and likely will never see again.
Evidently the bombing mission had gone well because our radio station called to tell us to return to our base. During our debriefing we reported all we had seen, but no one got excited. We had even taken pictures of the island and volcano with Army cameras that they had given us to use. We had hoped that maybe our crew could get copies of the volcano shots that we had taken. No such luck.
This had been our second longest mission. We had been in the air 16 hours and 50 minutes. For some reason there was a lull in mission activity. Maybe headquarters was gearing up for a big one. Anyway, we had the next five days off to pretty much do as we pleased.
Our next mission after Dumbo was to bomb the Miyokonojo Airfield near the city of Miyazaki to destroy the operational capability of this airport where Japanese fighter aircraft were based. These fighters had taken a toll on many of our planes that had been damaged by flak. Our trip to Japan was without incident, but as soon as we approached the target we spotted bursts of flak and fighters circling awaiting the first B-29 to be disabled.
The sky was clear at our altitude of 20,000 feet, so Bill, our bombardier, had no trouble lining up the target. We were carrying demolition bombs, which could tear up runways and level hangars. As soon as I heard Bill say "Bombs away!" our formation made a right turn and headed for home.
As far as I know, some planes may have sustained light flak damage, but none were lost. It was customary after a mission that a B-29 equipped with cameras would fly over the target area at high altitudes and take pictures of the damage to determine how good a job we had done. Because our missions lately had been to airfields, we figured the generals at the 20th Air Force headquarters on Guam had decided to reduce the capability of enemy fighters to knock down our B-29s.
Two days later our squadron was briefed to bomb the Kanoya Airfield on the southern island of Kyushu. These airfield bombings were not massive strikes as were the attacks on large cities such as Tokyo, Yokohama and Nagoya. Usually only one squadron took part because that was enough force to complete the job. Again our squadron flew over the target in formation, since that was our daylight mode of operation.
Our night raids were always at staggered altitude single file. Once again we encountered light flak and saw fewer fighters. All our planes returned safely. We had a layoff of about six days before our group was alerted for a raid against the port of Matsuyama on the island of Shikoku. The idea was to destroy the port facilities to interrupt Japan's supply lines.
My memory of this mission is hazy so I feel every thing must have gone well. Several times while on these missions there was time to think about what we were doing and my thoughts were generally of the nature that some day I could fly and do something constructive rather than destructive. I realized that what we were doing had to be done in view of the circumstances, but it brought no joy.
One month after our arrival on Guam, 330th Bomb Group records show, four B-29s had been lost, major damage had been done to three and minor damage to 17—with twenty-five crewmembers killed in action, nine missing in action, and one injured.
May 10, 1945, will live in my memory as long as I live! I was requested to report to the office of Maj. Virgil Kinnaird, flight operations officer. I had no idea what this was all about. Upon arrival at the Headquarters Office of the 457th Bomb Squadron, I was directed to his office.
He wasted no time by saying, "Bob, your crew has been selected to attend the Lead Crew School at Muroc Army Air Base near Lancaster, Calif." He said, "You and your crew should pack your bags because you will leave on a MATS flight this evening. And, now," he said, "you'll report to Muroc May 30 for one month of radar bombing training." And in the meantime we could take leave to go to our respective homes.
You can only imagine the elation of the crew when I told them of our good fortune. That evening after supper, our crew, with our B-4 bags, was driven to the Military Air Transport terminal by an Army truck. There were so many military personnel already there awaiting transport to who knows where, that we had to sit on the floor, but that was no problem, knowing where we were going.
It was near midnight when our flight was called. We boarded a Navy R-5d (DC-4) that had bucket seats along the sides of the fuselage. I guess there were about 50 of us passengers. The route of flight was to Honolulu with a stop for fuel and a flight crew change at Eniwetok Atoll. We departed Eniwetok around daybreak and made another fuel stop at Johnston Island, which was another island just large enough for an airport.
Our trip from Johnston to Honolulu lasted about five hours. It was early evening when we landed at John Rodgers Field. Since we had been en route for almost 24 hours and been eating only sandwiches, we were treated to a hearty meal and a comfortable bunk for the night. Early the next morning we were put on a flight for San Francisco, and about six hours later we landed at Hamilton Army Air Field, just north of the Golden Gate Bridge.
It felt great being back in the USA. However, we now had to arrange for our own transportation to our homes. Because I had had good luck previously hitchhiking on Army airplanes, I suggested we try that. We went to the Flight Operations Office to check out that possibility.
We were told there were so many military personnel ahead of us that we would have to take our turn for about a two-day wait. Heck, we could catch a train and be home by then. And that is what we did. We caught a bus to the depot in San Francisco. Our whole crew got on a train headed east, and when we got to Kansas City most of us had to change trains depending on our destinations. All the trains looked like troop trains because 90 percent of the travelers were soldiers, sailors, and Marines. The only ones able to fly the airlines were high-ranking military officers and businessmen who were related to the production of military material.
All of us had good connections. My train took me to Minneapolis where I caught the Soo Line to Duluth. Now here is a story for you: Since I had arrived at a different station in Minneapolis, I took a streetcar to the Soo Line Depot. As I was running up the steps to catch my train, a military policeman called to me. I stopped and he said, "Lieutenant, you are out of uniform." I was wearing a khaki shirt and pants and my leather flight jacket. I realized right away he was referring to my leather jacket. I told him I was coming home from overseas and these were the only clothes I had to wear.
He said, "I still have to write you up." I said, "OK but please hurry, I have a train to catch." He needed the name and address of my commanding officer, which I gave him without fear, because I knew he had more important things to think about. And that was true, for nothing came of it.
When we landed in California I had sent a telegram to Carolyn to expect me home in about two days. Before I left Kansas City, I called her to give her the time of my arrival in Duluth. When the train pulled into the station, Carolyn and Bobby and my mother were there to meet me. I think there may have been some other relatives, too. What a great homecoming, even though I realized the war still was not over! Since Carolyn had moved to Duluth and found an apartment in a private home in West Duluth, she kept looking for a little larger place, which I encouraged her to do.
After looking at several places, she found a brand new apartment in an older building at 18th Avenue West and Superior Street. This is a commercial area, and she found out that relatives thought she had made a bad choice because of the location. It was on the streetcar line, close to stores, had a place to park the car and it was not a high crime area. I thought it was great!
Compared to some of the places we had to live in when we were in Texas and New Mexico, this was high class. This place had a new refrigerator, new stove, hot water heat, a living room, bedroom, and kitchen. Some furniture had to be bought, so all Carolyn had to do was to go across the street to Enger and Olson's furniture store.
Besides my folks and relatives, Carolyn's friend Clara Palkie, whom we knew at Pecos along with her husband, Cliff, lived in Cloquet, just 20 miles from Duluth. Cliff was in England at the time. So Carolyn and Clara got together from time to time. One of the first things we arranged for upon my return was Bobby's baptism. There were a number of aunts and uncles we could have asked to be his sponsor, but we decided upon Aunt Helen and Uncle Stanley Boman because I had been close to them while I was growing up and they also belonged to Zion Church. So I called Pastor Grimsby and made an appointment to have the baptism performed privately at the church early one evening during the week. Other relatives were there also, plus my folks.
Since we had last seen by brother, Allen, he had joined the Navy and was in training at Great Lakes Naval Station. Upon graduation he was sent to the Pacific area and saw duty in and around China. By coincidence, he and our cousin Donald Boman found each other in China. In a way, it seemed strange to not find any of my old buddies around, but of course, they were all away in the service. Before I knew it, it was time to get ready to return to California and start the training we had come back for. I never thought about it at the time, but in more recent years it came to mind that not one person in Duluth asked me how it was overseas or what we were doing over there.
Most likely they didn't know what to say, so they said nothing. Strangely enough, we encountered the same thing when our Bob was in Vietnam; none of our friends ever broached the subject. Both Carolyn and I say the 13 months Bob was in Vietnam was the longest year of our lives.
Back to the story. I took the train back to California, but this time my destination was Muroc Army Air Field near Lancaster, Calif., in the middle of the Mojave Desert. I signed in at headquarters and started bumping into members of my crew. The next day we were to attend a meeting at the post theater to find out what we were supposed to accomplish in the next 30 days. The rest of the day I made phone calls to Lancaster to find out what the apartment or room rental situation was in case Carolyn could come to California. I found that rooms in private homes were available, so I called Carolyn and asked if there were any possibility that she could make the trip.
She talked to my mother who said, "You go right ahead, I'll take care of Bobby." So Carolyn bought a train ticket to California and survived the crowded "troop train" conditions for two days. I was able to meet her at the station and took her to our temporary home, a room in a nice house in a nice area in tiny Lancaster. We had no kitchen privileges, so we had our breakfast at a restaurant in town. The town was not far from the air base and local transportation was available so we were able to have lunch and dinner at the Officers' Club.
Muroc was an Army base generally devoted to developing and testing new airplanes and equipment. Its location was in the Mojave Desert on an ancient dry lakebed, which meant long runways could be built at minimal expense for testing new airplanes.
Secrecy was also an issue; therefore, there were not many people in the area to see what was going on. Muroc later became Edwards Air Force Base, where the space shuttles would sometimes land. Our training would be a routine of two days of ground school and one day of flying through the month.
Each crewmember went to the school of his specialty. The aircraft commander and the pilot refreshed their instrument flying skills in the Link Trainer and studied the new concept of bombing by lining up the target with the use of radar. The navigator had recurrent training in the use of celestial and Loran navigation. Our radio operator practiced transmitting and receiving code and routine repair techniques on his radios. Each gunner had to refresh his knowledge of the care, maintenance, and operation of the central fire control system.
Then came the flying. Each crew was assigned certain cities to bomb by photography. Some of the cities chosen were port cities such as San Francisco and Seattle, which resemble certain port cities in Japan as seen on radar. Then there were also inland cities such as Denver and Kansas City, which could approximate what our radar operator might see over Japan.
To make things look realistic, our own fighter planes would appear and make passes at us so our gunners could get some practice. Upon our return to Muroc, the bombing camera and the gunners' cameras would be taken to the photo lab so the success or failure of our mission could be evaluated.
Since we had been given leave to go home before our training started, we were given no more time off. All our time at Muroc was devoted to our training. Training was completed on the last day of June. I saw Carolyn off at the depot for her two-day ride back to Duluth.
On July 1 our crew returned to Hamilton Field, near San Francisco, from which we would leave for Guam. Considering all the details I can remember from more than 50 years ago, I have absolutely no recollection as to how we got from Muroc to Hamilton Field.
Our return trip to Guam was again on a Navy R-5D (DC-4) operated by the Military Air Transport Service and flown by Navy pilots. Our routing was the same as when we flew to the States, only in reverse, Hawaii, Johnston Island, Kwajalein and Guam.
While we were in the States, 10 combat missions were flown by the 330th, with eleven men killed in action, thirty missing in action, and four wounded. When we got back to Guam there was a lull in bombing mission activity, so the spare time gave us the opportunity to take care of personal matters.
One of the other crews had found a native family back in the hills, just a few miles from our base, that would be happy to earn a few dollars to do our personal laundry. This sounded great compared to how we had been doing our own laundry. The five officers in the crew signed for a Jeep at the motor pool and found this family at the end of a one-lane dirt road through the jungle.
From what we could see, it appeared to be a mother and father with a daughter of about age twelve and a son about eight. They were fairly short and looked very much like Filipinos. The whole family was living in almost primitive conditions, but they appeared to be happy and were pleasant toward us. They knew a few words of English and realized what we wanted when they saw our laundry. I don't know their source of water, but I did see their flat-iron, which they heated over a wood fire.
Two days later we drove back to get our laundry and were pleasantly surprised to see our shorts, T-shirts and khakis not only clean bur pressed. I forgot what the change was, but all of us gave them a bit extra. From then on we were their customers.
After our arrival on Guam in April, I had met Capt. Harold Dillee, the squadron maintenance officer of the 457th Squadron. He was in charge of maintenance of all 20 airplanes in our squadron. When we returned from lead crew school, it was about the time our commanding officer was assigning all aircraft commanders to secondary jobs.
Dillee invited me to become his assistant, and I accepted. This included changing quarters to room with Dillee and another ground officer in upgraded facilities. I talked with the other officers in my crew, and they said, "Take it."
My extra duties were not very difficult, since I was put in charge of paperwork. However, I learned a few things about aircraft maintenance. The lull in missions, it appears, was because Gen. Curtis Lemay was developing a new tactic against the Japanese. Anti-aircraft defense was taking a greater toll on B-29s than expected.
Lemay had thousands of leaflets printed in Japanese listing the names of ten of their cities and saying we will bomb five of these cities in our next mission. These leaflets would be dropped along with bombs on our next trip. Lemay thought this information would cause the Japanese military to thin out their antiaircraft batteries over ten cities, not knowing which cities we would actually bomb. This was to be an ongoing tactic and it seemed to work, since the losses to antiaircraft fire was reduced.
Our first mission after our return to Guam was to a fighter base near the city of Uwa Jima on the small Japanese Island of Shikoku. This was a daylight operation, and we were flying in formation. Right away we noticed the flak was not as heavy as it had been. Once again Japanese fighters were following our formation waiting for a B-29 to be disabled. Our gunners who had a full view of the sky kept us advised of the situation.
The good news was that none of the planes in our particular formation had been hit. There were many more formations to follow, but we could not keep track of them. The weather had been clear that day, so considering the tonnage of bombs to be dropped on that airport, our squadron alone should have put them out of commission. Between the middle of July and Aug. 15 we were to fly eight more missions. And because the anti-aircraft and fighter defenses of Japan had become less hazardous, possibly due to Gen. Lemay's tactics and our bombing of the fighter bases, things went quite smoothly for us.
After Iwo Jima we flew missions to Okazaki, Tsu, Ogaki, Mito, Nishin, Tokyo and Kumagaya. Except for our last two missions, the details of the other five have faded from my memory. The mission to Tokyo was a daylight mission for precision bombing of the Nakajima Aircraft plant. As in our other daylight missions we flew to within 50 to 100 miles of the Japanese coast in single file, one minute between planes.
At this point the Japanese fighters were there to escort us over the target area and back out over the ocean. As I have mentioned before, the fighters were respectful of our guns while we were in formation, but whenever a plane was disabled by flak and became a loner, he was much easier prey for the fighter. We dropped our bombs successfully from 20,000 feet and without a casualty.
The flight back to Guam was without concern until we were halfway between Iwo Jima and Guam. It was then that Walker, our flight engineer, told me we were running low on fuel and likely could not make it to Guam. Evidently the longer than normal time we were in formation used up more fuel than we had expected.
I told him to lean the fuel flow as much as possible and that we would land at Saipan. We still had about 500 miles of ocean to cover to reach Saipan, so I told the crew to have their life jackets ready and to run the ditching procedures through their minds. Johnnie kept working on the leaning of the fuel and I started mentally planning my approach to Isley Field. Sweeney, our navigator, told me that we were right on course, and when Hofheins spotted Saipan on radar,
I started a slow and gradual descent. I had Ray, our pilot, call Isley Tower to explain our situation. They cleared us for a straight-in approach and landing. I'm sure all of the crew, along with me, were saying to themselves, "Now that we're this close, don't let those engines quit now!"
We landed and during the rollout, the two outboard engines quit, and while we were taxiing to the ramp, the other two engines quit. The fuel truck had to come our and meet us. En route to Saipan, Murphy, our radio operator, had told our base on Guam of what we had planned to do. So after we had refueled we took off for Guam, a half-hour flight.
Most of what I am writing comes from my long-term memory, which seems to be better than my short-term memory. However, I have three bound books dealing with the history of the B-29 and the 20th Air Force that have been very useful in helping me to reconstruct certain events.
One comes to mind: It was a night firebombing mission over Tokyo when our tail gunner reported a "ball of fire or kamikaze coming at us." My books tell me so many identical sightings were reported that the 20th Air Force did some detective work. Every report had shown the "ball of fire" off the right wing coming in to the target and off the left wing leaving the target. What was seen was the planet Venus, which is extremely brilliant in this part of the world at this time of year.
The day after we returned from our trip to Tokyo and Saipan, rumors began circulating around the base that Japan was ready to negotiate an end to the war because an atomic bomb had been dropped on Hiroshima on August 5, 1945. This event came as a total surprise to those of us on Guam. The B-29 called Enola Gay was based on Tinian, and its mission had been a closely guarded secret. The United States thought the devastation at Hiroshima would certainly give the Japanese a reason to sue for peace, but it did not happen.
Consequently our 314th Bomb Wing was sent on the Tokyo mission on August 8 with 60 planes. The very next day, a B-29 called Bock's Car took off from Tinian and bombed Nagasaki with the second atomic bomb. Still there was no direct contact with the United States about bringing the war to an end.
However, we know now that Japan was in contact with Russia, asking them to mediate an end to the hostilities. Russia declined, knowing the United States would settle for nothing less than unconditional surrender. History tells us that after Hiroshima, Foreign Minister Togo met with Emperor Hirohito and advised him to accept the Potsdam Declaration quickly to avoid the destruction of any more cities.
The emperor agreed. Togo gave the emperor's message to Premier Suzuki, who was unable to convene the Supreme War Council until the next day. It would be five more days before the Japanese government would agree to end the war, and then only because of an impassioned plea to the War Cabinet by Emperor Horohito, which was broadcast to the Japanese public.
It was this delay which caused us to have one more trip to Japan. The early afternoon of August 14 our entire 314th Bomb Wing was briefed for a night mission against industrial plants in the city of Kumagaya. We were to take off at 4 p.m. Earlier this day 443 B-29s had left Tinian and Saipan to bomb other industrial complexes in other cities. Just before our planned 4 p.m. takeoff, word came to us that Tokyo Radio had reported our surrender terms had been accepted—but Washington D.C., could not verify this.
We were very disappointed that it appeared our mission would go as planned. With the end of the war so near, it was sad to think that more lives would hang in the balance for another day. A new takeoff time was set for 5:30 p.m. At 5:30 takeoff was postponed again, awaiting word from Washington. Six o'clock was the next deadline, and when no word was received from Washington we started our takeoffs. We were told that, if at any time during our flight to Japan word was received at our headquarters that the war was over before we reached Japan, we would be notified by radio to drop our bombs in the ocean and return to Guam.
This did not happen. We proceeded to our target, dropped our bombs without much opposition and started our 7-hour flight back to Guam. The return trip was uneventful, except that about half way back to Guam, Murphy, our radio operator, called me on the interphone to say, "Skipper, I just received a message from our base on Guam telling us that the Japanese have officially accepted the terms of unconditional surrender to the United States."
The entire crew must have been on interphone, for all of us started yelling for joy. When we landed at North Field, taxied to our area, and parked the airplane, we were greeted with great big smiles from our mechanics. We still had to go to be debriefed, but there was a lot of back-slapping, hand-shaking and smiling going on in the meantime.
The main question on everyone's mind was: How soon would we get to go home? That answer would come in due time. We couldn't help but wonder how our loved ones were receiving this wonderful news. There must be a lot of celebrating going on back in the States.
By the way, Carolyn and I carried on an almost daily correspondence. She would send me news clippings about B-29 activities, and I would comment on how accurate they were and send them back to her. It took about five to six days for mail to reach us. Another option was available to us and that was V-mail. We could write short letters on a sheet of paper that would fold into a 3-by-5-inch size and become its own envelope. The Army would microfilm these thousands of letters and send them to the States, where they would be reproduced on paper and sent to the addressee. This idea saved tons of military cargo space.
I happened to be a subscriber of Time magazine, and they came up with a neat idea. I received my copy of Time each week. It was five by seven inches, printed on newspaper stock, had very small print on about 30 pages with no advertising. It contained mostly national and international news, with one page about books. I really enjoyed that contact with the world.
Two weeks after our last mission, on Sept. 2, 1945, to be exact, the formal surrender ceremony aboard the battleship Missouri, anchored in Tokyo Bay, was held. The 20th Air Force scheduled a show of force of B-29s to fly over the battleship during the ceremony. Over 500 B-29s from Guam, Tinian, and Saipan participated in the formation flight. Participation was optional.
Personally, I was against the idea because we had been lucky so far and things can happen on a 15-hour trip over 3,000 miles of ocean. I asked each member of the crew about their feeling. Bill Grossmiller, our bombardier and youngest man, appeared excited about the trip. So Bill went with another crew and said he enjoyed the trip.
About a month later, a typhoon flattened the island of Okinawa and left our troops, who were occupying the island, without tents, blankets, medical supplies, food and electrical generators. Our operations officer, Maj. Kinnaird, asked for volunteer crews to fly this mission. This one we accepted wholeheartedly. How nice it would be to fly a mission of mercy rather than destruction.
It surprised me to find out that the Army Air Corps and Boeing had long ago found a way to enable a B-29 to carry cargo in the bomb bays. They had engineered a platform that could be suspended from the bomb racks in both bays. So our bomb bays were loaded with the crucial supplies and secured with cargo nets. This time we didn't have to worry about fighters or flak, so everyone was pretty relaxed.
I forget the name of the military airfield where we landed, but I remember the terrain being as flat as a pool table. As a result of the typhoon not a single building was standing. A group of GIs with two Army trucks met us and unloaded the plane in short order. After refueling, we headed back to Guam.
On the return trip we dug into the GI sandwiches and fresh fruit that had been prepared for us by our mess cooks. Over the next few days we were told a system was being set up in Washington to determine a fair method of rotating our personnel back to the States. Priorities were to be assigned on a basis of points to be awarded for length of service, time spent overseas, married or single, military decorations, etcetera. We would be notified in due time of where we stood on the list.
To keep us busy in the meantime, we aircraft commanders were assigned the duty of checking-out our co-pilots (known as pilots in the B-29) in the left seat. Next we progressed into loss of an engine on takeoff followed by a three-engine landing. Since we had parallel runways at North Field, four crews could practice at one time. Our training sessions lasted one hour.
One day after we had made our last landing and were taxiing to our hardstand, the tower told us to hold short of the active runway because another B-29 was making a three-engine approach and go-around. We held short and watched the go-around, and the plane appeared to be in trouble.
Trouble indeed, the nose pitched up, the left wing dropped and the whole airplane dropped onto the runway and erupted into a ball of flame. What a horrible sight! How anyone could have survived that is beyond me, but one enlisted man in the rear of the plane did survive with burns. The saddest part being that the crew had survived the war and were waiting to go home.
Since I was the assistant engineering officer, my crew and I were designated as test hop crew for slow-timing an engine change and also for compass calibration flights. There was also time for recreation. Guam had a beautiful white-sand beach that we could use. The water temperature was pleasant and it was clean for swimming.
By the way, I found the climate on Guam to be very nice, but I can only vouch for it between April and November. Though it rains in short squalls, I never found the humidity oppressive. I'm somewhat reminded of the climate of Jamaica. I visited the town of Agana. Only two recognizable shells of buildings were left after the battle of the Army, Navy and Marines to take the island from the Japanese. One was a church and the other was the town hall. There was a paved two-lane road that ran about 20 miles between our base and the Navy base. Along this road one could see burned-out Japanese tanks every now and then.
Now that everyone seemed to have time to spare, we started to get visits from Navy and Merchant Marine personnel who wanted to see a B-29 close up. Since secrecy was no longer a problem, we gave escorted tours inside and out. We really enjoyed doing this and were flattered that these people showed an interest in what we had been doing.
In return, these Navy officers invited the officers in our crew to visit their base at Apra Harbor at the other end of Guam. First they introduced us to their Navy Exchange, where beer was sold with no limit. At our PX one beer a day was the limit. Next they introduced us to their club at a restaurant type table with a white tablecloth and napkins and good silverware. To top it off we were able to order steak and were served by a Filipino waiter. The Navy goes first class all the way.
In the same general time span we had a visit by two Merchant Marine Officers who wanted to see a B-29 close up. We gave them our usual tour and answered all their questions. At the end of the tour, the two officers invited the four of us who were on duty to join them for dinner on their cargo ship berthed at Guam's harbor. We accepted without hesitation. It was late afternoon so we requisitioned a Jeep and followed the officers to their ship.
Even though these men were officers in the Merchant Marine, they were not in the military. Their work was equally hazardous though, since they were carrying military hardware and supplies and subject to submarine attacks. After giving us an interesting tour of their ship we were served drinks in their wardroom. We had a nice exchange of our wartime experiences as we enjoyed our drinks. Then the ship's cook came into the room to ask how we would like our steaks prepared. It had been a long time since we had been asked that question. The meal was great and it had been educational, meeting these men engaged in an entirely different line of work.
By the way, due to the efforts of a group of enlisted men and officers who worked after hours, we got an outdoor movie theater. We were surrounded by a dense forest, sometimes referred to as a jungle. So these men went to the edge of the forest and found some fallen trees. They trimmed these logs and dragged them into the camp area where they became seats for our movie theater. Some other enterprising individuals scrounged up some lumber and built a frame for a screen.
I don't know where they got the screen, but bartering among the different units on Guam, Army, Navy and Marine Corps was a common practice. So three or four nights a week we saw old movies. After all the necessary buildings on the base had been completed, the enlisted men built themselves an outdoor club and the officers built one also. While the aircrews were on a mission, the ground echelon had time to spare, so they were the ones who did most of the extra building. Each man, GI or officer, was entitled to buy one beer a day. Officers were allowed to buy one fifth of hard liquor a month. A lot of card playing went on at both clubs.
Sometime after hostilities ceased, I received a letter from Carolyn telling me that my cousin Virginia and Aunt Clara were visiting Duluth and that Virginia's husband, Wes Marks, was at Guam temporarily awaiting transportation back to the States after serving in Gen. MacArthur's island-hopping campaigns with the Marine Corps. She gave me Wes' unit number so I could try to locate him. At my first opportunity I got a Jeep and drove to the Marine Corps camp.
I had no difficulty finding Wes. I walked up to his tent and asked for him. He evidently heard me ask for him and came to the tent opening to see who this guy was. We had never met before this, but when I told him I was Virginia's cousin he broke into a big smile. I asked him about where he had been in the Pacific. He named some islands, but the only one I can remember is the island of Peleliu, where he was fighting when the war ended. We had a nice visit, but little did we realize how close our families would become a few years hence. We had a lot of good times together, but after they left Deerfield and moved to Jackson Hole, Wyo., we lost touch with them. I wrote to them several times, but got no response.
We returned from our last combat mission August 15 and now it was October 15. Two months had gone by and we have just found out that some of us will be going home November 1. According to the point system, Ray Rozman, co-pilot, Johnnie Walker, flight engineer, Charlie Sweeney, navigator, George Murphy, radio operator, Harold Hofheins, radar navigator, and I will be flying our K-1 to Mather Field near Sacramento, California.
Bill Grossmiller, bombardier, and all three gunners will return later. Bill actually wanted to stay on, he was single and he wanted to make a career in the Army Air Corps. This was a good move on his part, because he became an aide to Col. Reynolds the bomb group commander. As a result, he was able to get an appointment for flight training as a pilot. He made the military his career and retired as a commanding officer of Whiteman Air Force base in Missouri.
Over the span of our 15 missions we had three extra crewmembers ride with us. These were men in supervisory positions who now had desk jobs but were qualified as crewmembers. Supervisors were encouraged to make at least one trip on a combat mission. Our first extra crewmember was Capt. Fitzgerald, our squadron bombardier, with whom we had become well acquainted as a crew. Next was Maj. Caldwell, a pilot, who was born and raised in Duluth. Because of the fact that we found out we shared the same hometown, Carolyn and I and Ralph and his wife Karin, became friends. When we left for overseas, Carolyn gave Karin a ride to Kansas City so she could get a train to Salt Lake City, her home. Ralph was group air inspector, an unusual name for someone who handles complaints of enlisted men. Our last extra crewmember to fly with us was Col. D. C. Polhemus, our new group commander.
Needless to say, we were honored to have him with us on our last mission of the war. Right after the first atomic bomb was dropped on Hiroshima, Maj. Gen. Curtis Lemay, commander of the 20th Air Force, was promoted to become Chief of Staff of U.S. Army Strategic Air Forces in Washington and in line for a third star. Taking his place as head of the 20th Air Force, based in Guam, was Lt. Gen. Nathan Twining.
Vacancies existed on the staff of the 20th Air Force, and that is where our respected group commander, Col. Reynolds went. That is how we got our new group commander, Col. Polhemus. In the meantime, preparations for Sunset Project were under way. This was the name given to the project of returning the troops back to the States. The planes we would be flying were to be fitted with all new engines. And the wooden platforms, as used on our trip to Okinawa, were installed in the bomb bays to accommodate luggage and cargo. In addition to our flight crew of six we were to carry fourteen high-priority passengers.
All but one were enlisted men, some of whom had been overseas since the war started four years earlier. We felt good about being able to give these men a fast trip home as opposed to a long ride on a ship. Our group of 15 aircraft was dispatched after dark at one-minute intervals. The night departure would give us a daylight landing at Eniwetok for safety reasons.
The runway there was not as long as we had been used to on Guam. After our overnight rest stop, we left for Honolulu early the next day. There was an unusual occurrence during our night flight from Guam to Kwajelein. We were at about 10,000 feet flying through moderate rain when we encountered a phenomenon called St. Elmo's Fire. It is a buildup of static electricity caused by the movement of an airplane through precipitation. In our case it acted like lightning in reverse. This jagged line of light resembling miniature lightning started building at the nose of our airplane and grew outward for about 20 feet and discharged with a loud pop. This sequence was repeated time after time until we got out of the rain.
At first sight it is alarming, but it causes no harm. The daylight flight to Honolulu was uneventful. The Army Air Corps had planned Sunset Project well, for at each stop the base involved had accommodations provided for the crew and passengers. This routine went on for days until most of the B-29s were returned to the States. After that, the rest of the personnel returned home on all types of Navy ships and Army transports. We landed at Honolulu late in the afternoon, and by the time we had found our overnight quarters and had dinner we were ready for bed.
Oh, how glad we were to be on our way home. Early the next morning we took off for the last leg of our trip. Our destination was Mather Field, near Sacramento. Again our flight was pleasant and uneventful. I should mention that since the B-29 was a state-of-the-art airplane, we pilots had the advantage of using an autopilot. This meant that after takeoff we didn't have to hand fly the airplane on these long flights. We controlled the autopilot, adjusting different knobs with our fingertips. Then, when we arrived at our destination, we were not exhausted and able to do a good job landing. At each stop we were supplied with box lunches, Thermos bottles of coffee, and cans of fruit juices.
We landed at Mather Field in mid-afternoon on the same runway we had used when we departed for Guam. It was also the same runway I had used as an aviation cadet in advanced flight training in 1942. Our landing and parking of the airplane was without ceremony; it was all very matter-of-fact, and we were just one of many crews landing that day. We were met by an enlisted man who directed us to one of the large hangars where we would turn in all the government-issued equipment we had. We stood in line to return our sunglasses, wristwatches, leather jackets, .45 caliber handguns, etc. Some of the fellows fibbed and said they had lost their sunglasses, watches, and leather jackets.
Their excuse was accepted. I wish I had done the same since the government sold these items to G.I. surplus retailers for pennies on the dollar and these stores were able to make a nice profit. From the hangar we were directed to a huge mess hall where we were served cafeteria style. Wow, what choices we had. Eggs done to order, bacon, steak, pancakes, vegetables, fruit of all kinds, all the milk one could drink, plus varieties of pie, cake, and cookies. With full stomachs, we boarded buses, which took us to Camp Stoneman at Pittsburg, California, near Oakland, to await troop train travel to our home towns. Camp Stoneman was a rather depressing place in comparison to all the air bases we had been to. Its only purpose was to house and feed military personnel returning from overseas duty awaiting troop train travel to their homes. The base consisted of row upon row of barracks interspersed with a few mess halls and a post exchange.
About all a person could do was to take a walk, go to the PX, or lie on one's bunk while awaiting one's train call. After a day of killing time, I went to the camp headquarters to find out what my schedule looked like. I was told my train would probably leave in about two days. I then asked for a 24-hour pass, which was granted.
Some time ago my buddy, Alvin Backstrom, had told me that if I were ever in San Francisco, I should call his older sister who lived in Palo Alto. I had met her in Duluth when she had been visiting her parents. So I called her and she invited me to come to her house for lunch the next day. I took a bus to and through San Francisco. Her house was an easy walk from downtown. Al's sister had married a government attorney and they had two small children. We had a nice visit and I had my first home-cooked meal in several months. Late that afternoon I caught a bus back to camp. The next day I received notice to be prepared to board the train headed for Kansas City and points east. Those of us from Minnesota, Iowa, Wisconsin, and the Dakotas would change trains at Kansas City. There wasn't an empty seat on either train.
At Minneapolis I caught the train to Duluth and was met by Carolyn and 11-month-old Bobby and my mother. What a great feeling to be back home! It was now about the middle of November 1945 and we returnees were given 45 days of recuperation and rehabilitation. My orders said I was to report to Camp McCoy, Wisconsin, for processing of my discharge from the Army on January 8, 1946.
Somehow the word got out that the pilot of the B-29 named the City of Duluth was back in town. I received a phone call from the president of the Duluth Chamber of Commerce to be his guest at their monthly luncheon the next day. He didn't ask me to make a speech, but he said some of the members might want to ask about what I had been doing overseas. At the end of the luncheon, the president introduced me to the group, and I gave a few remarks about how I had first soloed at the Duluth airport. I then asked the audience if anybody had questions about what I had been doing since then. Not a single hand was raised, nor did anyone speak. I was embarrassed, as my host appeared to be.
I did make one more comment and told them there were still thousands of young men overseas who didn't know when they would get to come because of the transportation backlog. I got the impression that none of them gave a damn and that they wanted to get on with their business meeting.
I noticed, upon looking at the audience, that about half of the men were of draft age. A couple of days later Mayor Johnson's secretary called to say he wanted a photo op to present the "key to the city" to me at City Hall. A war bond drive had been ongoing while I was overseas wherein the War Department decided to name all B-29s after cities in the United States to encourage the sale of bonds. Our B-29 was named the City of Duluth, and Mayor Johnson had been notified of this. So, when peace was declared, he wrote the War Department asking them to have our crew fly our B-29 to Duluth so the citizens could see it. The request was denied.