Ed Curnow
Era: World War I
Military Branch: Army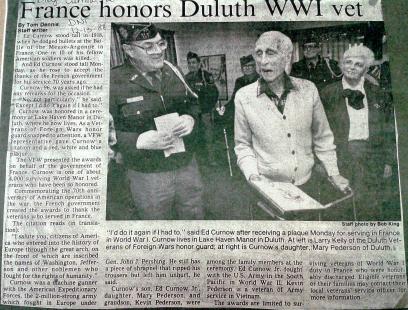 This information comes from the article in the Duluth News Tribune dated December 13, 1988
Titled: France honors Duluth WWI vet by Tom Dennis Staff writer.
Ed Curnow served in WW1 at the Battle of the Meuse-Argonne in France.
Curnow was a machine gunner with the American Expeditionary Forces, the 2-million strong army which fought in Europe under General John J. Pershing.
He was honored in a ceremony at Lake Haven Manor in Duluth, Minnesota where he now lives at the young age of 96.
The VFW presented the awards on behalf of the French government. He received a citation and a red, white and blue plaque. The French government expressed their thanks for his service 70 years ago.
The citation reads (in translation):
"I salute you, citizens of America who entered into the history of Europe through the great arch, on the front of which are inscribed the names of Washington, Jefferson and other noblemen who fought for the rights of humanity."