Support The Museum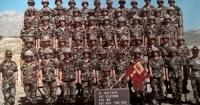 We need your help!
In order to operate we rely on the help of people like you. Without your help we couldn't preserve our artifacts; We couldn't teach school groups the history of our local veterans; We couldn't record the stories of our local veterans.
If you would like to make a monetary contribution, please send a check or money order to:
Veterans Memorial Hall
506 West Michigan St.
Duluth, MN 55802-1505
To make an on-line contribution, please click here, and note "Veterans Memorial Hall" under the designation for your donation.
If you are looking to donate an artifact, please contact our Collections staff.
Curator Erin Hicks
erin@thehistorypeople.org or 218.733.7587
Collections Manager Ryan Kuchta
ryan@thehistorypeople.org or 218.733.7588