Edwin R. Bodey
Era: World War II
Military Branch: Army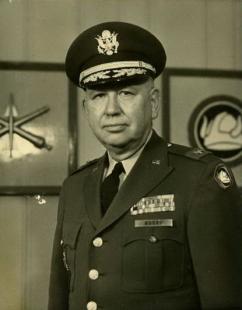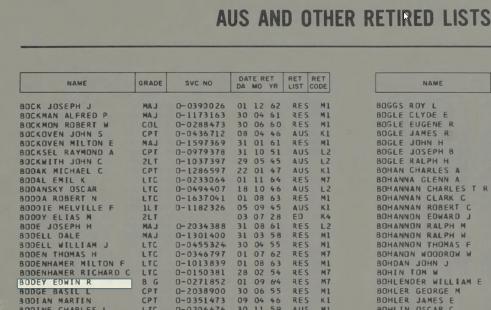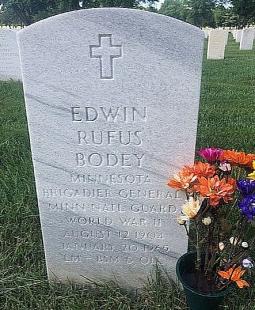 BODEY, Edwin R.
BRIGADIER GENERAL EDWIN R. BODEY
Commanding General, 47th Infantry Division Artillery
Minnesota National Guard
Enlisting in the Minnesota National Guard in May 1920, General (GEN) Bodey was commissioned 2nd Lieutenant, Artillery in December 1929. He was promoted to 1st Lieutenant, Artillery in January 1932 and to Captain in July 1940. Serving on active duty during World War II from February 1941 to March 1946, he was promoted to Major in July 1941 and to Lieutenant Colonel in .July 1943.
He commanded the 125th Field Artillery Battalion in Africa and Italy for 19 months and served as Executive Officer of the 34th Division Artillery for 2 months.
Following his release from active duty, he commanded an Antiaircraft Artillery Battalion and was promoted to Colonel, Artillery, in command of the 216th Antiaircraft Group in March 1947.
He again served on active duty from January 1950 to December 1955 during which time he had assignments as Staff Officer, Organization & Training Division, General Staff, United States Army, for 7 months; Assistant Chief, Reserve Components Branch, Organization and Training Division, Office of G-3, 5 months; Chief, Reserve Components Branch Organization & Training Division G-3, 25 months, and Chief National Guard Branch, Reserve Components Division G-3, Headquarters CONARC, for 34 months.
He was released from active duty in December 1955 and was assigned as Executive Officer, 47th Division Artillery. He was assigned as Division Artillery Commander in February 1957 and was federally recognized as Brigadier General in April 1957. He commanded the 47th Division Artillery from 1957 to 1962.
GEN Bodey earned the following decorations and awards during his military career:
Legion of Merit,
Bronze Star Medal with Oak Leaf Cluster.
European-African-Middle Eastern Campaign Medal with seven Battle Stars & Arrowhead, -and-
Italian Cross of War
On September 1st 1962 he retired after 42 years of service. He died on January 20, 1965 at the age of 60 years. He is buried at Fort Snelling National Cemetery in Minneapolis, Minnesota.
Source(s):
---
Albert J. Amatuzio Research Center | Veterans Memorial Hall (vets-hall.org)
Page 29 Army Registers, 1798-1969 - Fold3
Edwin Rufus Bodey (1904-1965) - Find a Grave Memorial