George Leigh Anstrum Ostlund
Era: World War II
Military Branch: Army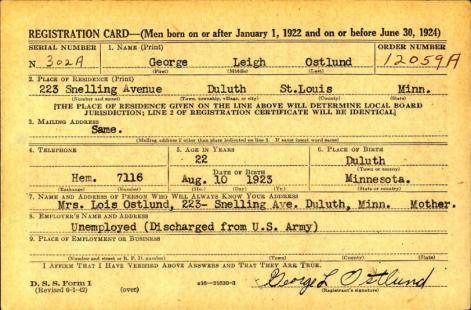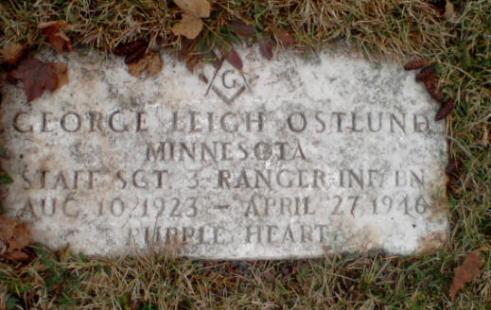 OSTLUND, George Leigh Anstrum
George Leigh Anstrum Ostlund was born on August 10th 1923 to Albin Jonas & Charlotte Adelaide "Lois" [Jennings] Ostlund in Duluth, Minnesota.
Mr. Ostlund served in World War II in the European Theater.
He enlisted in the U.S. Army on February 10th 1941 and was assigned the 125th Field Artillery History | Veterans Memorial Hall (vets-hall.org). He was selected for special training as a Ranger. He was part od Company "D", 3rd Ranger Infantry Battalion, He rose to the rank of Staff Sergeant (SSGT).
SGT Ostlund was at the Anzio beachhead on January 30, 1944. The battalion of which he was a part was surrounded. He and the other servicemen fought against the Germans until their ammunition ran out.
He was tragically killed in action on April 27th 1945 at the age of 22..
SGT Ostlund earned the following merits for his service:
Distiguished Unit Citation,
Bronze Service Arrowhead,
Good Conduct Medal,
the Purple Heart (posthumously), -and-
honorably discharged on October 8th 1945.
He is buried at Forest Hill Cemetery in Duluth, Minnesota.
Source: Duluth News Tribune, March 14th 1944 (see article, below)
---
Article: "Duluth Trio Fought in Ranger Epic"
Three Duluthians were among the heroic members of two Ranger battalions which fought to the last shell when overwhelmed by superior German forces on the Anzio beachhead, it was revealed here late yesterday.
Since the battle, which has been called an "epic of bravery" in delayed dispatches, the fate of the three has been shrouded in mystery but now the war department lists them as missing in action. More than 900 men were involved in the incident which ended only when American ammunition had been exhausted.
The Duluth, Minnesota men who are missing are S-Sgt. Dennis A. Bergstrom, 25, son of Arvid Bergstrom, 4609 Jay street; Sgt. William Arimond, 24, son of Mr. and Mrs. George V. Arimond, 5528 Highland street, and Sgt. George Ostlund, 21, son of Mrs. Lois Ostlund, 223 Snelling Avenue east.
All three had been members of the original 125th Field Artillery regiment which left Duluth in March 1941. In early 1942, they were selected to become members of the first American Ranger units and were transferred to Scotland to receive special training.
According to month-old dispatches, the battalions of which the three were members, penetrated four miles behind enemy lines in a surprise attack January 30 to spearhead an Allied move-up to the town of Cisterna. The men reached the outskirts of the town only to discover they had been completely surrounded and their reinforcements cut off by a large number of German troops which had unknowingly moved up in the night. In spite of the fact that they were unable to entrench themselves, the men elected to stay and fight it out until their ammunition was gone. The story was told by a few handfuls of stragglers who managed to escape from the Nazis.
Sergeant Bergstrom is a graduate of Duluth State Teachers college and attended Dunwoodie Training school in Minneapolis. Sergeant Arimond is an accomplished violinist, graduated in music from Duluth Junior college and attended Duluth State Teachers college. Sergeant Ostlund attended Cathedral high school and was a letterman in both football and hockey.
Source(s): Duluth News Tribune, March 14, 1944
---
Albert J. Amatuzio Research Center | Veterans Memorial Hall (vets-hall.org)
George L Ostlund in WWII Army Enlistment Records - Fold3
George Leigh Ostlund (1923-1946) - Find a Grave Memorial