Jack Albert Zeleznikar
Era: World War II
Military Branch: Army
Unit Info: 125th Field Artillery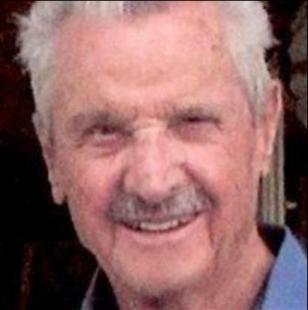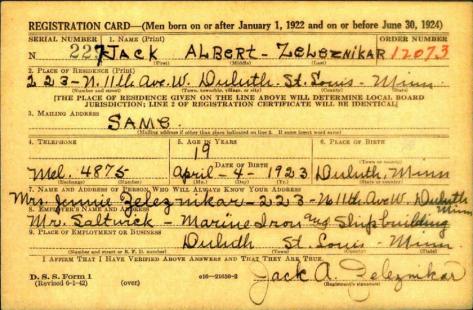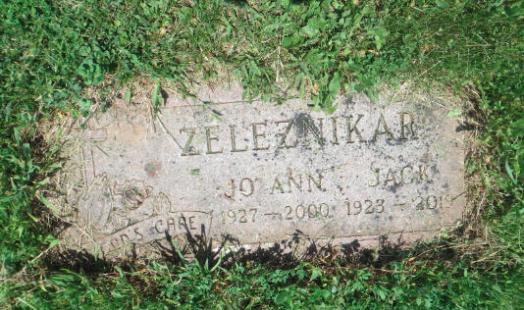 ZELEZNIKAR, Jack Albert
Jack Albert Zeleznikar was born on January 9th 1925 to Joseph & Johanna [(Glinsek)] Zeleznikar in Duluth, Minnesota. He graduated from Duluth Central High School in 1941.
Mr. Zeleznikar enlisted in the U.S. Army beginning in November of 1942 during WWII. He served in the Army Air Corps. He was sent to Fort Snelling, Minnesota for basic training.
After basic training he was sent to Lincoln, Nebraska where he attended the Army Specialized Training (AST) Program. He was honorably discharged from Army in April 1946 with the rank of Staff Sergeant.(SSGT)
SGT Zeleznikar was assigned to the 125th Field Artillery Battalion. From there he was assigned to Company B, 381st Combat Engineer Battalion and the 138th Combat Engineer Battalion. After finishing basic training he was sent to Southampton, England.
Next, he was sent to Belgium to be deployed with the British 2nd Army. Shortly afterward they joined the American 5th Army, which had moved into Germany. The military command disbanded the 381st Combat Engineer Battalion and he then joined the 138th Combat Engineer Battalion.
After the war he returned home and married Josephine Ann "JoAnn" [Griffin] and they started a family. Mr. Zeleznikar died on January 2nd 2000 at 93 years of age. He is buried at Calvary Cemetery in Duluth
---
Source(s):
Veterans' Memorial Hall veteran history form (VHF); veteran's account follows: "I was the third of five brothers who served and survived in World War II. Frank Zeleznikar - Army, Combat Engineers; Jack Zeleznikar - Army, Combat Engineers; Joseph Zeleznikar - Army, Field Artillery; Robert Zeleznikar - Medical Corp; Walter Zeleznikar - Navy, Aircraft Carrier- Antietam Pacific. Our mother received a Five Star plaque to place in her window for having five boys in the service.
---
Source: Oral History story told by Jack Zeleznikar: An excerpt of Jack Zeleznikar's WWII memoirs as told to his 1st great grandchild:
"In June of 1943"
"I was called into service along with my brother Walter. We went to St. Paul at Fort Snelling together. This was the first time we had left Duluth. I thought we might stay together. Because I was an enlisted reserve, they started immediately to process me for active duty. I didn't see Walt until the next day and found to my surprise that he enlisted in the Navy!
Walt went to a naval training school in Oklahoma of all places. I was sent to the U.S. Air Corps base in Lincoln, Nebraska. Walter ended up in the Pacific on the aircraft carrier Antietam. I never saw him again until we left the service and went back to Duluth in 1947.
After my basic training in the Air Corps, I was transferred to the town of Lincoln, Nebraska and lived in a dormitory (the Love Library) at the University of Nebraska. In the fall of 1943, I was in the AST Program (the Army Specialized Training Program).
Now I know why they waited until the spring of 1943 to call us into service. There were thousands of students in the United States that had just finished their second year of college. Theses students were sent to colleges all over the United States to keep the colleges open and provide a "cadre" of 2nd year college students to train the thousands of men that were turning 18 in the spring of 1944.
Note that D-Day occurred on June 6, 1944. All of the men in the AST Program had already left the colleges to become a cadre for incoming enlistees from all over America. At 'Nebraska U' we were about 20 civil engineering students from Minnesota, Iowa, Wisconsin, Oklahoma, Arkansas, Georgia, and New York. I don't remember all of them, but I never heard from them again!
Back to the Regular Army I ended up in Camp Claiborne in Louisiana. This was the camp where the 125th Field Artillery Battalion of Duluth left in 1941 in a convoy with all of their equipment. The 125th was part of 400,000 troops that assembled in Louisiana for a 'mock' battle just before we entered the war. I remember seeing the convoy going up Thompson Hill on their way to Louisiana. My brother Frank, who trained with the Coast Artillery in California, later followed the 125th into North Africa and Italy.
Anyhow, we were in Louisiana for a short time and then sent across the eastern border into Centerville, Mississippi. It was here that we formed the 381st Engineer Combat Brigade. I became a squad leader and was promoted to corporal.
Mississippi had a climate decidedly different than Minnesota. It was always hot and muggy and rained almost every day at 4:00 p.m. When we arrived at Camp Van Dorn we marched by a large group of black soldiers who called at us as we passed by 'Y'all ain't goin' to like it here.'
Our job at Van Dorn was to give basic training for new inductees who came from Texas and Louisiana. Most of them were young Mexicans from Texas. It was a new experience for a young man (20 years old) from the North in Minnesota. I got along very well with the Mexicans, as I liked to sing with them in the "beer hall" every night during training. I did not understand a word of Spanish, but I could still carry the tune. They seemed to sing sad songs as some of them cried when they sang. I suppose they were lonesome for their families back in Texas.
Going Overseas
As soon as we finished basic training, we prepared for shipment overseas. The 381st departed by train from Camp Van Dorn on October 14, 1944 and arrived at Camp Shanks in New York three days later.
On October 29th, we boarded the U.S. Army Transport Excelsior for her voyage to England. The Excelsior was a C3-type freighter built in 1943 by Bethlehem Steel Co. She was 492 feet long, 69 ½ feet wide, with a draft of 28.5 feet and weighted 7,800 gross tons. A total of 465 of these style ships were built between 1940 and 1947. We were part of a convoy of many ships making the trip across the Atlantic.
It was the most sickening trip I ever made on water, because the North Atlantic in November is like a violent storm on Lake Superior. Our ship was like a cork bobbing on the waves. One night, it got so bad, that we lost some life rafts overboard. The toilets in the bow of the ship, which would rise 30 feet and immediately plunge back down. If you got sick, this up and down movement made you puke. We had to eat out of our mess kits standing up. The tables were welded to the deck. When the ship rolled, you had to hold onto the mess kits or they would slide down to the other side. I saw some fellows get sick while eating and they just puked into their steel helmets. I spent most of the day sitting outside on the deck, even though it was very cold, just to get some fresh air. The miserable trip took 11 days, and arrived at Southampton, England on November 9th.
In England
The battalion immediately boarded a train to Camp Nettlebed in Oxfordshire, a county south of London. The village of Henley-on-the-Thames was located near our camp. Companies A, B, and C traveled to Camp Pangbourne in Bershire to attend a bridge building school.
One night I went on leave to London. During the night I heard a loud BANG. I asked someone 'what was that?' They answered: 'It's only a V-2!' The Germans had made V-1 and V-2 rockets that they launched over the Channel to London. I did get to see the London Bridge and tour inside Westminster Abbey and St. Paul's Cathedral in London.
As a matter of interest, I used to play cribbage at night with an old innkeeper in the town of Henley-on-the-Thames. The town was known for regattas that were played on the Thames River. I happened to look behind the bar at pictures of many rowing teams from around the world that had competed there. To my surprise, there was a picture of men from the 'Duluth Yacht Club.' It was probably from the 1930s as it was a favorite sport at that time. They had a building on Park Point called the Duluth Yacht Club (I don't think it's there anymore). You might look for it sometime when you are in Duluth. It was on the bay side, maybe a half-mile from the Aerial Lift Bridge.
Something happened around the first of December that got me thinking that things weren't going so good with the war near the Belgian and Luxemburg borders. An order came down from Army headquarters that all leaves and passes for U.S. soldiers in Britain were cancelled and all personnel would be considered as infantry soldiers, even cooks, clerks, etc. This came as a shock to us because we never got any news of the war. Things were getting pretty bad. There was another combat engineer group near us that got called out on Christmas Eve. I remember how I felt when we moved into their barracks on Christmas Day and ate their dinner that they had planned to eat for Christmas!
The Germans had started a last ditch fight to stop the war and settle for a peace agreement. Our Army had been surprised at their move and was making plans for the final surrender of the German Army on the Western Front. The German plan was to attack the Americans in the Rhine River area and make a move toward Antwerp, a major seaport on the North Sea.
December 16, 1944:
German tanks and troops poured over the Belgian-Luxemburg borders in their final major bid for victory in the Western front, now known as the 'Battle of the Bulge.' December 18: German assault on Bastogne.
December 22:
Germans take St. Vith. They cut off all access roads to Bastogne and demanded our surrender. American General McAuliffe sends his now-famous reply, 'Nuts.'
December 23:
After a period of fog and much snow, the start of a spell of brighter weather allows the U.S. Air Force to resume operations, including flying in supplies to the besieged at Bastogne. This is the turning point in the battle.
December 24:
The German Panzer tanks surging towards the Meuse River are stopped near Dinant and withdraw after suffering important losses.
December 26:
General Patton's 5th Army pushes towards Asseos to the South of Bastogne and succeeds in breaching the German line to join the troops in Bastogne.
December 28:
Germans concede that their initial objective to reach the port of Antwerp cannot be achieved.
January 1, 1945:
The German Air Force (Luftwaffe) launches a major offensive, striking the 30th British Corps, deployed between Buren and Holton.
January 16:
The 3rd Army, commanded by General Patton starts an all-out attack toward the German border. The last German shell falls on Bastogne.
January 28:
The day the Americans look upon as the final day of the Battle of the Bulge. As it turned out, we stayed in England until January and crossed over the English Channel into France where we were deployed to be with the British 2nd Army. I still remember going to the north of Belgium and even into the Netherlands to the town of Winterswijk. The British had already been through the area and we were never called upon to build any bridges for them.
Anyway, we moved south and joined the American 5th Army. They already had crossed the Rhine River. By then, the troops were moving pretty fast into Germany. We had to build some prisoner of war camps for the German prisoners.
The War Is Over
My memory is not so good, but somewhere along the way they disbanded the 381st Combat Engineer Battalion in the middle of Germany. I joined the 138th Engineer Combat Battalion and I went with them all the way to Czechoslovakia. Everyone was waiting to hear when we could go home. While I was in Pilsen, Czechoslovakia, I heard from my folks back home that my brother Joe had recently transferred to Europe. He had attained the rank of top sergeant in his company and was in Munchausen (Munich), Germany.
Since we were going to be sent to southern Germany, I asked my lieutenant if I could go along on a short trip to Bavaria to look for a place to house our men from the 138th. And as long as we would be going south near Munich, he could drop me off with Joe and pick me up in a couple of days when he went back to Czechoslovakia. I hadn't seen Joe since he left in 1940! The lieutenant said he had found a place in Marquartstein, near the border of Germany and Austria, for our company. So, after my visit with brother Joe, I went back to Czechoslovakia and prepared for a convoy trip to Bavaria, in southern Germany.
On the way south, I saw a sign 'Zeleza' on the border of Czechoslovakia. There it was-almost 'Zeleznikar.' 'Zelezna' in Slovak and Slovene stands for 'iron.' There must have been an iron mine in the area. We went south to Marquartstein, a 'recreation and resort town.' It was near Berchtesgaden, a resort town in southeastern Germany ten miles south of Salzburg, Austria, where Adolph Hitler maintained a retreat.
Before we arrived in this area, the Allies had already bombed the 'Mountain Retreat.' One of my friends in the 138th drove up to the retreat one day and came back with a few pieces of rock that he said came from one of Hitler's fireplaces. He offered to give me one, which I later sent back home along with some old German and French bayonets. I still have the 'rock' and bayonets in my bathroom closet.
I had also sent back during my trip across Germany, two German Mauser rifles, a 16 gauge Belgian shotgun, and an English 'Enfield' rifle that I picked up in Holland. The shotgun was given to me from a young girl in 'Boppard on the Rhine.' It was against the law for German civilians to have firearms during the war. She just asked me if I wanted the gun. As combat engineers, each squad had all kinds of tools in our trucks. So I just found some plywood, put the guns and stuff in a box, and sent them home to Duluth.
This was just after the Americans crossed the Rhine so there was equipment that was left behind. Some were outboard motors (Johnsons) and an aluminum French outboard. I was almost tempted to send the French outboard motor home but we left the Rhine in a hurry! Brothers Bob and John didn't waste time in trying the guns out. Uncle John still has my British Enfield in his gun cabinet. He had replaced the stock on it and it looked nice. When I got home, I told him he could keep it!
After Marquartstein, we went west through a small town named Bad Tolz. Note that this area is where there are many mineral springs and most towns that have springs that are named 'Bad'-something-or-other. In other words, they are SPA-TOWNS. Bad Buchau, Baden Baden, Bad Shandau, and Bad Kreuznach, are a few that I remember traveling through.
Anyhow, we ended our tour of Germany at Marktoberdorf. 'Oberdorf' stands for 'old town' in German. I remember looking at an old US map made in Germany and Lake Superior was called 'Ober Sea' and a town called 'Oberstein.' I guess 'Ober' means 'superior.' Ask your Dad; he took German in school!
I spent the rest of my service time in Marktoberdorf. In fact, I spent two Christmases in Germany and one in England. By the time we were in Marktoberdorf, we were just waiting to go home. We lived in a small bank building, and dined every night in a tavern in town. A German orchestra played music at dinnertime. I acquired some skis and took lessons during the winter. I went on a week's leave to Switzerland, which was fun! I even was thinking of staying in Europe and going to some college in Switzerland under the GI Bill, but I didn't pursue that idea, as I wanted to go home.
I finally had enough service points to go home! My captain asked me if I wanted to stay for the occupation with a promotion to lieutenant and I told him I wanted to go back and finish my schooling. We left by train going north along the Czech border. We stopped near the border one night and crossed the border to go to a tavern for a beer. To our surprise, the tavern-keeper said we had to leave because the Russian soldiers were there. I guess that the Potsdam Agreement was in effect. Borderlines had been established between the French, English, USA, and Russia. Ask your Dad about this!
When we came to the Fort of Bremerhaven in northern Germany, we stayed for a few days. There were hundreds of soldiers waiting there to go home. The mess hall was serviced by discharged German soldiers. One of them told me that we weren't going home. When I asked why, he said that we had thousands of tanks in Nuremberg and the Americans were going to keep going into Russia. He said; 'And I will join you.' This time I told him 'NUTS' and left for home.
The trip back over the Atlantic was much smoother than in the spring. After we reached New York, we all departed to different camps in the USA. I did not go back to Fort Snelling, as I thought we would, but went instead to Camp McCoy in Wisconsin. I had another surprise coming to me! Who should I meet there but my brother Bob. He was just starting his service in the Army. I did not recognize him at first, as he was now grown-up and well built. I had not seen him for 2 ½ years. We didn't have much to say as he was in the process of entering the service and I was going out.
Bob 'lucked out' in the Army. He eventually ended up in Texas at a special camp for German scientists and their families. After the war, there was a hasty grab for German scientists by both the US and by the Russians. These men were later used in the space program by both sides.
Anyway, Bob was lucky to end up as a lifeguard at the swimming pools in the camp. After Bob finished his tour of duty the Army, he went back to Duluth and went to Duluth Junior College along with brother John.
There were five brothers from our family in the service during the war and four brothers-in-law. There must have been many prayers said by Mom and Dad, John, and my sisters for our welfare in the foreign lands, because we all came back unscathed!
My Mom was given a Gold Star award to put in her window to show that she had five sons in the service."
---
Source: Duluth News Tribune, March 6, 1944 (quoted below)
Photo title: "Eleven Mothers Are Awarded Pins by Duluth Group"
Caption: "Eleven mothers who have between four and six sons or daughters in the armed services were presented pins by the Duluth Emblem of Honor association last week at a program in the West End American Legion hall. Seated left to right above are Mrs. Mike Cherro, Mrs. Anna Rosberg, Mrs. Agnes Tardiff and Mrs. Gertrude Hinnenkekp; standing, left to right, are John H. Hearding and J. D. McNamara, of the Dulth association; Mrs. Je. E. Johnsen, Sr., Mrs. Joseph Zeleeznikar [sic], Mrs. Joseph Fournier, Mrs. Paul Hom, Sr., Mrs. Mary Radich and Mrs. Ida L. Adams."
Article title: "Emblem of Honor Group Cites Servicemen's Mothers"
[Follow links for the complete story]