Robert Albert Cherro
Era: World War II
Military Branch: Army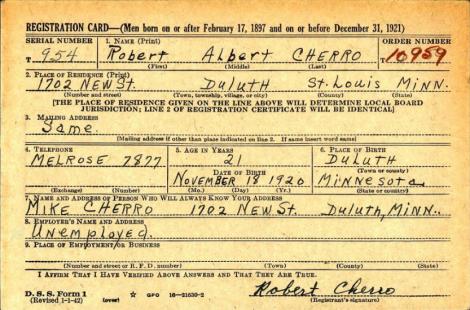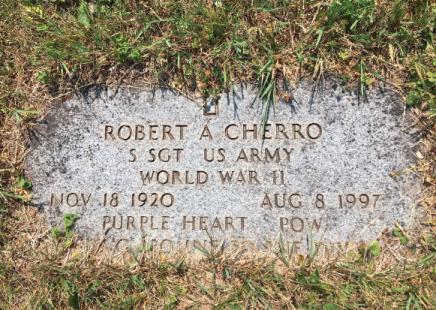 CHERRO, Robert Albert
Robert Albert Cherro was born on November 18th 1920 to Michael & Celesta M. [Cicchitelli] Cherro in Duluth, Minnesota. Six Cherro brothers served during World War II.
Mr. Cherro was inducted into the U.S. Army on August 15th 1942 as a Private during World War II.
PVT Cherro was a rifle squad leader with Company G, 120th Infantry Regiment, 30th Infantry Division and was involved in the Normandy Invasion, northern France, Belgium, the Rhineland and Ardennes. He rose to the rank of Staff Sergeant (SSGT).
SGT Cherro was wounded in action in the Battle of Bulge. He was a prisoner of war (POW) at Stalag VI G near Haufustahl, Germany, from January to April 1945 before being liberated by the 9th Armored Division.
In his words: "It was the last tank going by the prison camp that caught our attention. They radioed the advance unit and they all stopped, came back and set us free.
"My body was so deteriorated from lack of food and medical attention, I was carried out on a stretcher, along with many others, and taken to an evacuation hospital to be cleaned up, deloused and examined for medical attention. After going through three different hospitals in France I was finally evacuated by U.S. Army Air Force plane to the Gardner Hospital in Chicago."
SGT Cherro was decorated with the:
Bronze Star.
Purple Heart,
Good Conduct Medal,
Distinguished Unit Citation,
American Campaign Service Medal,
European-African-Middle East Campaign Service Medal, -and-
an overseas service bar..
SGT Cherro was honorably discharged on December 14th 1945.
Mr. Cherro died on August 8th 1997 in Duluth. He is buried at Calvary Cemetery in Duluth.
Source(s): Hometown Heroes: The Saint Louis County World War II Project, page 55.
---
Albert J. Amatuzio Research Center | Veterans Memorial Hall (vets-hall.org)
Page 1 WWII Draft Registration Cards - Fold3
Robert Albert Cherro (1920-1997) - Find a Grave Memorial
U.S., Department of Veterans Affairs BIRLS Death File, 1850-2010 - Ancestry.com
---
Source: Duluth News Tribune, March 6, 1944 (below);
Newspaper Story: "Eleven Mothers Are Awarded Pins by Duluth Group"